August introduces new products that sense if your door is open or closed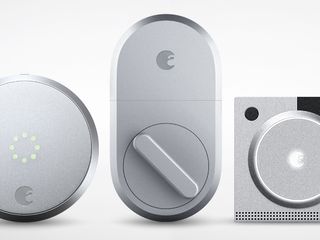 Smart home security company August announced in a press release (opens in new tab) today that its redesigned family of smart home products are now available for purchase. In addition to boasting improvements like longer battery life, both of the new locks are equipped with a technology the company calls DoorSense that can tell you when your door has been left ajar.
August Smart Lock Pro + Connect
The most full-featured of the new locks, the Smart Lock Pro + Connect, is also the priciest at $279, but with good reason. It supports WiFi, HomeKit, Bluetooth and Z-Wave Plus connectivity, meaning you can integrate it into pretty much any smart home technology you may already have - that way you can ask Siri or Alexa to lock your door for you. In addition, the Smart Lock Pro can be set to lock instantly as soon as the door is closed, so there won't be any stressing yourself out at work wondering whether or not you remembered to lock your door. The lock also includes a new Beta service called Active Monitoring that sends you alerts on your smartphone when any activity happens re: your door.
See at August (opens in new tab)
August Smart Lock
The more affordable of the locks, a redesigned version of August's original Smart Lock, will only set you back $149 but includes all the basic features you need to protect your home. Like the Smart Lock Pro, it offers keyless entry, Active Monitoring, auto-lock, temporary keys sent via the August app and quick and easy install over your existing deadbolt. However, unlike the Smart Lock Pro, it also has a manual thumb-turn locking mechanism and doesn't offer as many connectivity options. If you're new to the smart lock game, this is a good option for you.
See at August (opens in new tab)
August Doorbell Cam Pro
August's announcement wasn't all locks, though: The company also rolled out the Doorbell Cam Pro, an upgraded version of their preexisting doorbell cam system. The Doorbell Cam Pro has a motion-activated floodlight so that it can capture color footage at night (though ideally it also might strike fear into the heart of an intruder). Another cool feature introduced along with the redesigned cam is HindSight - it records the few seconds leading up to whatever incident triggers the motion detector as well so you don't miss out on anything when you're watching the footage. The Doorbell Cam Pro hasn't been officially released yet, but is available for preorder on August's website.
See at August (opens in new tab)
Questions?
What do you think of August's new security devices? Let us know in the comments!
Tory Foulk is a writer at Mobile Nations. She lives at the intersection of technology and sorcery and enjoys radio, bees, and houses in small towns. When she isn't working on articles, you'll likely find her listening to her favorite podcasts in a carefully curated blanket nest. You can follow her on Twitter at @tsfoulk.
Doorbell Cam Pro still not HomeKit enable <sigh>

- Keep track of who comes and goes, all from your phone.
- Know your door is both closed and locked with DoorSense™. I guess I don't need have random people always coming and going. If I need to see where my kids or wife are I use find my friends. I need forget close my door less lock it. meh
Thank you for signing up to iMore. You will receive a verification email shortly.
There was a problem. Please refresh the page and try again.