Animoji Studio lets you record Animoji videos outside of Messages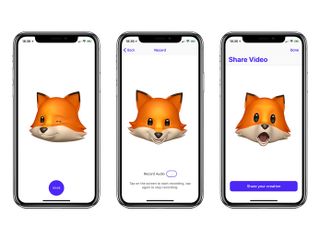 Ever since the iPhone X was announced, people have been losing their minds over Animoji — that is, emoji that you animate with your face using the X's front-facing TrueDepth camera. They're both uncanny and delightful, and are great for entertaining your friends. However, there are some drawbacks to Animoji: you have to be in the Messages app to record them, they must be less than 10 seconds long, and you have to actually send them in order to be able to save them to your device. Now though, Mac and iOS developer Guilherme Rambo has created an app that frees the Animoji from their Messages prison.
AnimojiStudio is a standalone app that allows you to record, share, and save Animoji videos without needing to be in Messages. These videos can be as long as you want — bye bye, 10-second limit — and can be recorded with or without audio. That's not all, though. With AnimojiStudio, you can also do things like jazz up the drab white background by adding color …
… and join in on the Animoji Karaoke craze with the amazing Spotify-enabled Karaoke mode.
On top of all of that, AnimojiStudio also lets you stream your Animoji video to services like Mobcrush and Periscope so your followers can jam on your live Animoji Karaoke version of "Bohemian Rhapsody" or listen to you talk about your day while in the form of a cartoon poop.
Unfortunately, because AnimojiStudio uses private APIs, you won't be able to find it on Apple's App Store. Instead, it must be be installed by either compiling and running from Xcode (opens in new tab) or by sideloading the IPA. You can get it by heading over to The AnimojiStudio GitHub page and grabbing the necessary files. Best part: it's totally free.
We'll have a full tutorial on how to install Animoji Studio here soon, so keep checking back!
Thoughts?
If you own an iPhone X, are you going to try AnimojiStudio? If you've already installed it, what do you think? Share your feelings with us in the comments!
Tory Foulk is a writer at Mobile Nations. She lives at the intersection of technology and sorcery and enjoys radio, bees, and houses in small towns. When she isn't working on articles, you'll likely find her listening to her favorite podcasts in a carefully curated blanket nest. You can follow her on Twitter at @tsfoulk.
I'm surprised to see iMore encouraging people to sideload an app

I'm surprised to see iMore encouraging people to sideload an app, especially without mentioning the security risks involved with doing so.

This one is from a reputable developer, I follow the guy on Twitter he's well known by the community, so it makes sense that iMore would recommend this one in particular. But yeah, don't sideload apps from just anyone, make sure you know what you're doing

I'm not trying to hack your iPhone, I swear.

Sorry, man, ain't gonna install any non-iOS app, but look forward to the day you get in the App Store! (the app, that is...)

Apple needs to release an animoji app. I wont want to have to send one to save one. That's stupid

Was saidf to see this was just not a normal app.
Get the best of iMore in in your inbox, every day!
Thank you for signing up to iMore. You will receive a verification email shortly.
There was a problem. Please refresh the page and try again.