Best 2018 11-inch iPad Pro Cases in 2022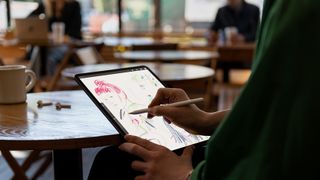 (Image credit: Apple)
While the 2018 11-inch iPad Pro isn't the newest model, some of us still own it, love it, and need a new case. If that's you, this is your collection! However, if you're looking for a case to fit the newer 2020 11-inch iPad Pro, check out our favorite cases here.
Typing perfection

If an ideal typing experience is most vital for you on your iPad Pro, then you've found it in the Slim Folio Pro. It's got Logitech's iconic scissor keyboard mechanism, well-spaced for a mobile device. The action on the keys is nice and springy and will be a delight to your senses.
(opens in new tab)
MacBook design

The Brydge Pro is perfectly designed to look seamless with your iPad Pro. It looks so good, people will ask you if it's a touchscreen Mac. It comes in silver and space gray and has the exact same shade and brushed aluminum shade as your iPad Pro.
(opens in new tab)
Smart Folio for 11-inch iPad Pro
Front and back protection

This is a huge improvement over the Smart Cover of the past couple of years since it covers both the front AND back of the iPad Pro. The Smart Folio front cover neatly folds around to get out of your way, and it doubles as a stand. It has sleep/wake functionality as well, just as you'd expect. It comes in just three colors: Charcoal Gray, Pink Sand, and White.
(opens in new tab)
ESR Yippee Trifold Smart Case for iPad Pro 11' 2018
Daily driver

If you don't need a keyboard, this simple but smart case is a fantastic option. Like Apple's version, the front cover folds back to form a stand. It's Apple Pencil compatible; the back cover has an open section to allow the Apple Pencil to charge without having to remove the cover.
(opens in new tab)
Solo Metro Universal Tablet Case
Universal appeal

Obviously not designed for the newest iPad Pro per se, this universal tablet case holds tablets up to 11 inches. Tension clips hold your iPad Pro in place, and a magnetic strap keeps the folio closed when not in use. Multiple viewing angles and sleep/wake functionality are nice features as well.
Waterfield Sutter Tech Sling
Deluxe option

If you're looking for more than a sleeve, this bag from Waterfield is designed to fit the 11-inch iPad Pro and a Smart Folio Keyboard, plus your other goodies. It is worn comfortably on the back, either over one shoulder or cross-body style. Choose from Black or Chocolate Brown.
(opens in new tab)
KHOMO Universal Tablet Padfolio Zippered Case
Folio plus

Another universal case, this one also holds any kind of tablet up to 11 inches. This one zippers closed and has loads of slots to hold papers, a notebook, a pen, and even your phone. Choose from Black, Carbon Fiber Black, or Brown.
Pad & Quill Contega Thin iPad Pro 11 Case
Bookish style

This classy case makes your iPad Pro look like a book. Your iPad fits inside either alone or with a Smart Keyboard Folio as well. It's handmade, props up at multiple angles for viewing or typing, and has sleep/wake functionality. Choose from Linen Gray, Charcoal, and Cranberry.
(opens in new tab)
Bargain sleeve

While technically this is a laptop sleeve, the smallest size will fit your 11-inch iPad Pro and protect it while not in use. It has internal foam cushioning and a fluffy fur-like interior to pamper your new purchase. This one comes in loads of colors and has a zippered exterior pocket for your other goodies.
Our personal recommendations
Why you can trust iMore Our expert reviewers spend hours testing and comparing products and services so you can choose the best for you. Find out more about how we test.
We like Logitech's Slim Folio Pro (opens in new tab) because of its outstanding typing experience. If typing is most important on your iPad Pro and you want something with a familiar scissor mechanism feel, the best keyboard case right now is the Slim Folio Pro.
If a keyboard case is overkill and you just want some simple, inexpensive protection, go for ESR's Yippee Trifold Smart Case for iPad Pro 11-inch 2018 (opens in new tab). I've been using this case since I got my iPad Pro in 2018 and it's everything I need.