Best AirPlay speakers for Mac and iPhone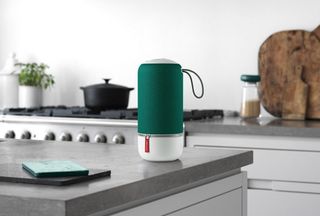 Being able to listen to your music is one thing, but being able to do it wirelessly with just the tap of a button is another. There are plenty of wireless speakers available out there, but which ones are worth considering, and which one should be forgotten about?
Here are a few options to consider on your hunt for the perfect AirPlay speakers for your Mac and iPhone!
Bang & Olufsen BeoSound 2
Why you can trust iMore Our expert reviewers spend hours testing and comparing products and services so you can choose the best for you. Find out more about how we test.
Though the BeoSound 2 doesn't look like your traditional wireless speaker, Bang & Olufsen's unique and modern design mean that your room is filled with 360-degree sound and crystal-clear music.
The BeoSound 2 supports BlueTooth and works effortlessly with the BeoMusic App. You can easily link all of your B & O speakers to play the same song throughout your house, or keep specific music situated in certain rooms – but no matter where you are in a room, the BeoSound's 360-degree design will deliver your music sounding as vivid and as rich as it should be.
While some speakers need your iPhone or Mac to be on to use the device, you can easily control the music quality and volume directly from your BeoSound 2 if you need to turn your phone off for whatever reason.
See at Bang & Olufsen (opens in new tab)
Libratone ZIPP Mini Wireless speaker
Small yet mighty, the Libratone ZIPP Mini Wireless speaker is designed to AirPlay directly from your Apple device while delivering rich, full-bodied sound wherever you are.
Built with a 10+ hour, rechargeable battery, you can pair up to six Libratone speakers to sync your music for the perfect surround-sound quality. Just wirelessly connect your Mac or iPhone, and start pumping out the 360-degree, 60 watt sound with the tap of a button.
While most speakers come in standard black, gray, or white colors, the ZIPP comes in four vibrant, colorful options, including gray, dark tela, black, and red.
See at Amazon (opens in new tab)
Polk Audio Woodbourne Speaker
Modern looking, sleek, reliable, and powerful, the Polk Audio Woodbourne Speaker is a straightforward AirPlay speaker that delivers crystal-clear sound in the simplest ways possible.
After wirelessly connecting your Mac or iPhone, the Woodbourne speaker will fill your room with 180 Watts of high-quality sound at the tap of a button. The speakers are designed with a curved front, which not only gives the speaker a unique look, but also adds a larger separation between the two driver sets to add a larger range for the Polk's sound.
The speaker itself only comes in one style, but with its sleek wood top and white finish, the Polk Audio Woodbourne Speaker looks like it's designed to truly go hand-in-hand with your Apple product arsenal.
See at Amazon (opens in new tab)
Bowers & Wilkins Zeppelin Air Wireless dock
Bring your music to life with the help of the Bowers & Wilkins Zeppelin Air Wireless dock. Just connect your iPhone or Mac, follow the fool-proof AirPlay set-up app, and you're ready to start listening to your sound in style!
With the dock, you can either connect your iPhone directly to the speaker, or choose to stream your music wirelessly. The Zeppelin's shape allows for better sound dispersion depending on the room it's playing in, while the back of every speaker has a Flowport which is designed to smooth airflow and filter out unwanted noise.
The Zeppelin also comes with a 2-year warranty and an easy-to-use app that allows you to stream your favorite music or TV shows with just a few taps of a button.
See at Amazon (opens in new tab)
What's your pick?
Is there a wireless speaker you feel goes hand-in-hand with your Mac and iPhone? Let us know what it is in the comments below – we'll be sure to check it out!
Cella writes for iMore on social and photography. She's a true crime enthusiast, bestselling horror author, lipstick collector, buzzkill, and Sicilian. Follow her on Twitter and Instagram: @hellorousseau
I really miss the Phillips Fidelio SoundSphere -- It's a shame that sold so poorly, because it sounded great, and was such a great design. I'd love to see a new version with updated tech, mostly because I'd like to buy a second pair.

So what is the difference between AirPlay speakers and a regular Bluetooth one? My understanding is that it plays from the internet and therefore has better quality, but then someone else told me that that was just ChromeCast capable speakers, and that this is basically just bluetooth. Thoughts?

AirPlay is local music streaming via Wifi. Basically, it's the Wifi alternative to Bluetooth. You are confusing it with ChromeCast, which essentially is a device that connects to the Internet via Wifi and can be told to play back web streams. So, say you are using Google Music on your phone, and you select a song to play on your ChromeCast. Your phone will not stream that song to the ChromeCast, but instead will send a URL to the ChromeCast where it can find the song itself and stream it from. Your phone is merely a remote control. So it's not exactly the same as AirPlay and Bluetooth, there's just some overlap. With those two, the content is stored locally (or at least buffered) on the sender, and streamed to the receiver without an active internet connection needed. There are several advantages of AirPlay over Bluetooth. The main advantage in my opinion is no pairing. Once the AirPlay speaker is connected to the Wifi network, it can be seen by any other device. So every AirPlay sender can stream music to the speaker, without pairing, and without "shuffling" the active connection between the devices. There are speakers now that can handle multiple Bluetooth connections, but still it's much less flexible. The other advantage is the better audio quality, though I believe Bluetooth has gotten better over the years and often, the speaker is the weakest link in the chain anyway. One disadvantage of AirPlay is that with some speakers there is significant lag. I have an LG speaker and it's the biggest piece of crap I've ever come across. Luckily it also supports Bluetooth, because the AirPlay feature is nearly unusable.

As you mention, Airplay offers better quality because it is a bit perfect stream of (up to)16/44.1 files and Bluetooth isn't. My preference is for Airplay compatible receivers and Airport Express units hooked to my own speakers. I only have one actual Airplay speaker and it is the Phillips Soundring. Not sure if the sell it anymore, but we still have it in the kitchen and use its aux input with an Echo Dot. Still sounds great and has a small footprint. It also has a battery, so you can put it anywhere inside wifi range. One Bluetooth benefit is that it doesn't need wifi.

I have various brands of AirPlay speakers / Airport Express in different rooms of my home and with the Airfoil app on my Mac I have multi-room playback of any audio source in sync just like Sonos, but much cheaper. Sent from the iMore App

One of the advantages of AirPlay is if you have an Airport Express any speaker(s) can be used. It just uses your wifi network.

I have a pair of NOCS which I love. They're AirPlay monitor speakers that pack around 80W of punch. Though personally I'd probably advise people to buy a decent pair of standard monitor speakers and connect them to an Airport Express for the ultimate problem free setup.

GGMM M3: Retro Leather Speaker. These compete directly with Sonos because they support Multi-room Music System via Wifi. They support AirPlay directly and the sounds is awesome. Love mine. Wifi Bluetooth Multi-Room Digital Speaker, Featuring Airplay, DLNA, Pandora, Spotify, iHeartradio. https://www.amazon.com/dp/B00WGOO25W/ref=cm_sw_su_dp?tag=hawk-future-20&...
Thank you for signing up to iMore. You will receive a verification email shortly.
There was a problem. Please refresh the page and try again.