Best Bluetooth Audio Receiver for your Home Stereo or Speaker in 2020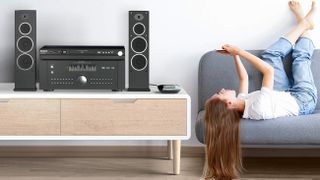 Bluetooth receivers connect your mobile devices to your home's audio systems, including speakers, stereos, surround sound systems, and headsets. This lets you jam to your favorite playlist all over the house using high-quality sound without having to bring your phone along. The best Bluetooth receivers have a long wireless connection range and let you connect more than one device at a time. Here is our round-up of some of the best.
Here's what we recommend
We chose the Denon Professional DN-200BR (opens in new tab) as the best Bluetooth receiver because of its versatility and professional quality. This receiver connects to old stereos and speakers without a problem and works with amplifiers and mixers. The Denon receives signals wirelessly from over 108 feet away and has no problems working through walls.
Another good option is the Anker SoundSync (opens in new tab). The SoundSync lets you connect two devices at once so long as they are the same type of device, like two speakers or two headphones. It works with home stereo systems and includes a Bluetooth transmitter.
The Mpow Steambot (opens in new tab) portable receiver works with both home and car stereos. It connects with your mobile device to allow hands-free calling, Siri assistance, and GPS navigation. You can pair two Bluetooth devices at once, and it has 10-hour battery life.
Nicole writes for multiple Future Publishing brands covering topics from antivirus to kitchen appliances to SAS. She has over 15 years of research and writing experience, including eight years of testing and reviewing consumer products. Nicole earned bachelor's degrees in both English and Political Science with a focus on empirical research. In her spare time, Nicole serves on several school councils and volunteers for a local arts board.