Best cross platform play games for Nintendo Switch 2023
Jump between playing on different platforms while continuing the same game.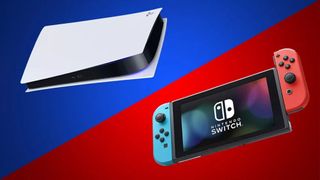 (Image credit: iMore)
We are far from seeing all games with cross-compatibility across the board. However, there are now quite a few Nintendo Switch titles that are playable between Switch, other consoles, mobile, and PC. You might also find some among our best Nintendo Switch games list.
We'll start off by explaining the vital difference between cross-platform and cross-play before diving into the best titles that currently support cross-platform play a.k.a. crossplay.
Cross-platform vs crossplay games
Why you can trust iMore Our expert reviewers spend hours testing and comparing products and services so you can choose the best for you. Find out more about how we test.
Many people erroneously use cross-platform and crossplay interchangeably. The two things are different but sometimes go hand-in-hand. Usually, people care more about Crossplay than they do for simply cross-platform.
Cross-platform means that a game is on multiple platforms like Nintendo Switch, PS5, Xbox Series X, Mac, and PC. Sometimes this also involves account linking for cross-progression. For instance, starting a game on Switch but then also being able to continue your game file on your Mac. Just note that only some platforms may be supported for certain games.
Crossplay on the other hand means cross-platform games that allow players using different platforms to play together in a multiplayer. For instance, if you play Fortnite on Switch, but your friend is playing with you on their PS5. Once again, crossplay might only be supported with some other platforms.
So when looking around for a game to play with friends, you want to first make sure that it is crossplay and not just cross-platform and then make sure it works with the platforms you want it to. All of the games listed on this page offer crossplay with Nintendo Switch to some capacity.
Minecraft
Minecraft has long been one of if not the best Nintendo Switch game out there. You can go exploring, collect animals, farm, build your dream house, craft thousands of items, and much more. Plus, if you're feeling like you want to feel some sort of plot conclusion, you can go through a special portal and beat the Ender Dragon.
Since it's the best-selling game of all time, it's no wonder that it's basically available on every major platform, including Nintendo Switch as well. Just note that there are two versions of the game: The original version from the creator and then the new version that released after Microsoft acquired it. You must have the same version across your platforms for cross-platform and also need the same version as friends for multiplayer crossplay.
The Nintendo Switch version is the new version.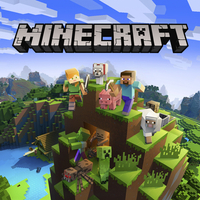 (opens in new tab)
Minecraft
Minecraft may not have been the first sandbox-building game, but it's certainly the best known. While many versions of Minecraft now exist, including the dungeon crawler Minecraft Dungeons, the Bedrock Edition available for the Switch supports crossplay between PC Xbox One, PS4, iOS, and Android, so whatever platform your friends are playing on, as long as they have the Bedrock Edition, you can build together.
Buy from: Amazon (opens in new tab) | Best Buy (opens in new tab) | Walmart (opens in new tab)
Fortnite
From Epic Games, Fortnite is currently available on the Switch, PS4, Xbox One, PC, and Android. It was also on the Apple App Store until the Epic v. Apple lawsuit in 2021.
You can play in solo, two-player, three-player, or four-player squad teams with up to 100 players across all platforms. It's a battle royale where you are tossed from a fly bus attached to a hot air balloon as it flies over the island. There are multiple locations with different themes to explore as you loot for items, health, shield, and weapons. The last team standing wins.
The base game is free to play, but you can pay for the seasonal Battle Pass to unlock character skins and other goodies as you play. Fortnite is notable for having partnered with several other companies to bring popular characters from Star Wars, Marvel, Rick and Morty, Dragon Ball, and other franchises into the game.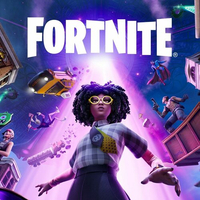 (opens in new tab)
Fortnite
Scavenge the gear you'll need to defend yourself and see if you can be the last man standing. Featuring crossovers with Marvel, Stranger Things, Star Wars, and more, every season brings something new to Fortnite.
Download from: Nintendo (opens in new tab)
Rocket League
Soccer is by far one of the most universally played sports around the globe. Psyonix take on the game exploded in popularity years ago as it provided a new take — players controlling high-speed cars in enclosed fields in Rocket League.
You can now pilot your rocket-powered battle car in fast-paced soccer matches with friends who play the game on both PC, Xbox One, and PS4. If you're playing Rocket League on Switch, you are no longer on a gaming island.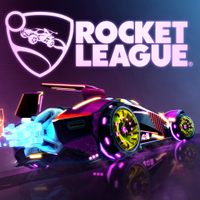 (opens in new tab)
Rocket League
One of the most significant titles to support cross-platform play is Rocket League. Prove your prowess by scoring goals and blocking opponents.
Download from: Nintendo (opens in new tab)
Apex Legends
Apex Legends offers crossplay between Switch, PlayStation, Xbox, and PC. It is thought to be one of Fortnite's biggest competitors. While it is still a battle royale, where the last team standing wins, it's also a hero shooter.
This means that each character has its own skills and abilities that are unique from the others. Teammates must work together in order to survive. You can play as an Offensive, Defensive, Support, or Recon character. That makes this a more approachable game in some ways. For instance, if you'd rather be a healer than an attacker, there's an important role for you to play.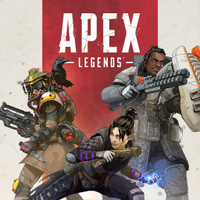 (opens in new tab)
Apex Legends
In this three-team member battle royale, each player chooses a different character with unique abilities. Will you be a heavy hitter, a healer, a tactician, or something else?
Buy from: Amazon (opens in new tab) | Best Buy (opens in new tab) | Walmart (opens in new tab)
Among Us
Innersloth's Among Us has been a very popular multiplayer for the last few years. It follows the same pattern as party games like Mafia or Werewolf. Most players take on the role of crewmates attempting to fix their damaged spaceship. However, there's at least one imposter aboard out to sneakily kill the rest.
Either the imposter(s) or the crew members will when. Players can call a group meeting if they want to discuss who they think the murderer is. If everyone agrees on another player, that person is launched into space. If it was the killer, then the crew wins, but if the killer manages to kill everyone on board without getting caught they win.
Play it with friends across Switch, PS4, PS5, Xbox One, Xbox Series X|S, PC, iOS, and Android.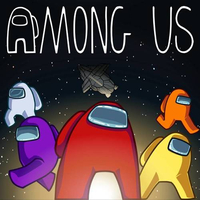 (opens in new tab)
Among Us
Crew members in space try to fix their broken spacecraft, but all the while one or some of the crew are actually imposters trying to kill the others. Can you figure out who the sus ones are in time?
Buy from: Amazon (opens in new tab) | Best Buy (opens in new tab) | Walmart (opens in new tab)
Wargroove
In some ways, Wargroove is like a multiplayer Fire Emblem game. You control groups of characters as they make their way across a map in turn-based tactical combat. The awesome thing about Wargroove, though, is that you can choose to play competitively against friends or work together in co-op.
There are over 12 characters to choose from and you can even design your own battles and then share them for others to experience. Wargroove offers crossplay with Switch, Xbox One, PS4, and PC.
Overcooked! All You Can Eat
If you like games that are all about cooperating together with fellow players then Overcooked! All You Can Eat will be right up your alley. You play as four cooks in the kitchen who must complete customer orders in time while dealing with the obstacle-course-esque challenges of various kitchens.
For example, you might have one person chop onions, another person bring dirty dishes to the sink, a third person wash dishes, and the fourth person scare away ras attempting to steal food. Some parts of the whacky kitchens might even move, so you'll have to adjust your plans on the fly.
Play it with friends in crossplay on Switch, PS4, PS5, Xbox One, Xbox Series X|S, and PC.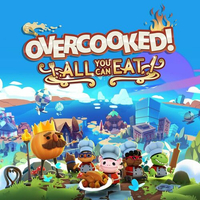 (opens in new tab)
Overcooked! All You Can Eat
This collection gives you all of the popular Overcooked! games in one purchase. Work together with friends to navigate ridiculously perilous kitchens so you can get customer orders right in time.
Buy from: Amazon (opens in new tab) | Best Buy (opens in new tab) | Walmart (opens in new tab)
Dead by Daylight
Dead by Daylight is considered one of the best Nintendo Switch horror games, especially if you're wanting something you can play with friends. The premise is that one of you plays as a serial killer while the others attempt to survive the night. The base games offers nine killers and 10 survivors.
Will you work together to thwart the unstoppable force hunting you? Or will you throw other characters under the bus as you work to be the sole survivor? The game also has several extra content available with paid DLC if you want to play as iconic characters from other franchises like Resident Evil, Ghost Face, Hellraiser, Sadako, and more.
Crossplay works between Switch, Xbox, PlayStation, and PC.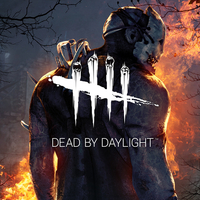 (opens in new tab)
Dead by Daylight
In this heart-pounding multiplayer, one of you takes on the role of a serial killer while the others must try to hide or survive until dawn. Will you work together or sell your fellow friends out?
Buy from: Amazon (opens in new tab) | Best Buy (opens in new tab) | Walmart (opens in new tab)
Ultimate Chicken Horse
This is a game for people who love to mess with others. The best way to explain it is by saying it's like a Mario platformer, but players add obstacles and platforms to make passing through the level even harder. The thing is, you still need to make it through yourself, so it has to be doable to some extent.
Online crossplay is supported between Switch, PS4, and PC.
Final Fantasy Crystal Chronicles Remastered Edition
The team at Square Enix nearly doubled the content and reformatted the game from a couch co-op into an online multiplayer, crossplay experience. Final Fantasy Crystal Chronicles Remastered Edition runs smoothly on each platform and even supports cross-saving. Although this is the best multiplayer Final Fantasy around, there is a free lite version available if you have any doubts.
Available for Switch, PS4, iOS, and Android, this remastered edition of the 2003 GameCube hit did more than just update the graphics and audio.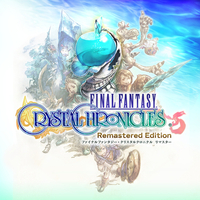 (opens in new tab)
Final Fantasy Crystal Chronicles Remastered Edition
Run through a fantastical land with friends as you work together to explore and defeat enemies.
Buy from: Nintendo (opens in new tab)
Minecraft Dungeons
Available for Switch, Xbox One, PS4, and PC, Minecraft Dungeons combines the blocky aesthetic of Minecraft with the co-op adventure of a dungeon crawler. With a team of four players, you can fight randomly generated monsters, solve puzzles, avoid traps, and unearth epic treasure.
There are dozens of fun places to explore and the co-op is really a fun experience to share with others. Improve your gear, take on baddies, and have a great time.
Just Dance 2022
Ubisoft releases a new Just Dance game every year, but they still manage to become the best Switch music and rhythm games each time. Players hold Joy-Con in hand and move to the beat while trying to match specific moves. The players who are the most accurate with their movements score the most points. You can play solo or with a friend while listening to the latest hits.
Crossplay is supported between Switch, Xbox, and PlayStation.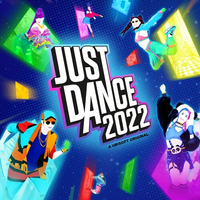 (opens in new tab)
Just Dance 2022
Sometimes, you just want to dance. While it still might not be safe to go to the club and dance with your friends, the World Dance Floor allows players worldwide, across the Switch, PS4, Xbox One, and Stadia to dance together in Just Dance 2020. And if you're looking for Xbox Series X/S and PS5 crossplay, check out the newly released Just Dance 2021.
Buy from: Amazon (opens in new tab) | Best Buy (opens in new tab) | Walmart (opens in new tab)
Dauntless
Dauntless is a massively multiplayer online game (MMO) that has players stepping into the shoes of Slayers within a fantasy world to track down massive beasts called Behemoths. Work together to take on quests, take down foes and take off in various sections of the map. It's free-to-play but does offer some optional in-game microtransactions.
Along with crossplay, it also supports cross-save or cross-progression. So you can start on one platform and then continue going with another. That gives you the freedom to jump in with whatever device is most convenient at the time.
You'll find that Dauntless supports crossplay between Switch, PS4, Xbox One, and PC.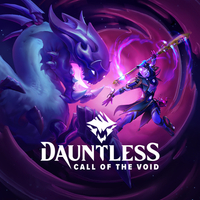 (opens in new tab)
Dauntless
Supporting crossplay between the Switch and PS4, Xbox One, and PC, Dauntless is an action RPG full of exciting co-op battles, where you and your team must face off against the Behemoths that are devouring the land. Free to play, you can team up with friends or strangers alike across all four platforms.
Download from: Nintendo (opens in new tab)
SMITE
Just like Dauntless, SMITE is another popular MOBA that is also free-to-play with optional microtransactions. What makes SMITE so fun, however, is that you play as a god or goddess from the pantheon of mythological figures in history such as the Egyptian crocodile deity, Sobek, or the mythical huntress, Artemis.
There are several different modes to explore, but Conquest is the most popular. Here players can fight against AI or work together in co-op with friends to gain items and defeat enemies.
It supports crossplay between Switch, Xbox, PlayStation, and PC.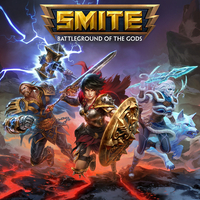 (opens in new tab)
SMITE
Supporting crossplay between Mac, PC, PS4, and Xbox One, Smite on the Switch lets you play as one of the hundreds of gods in one of the most popular action MOBAs around. And, if none of the over 100 gods available appeal to you, now you can play as Leonardo, Raphael, Donatello, or Michaelangelo of the Teenage Mutant Ninja Turtles.
Download from: Nintendo (opens in new tab)
Which cross-platform Switch games will you be playing?
There are now tons of games you can play with your friends on Xbox, PlayStation, mobile, and PC, a far cry from the handful of crossplay games that used to be available on the Switch. You may need a microSD card to hold all of them!
Our absolute favorite is Minecraft for being able to do co-op across all the different platforms. It's much easier to invite friends to join in. There's a reason this game has continued to be a huge commercial success for the last decade.
Another favorite is Final Fantasy Crystal Chronicles: Remastered Edition. I've lost count of the number of hours playing with my kids, friends, and strangers alike. The folks at Square Enix really knocked it out of the park.
If you're specifically looking for a battle royale, then Fortnite is by far the most popular. It incorporates characters from so many different franchises and offers colorful locations to run through. If you'd prefer more of a challenge, then Apex Legends will be a better battle royale for you since it incorporates hero shooter elements.
Get the best of iMore in your inbox, every day!
Gaming aficionado Rebecca Spear is iMore's dedicated gaming editor with a focus on Nintendo Switch and iOS gaming. You'll never catch her without her Switch or her iPad Air handy. If you've got a question about Pokémon, The Legend of Zelda, or just about any other Nintendo series check out her guides to help you out. Rebecca has written thousands of articles in the last six years including hundreds of extensive gaming guides, previews, and reviews for both Switch and Apple Arcade. She also loves checking out new gaming accessories like iPhone controllers and has her ear to the ground when it comes to covering the next big trend.