Best Le Mans 24 Hours apps for iPhone and iPad: 24 Heures du Mans, Audi Sport, Real Racing 3 and more!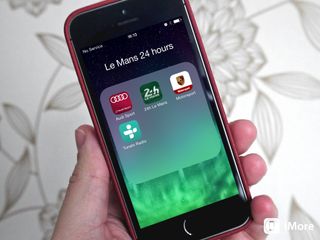 This coming weekend sees the annual running of the world's greatest motor race, the 24 Hours of Le Mans. The ultimate test of man and machine, every year 52 teams and tens of thousands of fans decend on Northern France for the occasion.
Sadly, not all of us can make that trek – though it remains top of my own personal list – and as such we're resigned to following from home. Watching a 24 hour race is an endurance in itself but thankfully with your iPhone and iPad in hand you can make it a little easier!
24 Heures du Mans - Official App
Why you can trust iMore Our expert reviewers spend hours testing and comparing products and services so you can choose the best for you. Find out more about how we test.
The official WEC app has been rebranded for the 24 hour race given that it's the highlight of the Championship season. That means that once the race is done, you'll revert back to having the best app around to keep up to date with all the latest and greatest from the worlds premiere sportscar series.
The bonus to the official app is that – albeit for a fee – you'll be able to get live video coverage of the race on top of all the timings, driver and team news you can handle. If you only have room for one app for this years race, this is the one to have. Even without paying it'll enhance your 24 hours experience.
TuneIn Radio
Huh? A radio app? What's that got to do with anything? Well, the good folks at radiolemans.com will be commentating throughout the entire race which means you can tap into their stream on your iPhone and iPad.
There are a ton of web radio apps out there, but TuneIn remains one of our favorites. Load it up, search for Radio Le Mans and settle in.
Audi Sport
Audi is the reigning World Champions as well as last years winner of the 24 hour race, and it also has a pretty nice iPhone app for its fans. Thing's haven't gone quite so well in 2014 but the fan base is still massive, it still has a stellar driver lineup and this is the perfect app to keep your nose into everything Audi sportscar racing.
Porsche Motorsport
New to the WEC and Le Mans this season, Porsche are taking on the big guns with a strong driver lineup that boasts former F1 star Mark Webber. If Porsche are your team then you'll want this app to make sure you don't miss a trick. It'll also provide you with live race coverage of the entire WEC season, so it's definitely worth a look.
Real Racing 3
If you fancy getting in on some Le Mans racing action of your own while you're watching the race, then Real Racing 3 is an ideal choice. It's a favorite of ours anyway – and we've got some tips and tricks to help you get the most from your game, too – but a recent update added the famous French circuit for that mobile Le Mans experience.
L'Endurance
Perhaps you're new to sportscar racing, or you're just looking for that little bit more? This excellent, independently written and produced digital magazine from the UK is a great read for everything the sport has to offer.
Buy per issue or a yearly subscription at the very reasonable price of £13.99/$19.99.
Your picks
So, there's some of the apps we think will enhance your race weekend experience and beyond. If you've any particular favorites we didn't mention be sure to sing out in the comments below!
Get the best of iMore in in your inbox, every day!
Just FYI: "Le Mans" remains one of the best auto racing films ever made. And Steve McQueen is perfectly cast, because there's so little dialog for his character (or any other character for that matter). And wow, that Porsche 919 is not a very pretty car. I'm glad it's a hybrid though. Interesting to see how electric power gradually works its way into motorsport.

I'm playing RR3 at the moment. Nice gameplay and graphics Sent from the iMore App

People still watch that race? Amazing...

Can't tell if you're being serious or not. It's a massive event.

I used to hear about Le Mans and similar racing like that, but no one I know in the U.S. watches that anymore. It's all crappy NASCAR and other mainstream sports coverage (e.g., baseball, American football, basketball, and hockey). I'm sure there are American fans of Le Mans, but it hasn't been widespread here since the 1970s or 1980s probably...

Thank you for this! Having a Le Mans Party and Planning on watching all 24 hours! :) This will be a nice addition to have on the iPad!
Thank you for signing up to iMore. You will receive a verification email shortly.
There was a problem. Please refresh the page and try again.