Crazy Taxi: City Rush: Top 10 tips, hints, and cheats you need to know!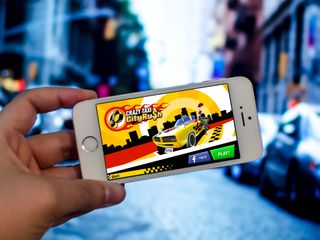 In Crazy Taxi: City Rush you'll play a taxi driver in Bay City, a town where pretty much anything goes and there are no rules. Insane driving skills earn you extra points, and cash from your customers. Start completing missions in order to rack up some cash in order to keep adding to your taxi fleet, which you'll have to do in order to take on more clients. In order to excel you'll need to upgrade your cars regularly and trick them out to attract more customers. Spending your in-game money wisely is key to succeeding in City Rush. That's why we've put together a list of the top 10 tips, hints, and cheats we think you need to know in order to level up and unlock items faster!
1. Speed up time for unlimited free gas
Every time you go on a mission in City Rush, you lose one unit off your gas meter. In order to refill it, you can either watch video ads or spend diamonds. Luckily, just like many other games such as Candy Crush Saga, City Rush is also susceptible to the system time cheat. Simply hop into your Settings app and manually move the time forward by an hour or so. Relaunch City Rush and voila, you should have a full gas meter again!
2. Don't forget to collect diamonds as you earn them
You consistently earn diamonds in City Rush whenever you unlock certain achievements or add more clients to your sticker book. The only catch is that City Rush doesn't tell you that you have to go collect these rewards. Just tap on your Profile and then tap on each section in order to claim your rewards. Be sure to do this often. A good time to do it is when you've finished up a gameplay session, or before you start each time. That way you aren't leaving diamonds on the table that you're entitled to.
3. Upgrade boost capacity and power before anything else
As you earn cash, you'll need to spend it on customizing and upgrading your taxi fleet. Before anything, make sure you upgrade your boost capacity and power. Sometimes an extra boost can make the difference between you failing a mission and succeeding at it. As long as you enter the drop off zone before the timer runs out, you're golden. I've had several times where a single boost made the difference. And the more you have, the faster you can fly through levels and blast through other cars.
4. Pimp your ride to earn cash faster
When you add customizations to your car such as decals, new rims, and hood ornaments, you add bonus cash to each ride you give. Clients pay more for a hot looking car so make sure yours is the nicest on the block. You'll be glad you did!
5. Connect to Facebook for 3,000 bonus coins
Connecting to Facebook adds a social aspect to the game such as being able to earn free rides and swap cash, but even if you don't have any friends playing City Rush, it's worth linking your account. Doing so gives you 3,000 bonus coins for basically tapping a button. If you don't want your Facebook linked after that, simply unlink it again, you'll still keep the cash.
6. Play every day to earn extra cash in Daily Rush
Each consecutive day you play City Rush, you'll be eligible for the Daily Rush challenge which is basically a free play level where you can keep driving as long until you run out of time between checkpoints. If you miss a day, you'll start off at day one again. Playing at least once a day gives you a multiplier for each consecutive day, which can add up to a lot of coins in your pocket.
7. Don't waste diamonds on the Mystery Trunk
As you complete missions you'll randomly find items around the city. You can then use these items to eventually unlock the Mystery Trunk in order to find diamonds, cash, and other prizes. City Rush also gives you the option of opening the Mystery Trunk anytime you want by cashing in some diamonds. While you may earn them back if there are more in the trunk, you might not. It's a 50/50 chance. My advice is to just keep collecting items and waiting to open the Mystery Trunk.
8. Save your diamonds for new taxis and customizations
Most of your cash, and your diamonds, should always go to adding new taxis to your fleet. Once you've done that, use them for special upgrades and customizations that you can't use coins for. The more taxis you have in your fleet, the more customers you can serve at once. Basically, you're earning cash on other drivers even while you're not playing. So build up your fleet as soon as possible and don't be shy about using diamonds to do it. It's the best use for them hands down.
9. Don't let your extra taxis sit idle
There's no point in purchasing more taxis if you aren't going to use them, right? So be sure that you're hiring drivers to occupy them all the time. A good practice is to check on them when you're about to quit the game. Hire drivers for 6 hour increments before you set your iPhone or iPad down. This way you're earning cash when you aren't playing and you'll come back to a nice little pile when you're ready to play again.
10. Don't speed up for hire drivers with diamonds
As said before, the best use of your diamonds is simply for buying new cars and upgrading existing ones. Just use for hire drivers to occupy cars you aren't using. I have yet to come across a time that I had a need to speed up a for hire driver by spending valuable diamonds. Just let them do their thing and leave one car free for you to use at all times, unless you're about to set the game down. Then by all means, occupy every taxi in your fleet with a for hire driver!
Your top Crazy Taxi: City Rush tips, hints, and cheats?
If you've been playing Crazy Taxi: City Rush as much as we have, what tips, hints, and cheats can you share? Be sure and let us know in the comments!
Master your iPhone in minutes
iMore offers spot-on advice and guidance from our team of experts, with decades of Apple device experience to lean on. Learn more with iMore!
iMore senior editor from 2011 to 2015.