Start your engines! Asphalt 7 - Heat the App Store free app of the week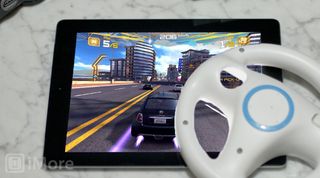 The App Store free app of the week often throws up some great apps, and this week is no exception. Gameloft's Asphalt 7 - Heat is this weeks selection to be had for no outlay, and fans of racing games should definitely go take a look.
Asphalt 7 features more than 60 different vehicles, from some of the worlds leading prestige manufacturers such as Aston Martin, Ferrari and Lamborghini. Perhaps, more importantly though, one of the most iconic cars of all time is there to drive too. The DeLorean! There's 15 different circuits set in different, real world cities all over the globe, multiplayer, and pretty spectacular graphics.
Download Asphalt 7 - Heat now for free from the App Store for iPhone, iPod Touch and iPad. If it's your first time playing Asphalt 7, drop into the comments and tell us how you like it.
Get the best of iMore in your inbox, every day!
Maybe I am mistaken but wasn't Asphalt 7 featured as the App of the week a few weeks back as well by Apple?

If it was, I most definitely missed it

I just tried searching for any records of that, and seems I may be the one mistaken about that. Possible that AppGratis or AppOfTheDay featured it a few weeks back... My wife's crazy about this game!!

Okay does anyone know what that wheel like controller in the pic is? I could see myself using that for sure.

It's a Nintendo Wii controller wheel plastic housing.
https://www.google.com/search?q=wii+wheel&source=lnms&tbm=isch
Nothing fancy or special or new.
In fact it's over six years old....
How are you not finding out about it until now? O_o

I think his point was more along the lines of "was this some other new type of controller that could be used (maybe via Bluetooth or something) with this game on the iPad/iPhone, instead of using the device itself?" They were just asking a question, considering the author decided to show a controller from one console, with a game from another console. Don't be so quick to judge someone...