Best Microsoft Office alternatives for Mac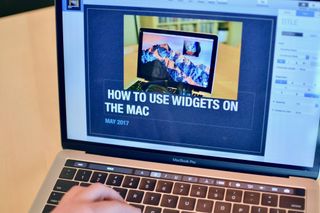 You don't have to leave Microsoft Office if you decide to switch from PC to Mac. Microsoft has a perfectly good version of Office 365 for Mac (opens in new tab) that comes with Word, Excel, PowerPoint, OneNote, Outlook, and more. If you've been thinking about switching away from the Office productivity suite, there are alternatives that offer many of the features you love in Microsoft's programs, plus some features you can't get anywhere else.
iWork Suite
Why you can trust iMore Our expert reviewers spend hours testing and comparing products and services so you can choose the best for you. Find out more about how we test.
Apple's alternative to Office is iWork. It's the most comparable alternative to Microsoft's productivity suite, only it comes free with every Mac. The interface is different, and will take some time to get used to, but if you're really interested in kicking Office to the curb, the iWork suite is the best alternative on Mac.
If you're ready for change, and Office's user interface, design, and tools aren't burned into your psyche, get Apple's iWork suite of apps. It comes preinstalled on new Macs, but you can also find it in the Mac App Store.
OpenOffice
OpenOffice by Apache is probably the most similar to Microsoft Office in look and design. It comes with a word processor, a spreadsheet maker, and a presentation creator, all with many of the same features their Office counterparts have. Files are saved as open document format files, so they can be opened with any document viewer, including Office apps, without needing to be converted first. The best part is that OpenOffice is completely free.
If you're looking for an alternative to Microsoft Office that looks and works pretty much exactly the same, but doesn't cost a dime, OpenOffice is for you.
LibreOffice
LibreOffice is an open source productivity suite very similar to Microsoft Office that comes with a word processor, spreadsheet maker, and presentation creator. It also includes a vector graphics editor, a math formula editor, and a database manager. Files are saved as open document format files, so you can open them with any document viewer, including Office apps, without needing to be converted first, though it does provide tools for saving a document as an Office-specific file. LibreOffice is totally free. It is very similar in design to Microsoft Office, with some minor differences in the design.
LibreOffice is a solid replacement for the Office apps and includes some useful extra programs that Office doesn't even have.
Google Docs
Google Docs is the easiest replacement for Microsoft office because it's so accessible. If you have a Gmail account, or a Google Hangouts account, or a YouTube account, you have Google Docs. Just visit the web-based app from your browser and you can create word processor documents, spreadsheets, and presentations. There is a Google Drive app you can download onto Mac so you can work offline. The changes will be made when your Mac is back online. Google Docs doesn't look at all like Microsoft Office, and has a very different user interface, but it does have many of the same, familiar features you know from Office.
The thing that makes Google Docs so useful, however, is it's real-time collaboration, which works seamlessly with multiple users. I've worked alongside a dozen other people in one document. I am able to see where everyone is within the documents and can see exactly when changes are made.
If you're looking for a very easy to use Office replacement that is ideal for working with others in real-time, you'll be pleased with Google Docs.
What's your pick?
Do you use a Microsoft Office alternative you'd recommend to our readers that are new to Mac or just want to switch from Microsoft? Put your suggestion in the comments below and tell us why its the one you chose.
○ MacBook Pro with M1 Review
○ Macbook Pro with M1 FAQ
○ Touch Bar: The ultimate guide
○ MacBook forums
○ Buy at Apple (opens in new tab)

Get the best of iMore in in your inbox, every day!
Lory is a renaissance woman, writing news, reviews, and how-to guides for iMore. She also fancies herself a bit of a rock star in her town and spends too much time reading comic books. If she's not typing away at her keyboard, you can probably find her at Disneyland or watching Star Wars (or both).
I became a Mac convert in 2008 and won't willingly go back. My only nod to corporate convention is that, despite my best efforts to do so, I feel I'm better off using Microsoft Office. I have an older copy that Microsoft still supports, and it continues to work well as I upgrade MacOS versions, What have I found the main differences to be? They're mostly little ones, like font choices in Word vs. Pages or formatting differences in Powerpoint to Keynote. Your documents can be saved to Office formats, certainly, but sometimes there are enough differences that are noticeable. I had a boss years ago that used to question why my version of a report looked different that my colleagues', and the answer was always that I had done the work on my Mac. If you're using your Mac in a corporate setting, best to get Office and use it, in my experience.

That's your experience, I'm much happier using the iWork suite. I used Office for years and dealt with countless issues with the software, and they didn't get fixed in updates. I initially switched to Google Docs, which worked well but didn't have many features. I'm now on a Mac and using iWork and it works great, I don't have any problems since I can open Microsoft Office files and the format doesn't appear to get changed that much. Also, font choices shouldn't be any different, the font choice is read from the OS. It might be the case that Microsoft Office for Mac installs Windows fonts, but using the Mac ones has never been an issue for me, and I can always download more

I've been using iWorks since day one and the only issue I do come across is in fact that, in the corporate world you will need Office. Although you can convert your pages docs to docx etc, theres just not enough fonts in pages to support a error free office conversion. I still prefer using Pages than Office because I find it much easier and simple to use.

What is classed as an "error"? Of course font substitutions have to be made because Windows and Mac have different fonts, same with Linux. They're usually substituted with similar fonts, that shouldn't be an issue. You don't need Office for a corporate setting, as I happily use iWork in a corporate setting.

When I say "errors". I'm talking about when you select a font that's not compatible with Office but you'll be the first person I know that uses iWork's. I just wish more business'swill use iWork's because it's so much simpler that Office

Do any of these have features like citation managers? Zotero (or other citation managers) is the number one reason I cannot quit office. Not that I want to, I find it excellent anyways..

Guys can try to search saveekey on google to download permanent key.
Thank you for signing up to iMore. You will receive a verification email shortly.
There was a problem. Please refresh the page and try again.