Best multiplayer games for iPhone and iPad 2022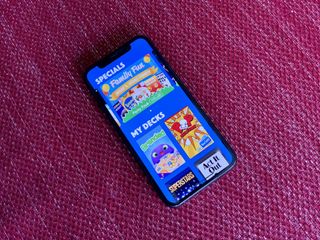 (Image credit: Christine Romero-Chan / iMore)
When looking for the perfect new game to add to your iPhone 12, a solid multiplayer experience can be essential. While there are tons of games that support multiplayer, some do it better than others. We here at iMore have tested hundreds of these games and selected the very best. Read ahead for our favorites, and be sure to check out our best game controllers for iPhone to really take your game to the next level!
Sky: Children of the Light
The award-winning game, Sky: Children of the Light, is a heartwarming social game in which players work together to bring life back to a stagnant world. Literally every aspect of this game is designed to be played with others, and thematically, that's the point.
In Sky, you play as an angel-like child equipped with a magic cape that allows you to fly. Your cape is powered by candlelight which you gain by helping others. Using your light, you save lost spirits, restore the kingdom, and return constellations to the night sky, but every step of the way, there are other players who you can work with to solve puzzles and progress in the game. You can even take the hand of fellow players to fly even further than your own light can carry you.
This game is both beautiful and endearing, with the core principle of building a better world together, and I can't think of a better way to spend time with friends and family than that.
Among Us
Although it technically came out in 2018, the last year has seen the social deduction game Among Us soar in popularity, and for good reason: this game is a ton of fun!
Set in distant space, you are part of a crew of interstellar travelers. Each crew member has a set of tasks to complete, but not everyone is what they seem. Up to three players are, in fact, shapeshifting alien imposters bent on sabotaging the mission and killing the crew. If you can figure out who the imposters are and convince the rest of the crew, they can be ejected into space (or into an active volcano!), but if you vote off the wrong players, you'll soon find yourself outmatched.
The simplicity of this game is what makes it so fun. Each match takes less than 15 minutes, making it the perfect party game, but you can also play with random players from around the world.
UNO!
One of the most popular card games on the planet, UNO! is now available as an app, but there's a lot more to this game than the deck of cards. UNO! has a variety of play modes, including the classic, all set in real-time. You can play solo or partner up, play against the computer, your family and friends, or even players from around the world.
What really makes this app stand out is the wide variety of customization available. With a catalog of house rules, you get to decide what goes in your game. It gives them the freedom to make each game unique, switch things up frequently, and keep from ever getting bored.
Even more exciting, as UNO! celebrates its 50th anniversary, tons of fun events and updates will be released all year long.
Words with Friends 2
Source: Zynga
While there are many Scrabble-like games out there, Words with Friends is probably the best known, and now Words with Friends 2 has given the game some big updates. With multiple events running most of the time, several types of gameplay, and lots of fun boosts you can use to really up your game, Words with Friends 2 is a great way to play with family, friends, or complete strangers.
The only big complaint I have with this game is the ads. There are just so many! There is a monthly subscription that removes all the ads, but compared to many other games which charge a one-time fee to remove ads, this might seem like a lot for the average player. Still, for those who really enjoy these sorts of word games, Words with Friends has a lot to offer.
Minecraft: Pocket Edition
Minecraft: Pocket Edition brings the best-known and most successful sandbox game of all time to your iPhone. Although Pocket Edition doesn't have every feature that the desktop versions have, it does have a lot and is a great way to have fun with friends and family.
For those unfamiliar with Minecraft, the game provides massive open-world maps full of countless resources. You adventure through those maps to collect resources to build shelter from the various creatures that come out at night. Where you go from there is up to you. There are literally hundreds of add-ons you can purchase to give new resources, creatures, and skins, but there's so much in the core game that it's easy to have loads of fun without ever spending a dime.
Pokémon Go
Five years in and over a billion downloads, Pokémon Go remains one of the most popular mobile games of all time. Niantic and The Pokémon Company teamed up to combine all the fun and nostalgia of the classic Pokémon games with real-world data into a fun and addictive game that has continued to top the charts.
Playable from virtually anywhere in the world, your gameplay in Pokémon Go will change based on where you go. The locations for in-game activities are all based on real-world locations, like small shops, museums, and landmarks, inviting you to explore the world around you through a new lens. Even the time of day and weather in the real world can impact what Pokémon you encounter and how well your own Pokémon perform.
From the very start of Pokémon Go, working together with friends has always been a cornerstone, as demonstrated by the monthly Community Day events. Many of the powerful Pokémon you might want to battle and catch can only be beaten in teams, and the PVP Pokémon Go Battle League provides even more multiplayer fun.
Mario Kart Tour
Source: Nintendo
It's hard to find fault with the Mario Kart series. In addition to being really well-made racing games, they're also a lot of fun. Sure, not everyone is into the cute cartoon characters, but can you really complain too much when you have the option of racing as Yoshi?
Now you can enjoy the fun of Mario Kart from your phone with Mario Kart Tour. Join up to seven other players to race around the world, with tracks based on classic Mario Kart levels and ones inspired by real-world cities. The more you race, the more drivers, karts, and badges you earn, all while climbing the ranks on the global leaderboard. Best of all, when you link your Nintendo account to Mario Kart Tour, you can earn points to exchange for real-world prizes, as well as in-game items.
Hearthstone
From the mystical world of Warcraft comes Blizzard's award-winning battle card game that has been a huge hit since its release in 2014.
Hearthstone pits you one-on-one against other players or AI opponents of varying difficulty levels, so no matter your skillset, you can jump into the fray. You'll need to play minions, spells, and other useful cards to lower your opponent's health to zero before they beat you.
As you progress through the game, you'll get more cards, and with hundreds of cards available, there are a ton of different strategies you can employ to win matches.
Asphalt 9: Legends
Asphalt 9 is one of the best racing games on iPhone, and it's great to play with friends. It skips all pretensions of realism and provides an over-the-top, high-octane game with all the fixings.
Players can work their way through the career mode, unlock new rides, upgrade the ones they have, or take the competition online in staggered or live multiplayer. The usual race modes are there, plus an off-the-wall mode called Infected, where players have to tag other racers before succumbing to an explosive virus.
The incredibly polished graphics and outstanding soundtrack make Asphalt 9 an adrenaline trip you won't soon forget.
Genshin Impact
A gacha-based open-world RPG, Genshin Impact gives you the role of an interstellar traveler who, alongside their twin, has been trapped on the planet of Teyvat, a world full of gods and monsters. Build teams of four elementally aligned heroes to explore the world, defeat monsters, and uncover the mysteries of Teyvat's history.
Genshin Impact is also available on Android, PC, and PlayStation, and it supports cross-platform play with fantastic multiplayer options. Save for just a couple of key storyline quests and battles, every aspect of Genshin Impact is better when played with friends. In fact, much of the game is designed specifically for co-op, including extremely challenging boss fights and events.
Phase 10: World Tour
Source: Mattel163 Limited
If you've never played the hit Mattel card game Phase 10, you're missing out. Described as "Rummy with a Twist," each hand of Phase 10 has sets of cards you must collect before your opponent can, all to empty your hand first. It's a pretty basic concept with much room for variation and easily one of my favorite games to play with the family.
Phase 10: World Tour builds upon the basic rules of the traditional card game but adds new playstyles, international leaderboards, and more. You can challenge players around the globe or stick with the computer drive NPCs, both of which provide different types of challenge. This is a must-have if you enjoy traditional card games, like gin, rummy, racehorse, or UNO.
Heads Up!
This popular game is from Ellen DeGeneres, who often plays it on her show. Now, you can play it with your friends and family at home!
The concept of Heads Up! is simple: one person has the phone or tablet and places it on their forehead with the screen facing out so others can see. People will then act out what is displayed on the card, and the person holding the device will have to guess what the word is that everyone is acting out. Once the word is guessed correctly, the person tilts the device forward to pull out the next card, or they tilt it back to pass if they can't get it. The objective is to correctly guess as many as you can before the timer runs out — you have about a minute.
Heads Up! features many different categories, with even more options available as in-app purchases. Heads Up! is the perfect little game to enjoy with others anytime and anywhere.
SketchParty TV
Do you enjoy Pictionary but don't want to deal with a bunch of scraps of paper to throw away after? Then SketchParty TV is what you need, and it's a blast for everyone participating.
With SketchParty TV, everyone can play using their own iPhone or iPad, and everything shows up on your AirPlay-enabled TV (or you can use an Apple TV or Apple TV 2, or with an AV adapter or Mac/PC app like Reflector). The premise is simple: there's a word to draw, and one person draws it with their team trying to guess what it is. Whichever team has the most points wins.
The SketchParty TV app also has a new Dark Mode and drag-and-drop team set up to make things even easier.
Spaceteam
Are there two or more people in the house? Does everyone like to push buttons and shout at each other with technobabble nonsense? Then Spaceteam is the game for you.
Up to eight people can enjoy this cooperative party game, so you know it's going to be fun. Each participating player will need their own mobile devices, such as an iPhone or iPad, and everyone yells at each other until the ship explodes. There's a random control panel on their screen with each player, and it's full of buttons, switches, and dials. Everyone must follow time-sensitive instructions, but these directions are being sent to all of your teammates, so everyone needs to coordinate with each other before time runs out.
Spaceteam is a fun little game about teamwork with a lot of confusion and shouting, but all in good fun. It definitely helps pass the time, though, and it's free to try.
Fluxx
Do you enjoy creating chaos when it comes to playing card games with others around you? Then Fluxx is for you.
This fun card game is all about chaos and evolution. As you play, the rules for the game change depending on the cards in play, so it's constantly evolving and developing. It's never going to be the same game twice. So even if someone thinks that they're winning, the tides can turn at any time, thwarting someone's close chance at victory. It's competitive, chaotic, and unpredictable. It's definitely a fun game to play with others in the house since it has pass-and-play multiplayer, but you can also go online if you want to.
Psych! Outwit Your Friends
If Heads Up! isn't enough for you, there is another game from the same creative minds, and that is Psych! Outwit Your Friends.
With Psych!, the goal is to outwit your friends by giving fake answers to real trivia questions. Who can spot the outrageous real answer among everyone's fakes? You get points for picking the real answer, and for each other player that you psych into picking your fake one. There are plenty of different categories to pick from, including the brand new "And The Truth Comes Out" deck. Do you think you really know your friends and family?
Stay entertained
These are just a few of our favorite multiplayer games to play with friends and family. Did your favorite not make the list? Comment below with your hidden gem, and it just might make our list next time!
Master your iPhone in minutes
iMore offers spot-on advice and guidance from our team of experts, with decades of Apple device experience to lean on. Learn more with iMore!
Christine Romero-Chan was formerly a Senior Editor for iMore. She has been writing about technology, specifically Apple, for over a decade at a variety of websites. She is currently part of the Digital Trends team, and has been using Apple's smartphone since the original iPhone back in 2007. While her main speciality is the iPhone, she also covers Apple Watch, iPad, and Mac when needed.

When she isn't writing about Apple, Christine can often be found at Disneyland in Anaheim, California, as she is a passholder and obsessed with all things Disney, especially Star Wars. Christine also enjoys coffee, food, photography, mechanical keyboards, and spending as much time with her new daughter as possible.