Best Portable Monitors for Mac in 2022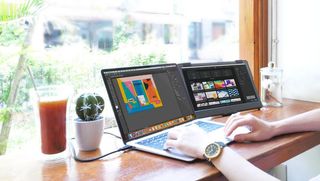 (Image credit: Gechic)
Working from your Macbook is super convenient until you start to squint because the screen is not big enough to accommodate all your tasks. While they might not be among the best monitors you can get, portable monitors allow you to include a second screen to your setup to help you work on different projects without the hassle of switching between several tabs and windows. Whether you want to use the portable monitor for work or gaming, you are in for a treat. Our best portable monitor for Mac has to be the ASUS MB169C+ Portable Monitor for its HD resolution, excellent colour production and works flawlessly with Macs.
Best Overall: ASUS MB169C+ USB-C Monitor
The Asus MB169C+ is probably the world's first portable monitor spotting a USB-C port, which is a perfect fit for modern and future PCs and Macs. All you need is a single USB-C cable for data and power transmission from the host device. As such, you get a neat work station with minimal wire clutter. Weighing just 0.8 kg and 8.5mm thick, this 15.6-inch Full HD 1920 x 1080 companion display is the ultimate portable monitor, and it's the perfect choice if you're looking for a great USB-C monitor that you can take with you.
Even better, the ASUS MB169C+ is compatible with both Windows 10 and macOS. You don't have to download additional drivers for use with either of the operating systems. The monitor comes with an ASUS Smart Case for protection while on the move. Also, the protective sleeve doubles up as a three-way stand for added flexibility. To guard your eyes against harmful blue rays, the monitor has an onscreen display menu with four different light filter settings.
ASUS MB169C+ USB Type-C Monitor
Future proof
Reasons to buy
+
Super slim and light
+
Wide viewing angle throughout the HD IPS Panel display
+
Single cable connectivity
+
No drivers needed to for Macs
Reasons to avoid
-
The protective sleeve is quite heavy
With most PCs and Macs embracing the USB-C connector, the monitor will most likely break before it becomes obsolete
Runner-up: GeChic 1503H Portable Monitor
If you are looking for the best high-performance portable monitor for your MacBook, the GeChic 1503H won't be a letdown. It's a 15.6-inch portable monitor with 1920x1080 full HD resolution and 16.7M colours for incredibly vivid images. Included is a 2-in-1 cable with both HDMI and USB connectors for a hassle-free link to your host devices. Weighing 798g and 1.1cm thick, the portable monitor won't weigh you down while on the move.
The rear dock port has a great expansion for seamless cable connectivity so you can efficiently switch between landscape and portrait viewing modes without cables getting in the way. With this model, you get a 170 degree vertical and horizontal viewing angle and an LED backlight for incredible brightness. The IPS panel brings you refined colours and vivid pictures.
GeChic 1503H Portable Monitor
The ultimate view
Reasons to buy
+
Dual input ports
+
Inbuilt speakers
+
Full HD display
+
Feather light
You can enjoy a super-wide view while gaming by connecting two 1503H monitors to a laptop to create a triple monitor.
Best for Gaming: G-STORY Portable Gaming Monitor
Add the G-STORY to your gaming rig and your gaming story changes. The UHD 4K monitor comes with an incredible 2160P (3840X2160) native resolution display and supports High Dynamic Range(HDR) technology. HDR simply makes dark screen areas darker and light ones lighter which creates a stunning contrast, consequently protecting gamers' eyesight. Enhanced with FreeSync technology that eliminates image shuttering or tearing, so can enjoy a lag-free gaming experience.
The monitor comes with two built-in stereo speakers and two 3.5mm audio jacks for listening convenience. For computers and phones spotting the USB-C, all you need is a single cable for data and video transmission. Unfortunately, the port doesn't support USB-C charging. For added connectivity, the monitor has two HDMI ports. It is fully compatible with Xbox and PS4, and you get a complimentary remote control.
G-STORY 4K Portable Gaming Monitor
GamePlus function
Reasons to buy
+
Perfected to game
+
Good image quality
+
Inbuilt stereo speakers
+
UHD 4K resolution
+
Incorporates EyeCare technology that reduces eye fatigue.
Designed to support FPS/FTS gaming modes, the monitor lets you hit the 60+ fps mark for a memorable on-the-go gaming experience.
Best Value: AOC 15.6-inch USB Portable Monitor
As with most IPS monitors, the I1659FWUX provides wide viewing angles and a perfect mobile companion can. Its 15.6-inch IPS panel is housed in a sleek black cabinet with non-reflective coating. The monitor's rotating, silver-picture frame stand props it up so you can view in portrait or landscape mode — the image on the screen auto-rotates when you shift the panel.
It's light enough for travelling and comfortably fits into most laptop bags. It has a 1920x1080 resolution, a 25-millisecond black-to-white pixel response, and a 60Hz refresh rate. To reduce the need for several cables, the monitor has one USB-C port for both data and power transmission.
AOC 15.6-inch USB Portable Monitor
Affordable
Reasons to buy
+
Bright IPS panel
+
Wide viewing angles
+
All you need is a single cable
Reasons to avoid
-
Not ideal for avid gamers
If you are tasting the portable monitor wave, it's a great option, and you won't have to break your wallet.
Best Touch Display: ASUS ZenScreen MB16AMT
When it comes to touch display, it doesn't get better than the Asus MB16AMT portable monitor. It's super sleek and lightweight with a whooping 15.6-inch full HD display. The 1920 x 1080 resolution display is enhanced with IPS technology and a wide (178 degrees) viewing angle for stunning colour visuals even from extreme positions. The monitor's highlight is the 10-point intuitive and super responsive touch input function that enhances accuracy and multitasking.
The ZenScreen comes with a smart foldable case which doubles up as a stand-in either portrait or landscape mode. With its powerful 7800mAh built-in battery, you will stay productive for up to four hours on a single charge, without draining the battery of the host device. Besides, it has hybrid-signal USB-C and micro-HDMI ports for connectivity with a range of devices. The reversible (any-way-up) USB-C design facilitates quick and hassle-free connection to supporting devices.
ASUS ZenScreen MB16AMT
For all road warriors
Reasons to buy
+
Powerful built-in battery
+
A Full HD IPS display
+
Compatible with USB Type-C and Type-A sources
+
Intuitive and responsive 10-point touch screen
Reasons to avoid
-
May not auto-rotate on MacOS
The ZenScreen features an ultra-portable design with a slim 9mm profile and weighs 0.9kgs, even with the premium metallic cover.
Best 13-Inch: GeChic 1306H Monitor
If you prefer a smaller screen as opposed to the 15.6-inch screens, the Gechic has you covered. Being the latest model in the Gechic 1300 series, the monitor packs modern features to automatically pair with your Macbook or Mac mini. The monitor's 13.3-inch Full HD 1920x1080 display comes with both HDMI & USB-C (Alt DP Mode) interface. Al you will need is a single cable for both data and power.
The monitor's protective cover comes with a back stand to hold the display at a comfortable viewing position between 40 and 80 degrees. Since it has an HDMI port, the monitor connects to virtually all devices with HDMI output.
GeChic 1306H Monitor
User friendly
Reasons to buy
+
170 degree viewing angles
+
Super light and slim
+
Spots both USB-C and HDMI
+
Compatible with almost all devices
The monitor is built to work with Macs without the need to download and install drivers
Bottom line
Unlike PCs, getting a portable monitor compatible with Macs is quite a task since the market has remained relatively small. Regardless, our roundup shows that there are a few high-quality monitors that work well with Macbooks and Mac minis. For portability, you should factor in the weight, resolution, mode of connectivity, price, among other variables.
Our best overall monitor, ASUS MB169C+ Portable Monitor (opens in new tab) is future proof since it comes with a USB-C connector (DP Alt mode) for convenient connection to future devices. The 15.6-inch full HD 1920 x 1080 display weighs about 0.8kgs and features a super slim (8 mm) profile, a perfect combination for portability.