Best Space Gray Accessories for Your iMac Pro in 2023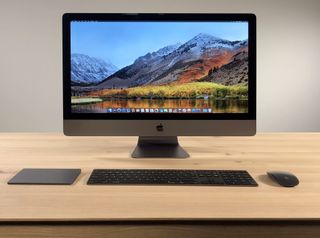 (Image credit: iMore)
Your iMac Pro is a powerful workhorse that's ready to tackle everything you can throw at it, and you want to find some great accessories for it. Maybe the Magic Mouse isn't your thing, or you want a keyboard with a little something extra. But you also want your accessories to match your iMac's space gray finish. That's where this list comes in. Here you'll find a set of accessories, from keyboards to cables, that keep with your iMac Pro's attractive aesthetic.
The must-have items
Why you can trust iMore Our expert reviewers spend hours testing and comparing products and services so you can choose the best for you. Find out more about how we test.
Your iMac Pro is a powerhouse of a desktop. Whether you're using it for work or play, great accessories are going to enhance your experience and let you get more done. However, there are a few items on this list that deserve extra credit for being so useful.
The SteelSeries Rival 300 (opens in new tab) is just a solid mouse, and for anyone who dislikes the Magic Mouse, you'll be hard-pressed to find one as customizable, comfortable, and eye-catching as the SteelSeries Rival 300. It's a perfect companion to anyone trying to get a lot done.
I can't tell you how many times I have been frustrated by the poor-quality Lightning cables Apple provides with its products. Over time, they always seem to fray or stop working one way or another. Getting a durable cable like the Anker Powerline+ USB-to-Lightning cable (opens in new tab) is essential for any Apple user.
Lastly, as a writer myself, I can't stress enough how important a good keyboard is to anyone who finds themselves typing a lot of the day. A full-size QWERTY keyboard with a full numeric pad like the Satechi Aluminum Bluetooth Keyboard with Numeric Keypad (opens in new tab) is going to make typing away on your iMac Pro as much easier and much more comfortable.
Get the best of iMore in in your inbox, every day!
Amy-Mae has been writing about consumer technology since before the iPhone was even a twinkle in Steve Jobs' eye. She started out in magazine publishing with the UK lads' mag 'Boy's Toys' then moved online with startup Pocket-lint.com as the first full-time member of staff, helping grow the site to one of the UK's largest gadget sites. Amy-Mae then moved to Mashable when it only had a staff of around 10 people. After working her way up to a senior role there, Amy-Mae left in 2014 to have her daughter. Since then Amy-Mae has continued to contribute to Mashable and The Daily Dot, keeping up-to-date with the latest consumer technology and social media trends. For iMore.com, Amy-Mae gets to her explore her love of home cooking, concentrating on all things kitchen tech.
Thank you for signing up to iMore. You will receive a verification email shortly.
There was a problem. Please refresh the page and try again.