The best type of backpack to take on your trip to Disneyland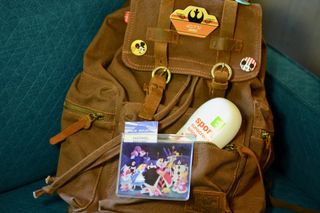 I've spent a decent portion of my life at Disneyland. I was born in Anaheim and lived less than two hours from the park for half my life. Even today, after moving 400 miles away, I still have a season pass and have been known to attend a Disney convention or two (well actually, only just the one). I have strong opinions about the type of backpack one needs for 16 hours of walking, sitting, and riding rides in the temperate California weather.
It should be light
Normally, when it comes to bags and backpacks, I'm all about the pockets. I get excited about any tech bag with special compartments for pens, phones, and tablets, especially if they're padded to protect my gadgets. But not when it comes to Disneyland.
You're going to be carrying around your backpack all day. For anyone that likes to take advantage of every hour the park is open, that could be a 16-hour day. The last thing you want to do is burden your shoulders with something that already has its own weight. Thin and light and with as few pockets as possible is the best way to go when carrying a backpack all day long.
You'd think a bag with padded shoulder straps would be a good thing, but it's actually more cumbersome than it's worth. You should only get a padded backpack if you know the contents of it will be excessively heavy. Padding is helpful, but adds weight and ends up being uncomfortable in the long run, especially on a hot day — all that extra material pressed against your body equals sweaty shoulders.
It should have a large pocket
A bag with 20 pockets is a thing of beauty, but not when you're in the fast-paced world of Disneyland. I know what you're thinking. "But you just stand in lines all day." True, but there are dozens of times when you'll need to grab something out of your bag at the last minute and you don't want to be zipping and unzipping every little pocket looking for your FastPass to get on a ride or credit card to buy a Mickey-shaped pretzel.
And speaking of zipping and unzipping: You'll have to go through a security checkpoint before entering the park, and you'll have to open every single pocket on your backpack to show the security officer what's inside. Every single pocket.
Instead of a bunch of little pockets, you'll do better with a bag or backpack that has one large single pocket big enough to shove sweaters, sun screen, water bottles, snacks, and whatever line distractions you bring (like a portable video game system or a book). Plus, your bag should have one smaller pocket at the front so you can toss in your wallet and phone. You'll be grabbing those things out a lot and will want them to be easily accessible.
Typically, I transfer everything I carry around with me on a daily basis into the small front pocket (keys, wallet, lip balm, phone, mints, etc.) and reserve the larger pocket for items I need specifically at the park.
It should be as small as you can possibly get it while still fitting your things
The problem with carrying around a bag or backpack all day is that there's nowhere to store it while you're on a ride. Disney has perfected the in-ride storage bag. It's incredibly small but remarkably stretchy. You can actually fit an entire backpack into one, as long as it's not too big or too full. Rides like Space Mountain, Indiana Jones Adventure, and Big Thunder Mountain Railroad are fast-paced rollercoaster type rides. You can't just set your backpack at your feet and you're not going to want to be burdened with trying to strap it to your front (though that's a common way to hold onto your bag in a pinch). That's what those in-ride storage bags are for.
You might be tempted to bring the largest backpack you can find so you can shove everything you'll need for the entire day into it. Don't do that. Instead, select the smallest bag you can get that will still fit your most important items. You may end up with extra items that don't fit into your bag, especially in the winter when you'll need to bring a coat for the cool nights, which means you'll need to do something with all your overflow. That brings me to my final bit of advice...
You should think about getting a locker
If you're well paired-down, you can get through a 16-hour day at Disneyland without needing a locker. But that comes with the experience of knowing what you truly need and what you can live without. Most of us over-pack for the unknowns. Or we have a couple of kids that are too old for strollers and too young to carry their own stuff.
There are lockers inside and outside Disneyland that are easy to get to and relatively inexpensive (relatively). On Main Street, about halfway down, across from the Carnation Cafe (which is a great place for breakfast), you'll find the in-park lockers. If you're only visiting Disneyland and not park-hopping, I recommend using a Main Street locker because you don't have to leave the park to get your things. It's closer and easier to get to. If you're park-hopping, I recommend using one of the lockers in the Esplanade (the area between both of the parks). There's one next to the entrance of Disneyland and one next to the entrance of California Adventure. I usually choose one next to the Disneyland entrance because California Adventure usually closes earlier than Disneyland, so I know it's the park I'll exit last at the end of the day.
Lockers inside the park are small or medium and cost $7 or $10 per day (not per hour). Outside, you can get a small or medium locker, or if you need the extra space, a large for $12 or extra-large for $15. You can fit a lot into a $7 locker, but if you're sharing with a lot of people, you might want to upgrade to a $10 one. I've managed to fit jackets, extra shoes, park purchases, and more with six adults in a $10 locker. You can get into your locker as many times as you like all day. You won't have to pay every time you open it.
Just don't forget your stuff at the end of the day. The lockers are cleared out around 2:00 a.m. every day.
The best backpacks for a day at Disneyland
Now that I've given my general advice about the best type of backpack to take on a trip to Disneyland. Here's a list of backpacks that are perfect for a day at the happiest place on earth.
HTOP Waterproof Drawstring Bag
The drawstring bag is the lightest, thinnest backpack you can get and it is my favorite type of bag to use for a day at Disneyland. The key to a good drawstring bag is to make sure the straps are thick. Don't get one that uses a thin rope as a strap. Those will dig into your shoulders after a while. The HTOP bag has nice, wide straps, but is super lightweight. It has a number of pockets lining the inside, but not a bunch of zipper pockets. They're more like compartments to keep a few items separate from everything else. The smaller front pocket is ideal for keeping your wallet and phone easy to get to. It's also got the added bonus of being waterproof, which you'll be happy to have if you go on Splash Mountain. They don't call it that for nothing.
The HTOP Waterproof Drawstring Bag comes in black, blue, or purple for $16 or $17, depending on your color preference.
See at Amazon (opens in new tab)
AmazonBasics Ultralight Packable Day Pack
If you need to really fill your bag with a lot of stuff, like sweaters, cameras, snacks, or other large items, the Ultralight is the perfect fit. It's made from a super thin nylon material and has no basic structure. It can literally be folded into pocket-sized when empty. It's got mesh shoulder straps so, even though they're thicker than a drawstring bag, they're still very comfortable. The two side pockets are a perfect fit for water bottles and there is a small front pocket for quick access to your most important items.
Because the bag has no structure, it is a bit awkward if you're only carrying boxy items, like a tablet or camera. You'll want to pad it out with softer, fluffier things, like sweaters. If you have at least one sweater, you can create a good base for other, boxy items on top.
The AmazonBasics Ultralight comes in either 25 or 35 liters (35 is probably best if you're carrying the entire family's cold weather gear). It costs $16 for the 25-liter bag and $18 for the 35-liter bag an comes in a variety of colors.
See at Amazon (opens in new tab)
P.KU.VDSL Augur Series Canvas Backpack
If you're looking for something a little more standard, the P.KU.VDSL is an incredibly versatile rucksack that has a bit of style. It's not super big and has a bit of extra weight. But, if you're good at pairing down and won't be carrying a whole lot of stuff throughout the day, this bag is just right. I've used mine multiple times at Disneyland. I would experience some backpack fatigue when it gets weighed down with extra stuff but is still a great bag.
It's also a versatile backpack for more than just a day at the park. It's got a padded sleeve for added protection for your tablet or laptop, so it's good for daily use for work, school, or just about anywhere. So, if you're looking to buy a backpack for more than just your Disneyland trip, this one will work under a lot of different conditions. You could even pick up an AmazonBasics Ultralight day pack and toss it into this one until such time as you need the baggage.
The P.KU.VDSL comes in a wide variety of colors and runs $38 to $43, depending on whether you get the standard or large size (the description doesn't mention how much bigger the large version is, but I've got the standard one and it's big enough for me).
See at Amazon (opens in new tab)
Your thoughts?
Are you an expert Disneyland-goer? Do you have any suggestions for the best type of backpack for a day at the park? Put them in the comments. I'm always looking for a new backpack for Disneyland.
Lory is a renaissance woman, writing news, reviews, and how-to guides for iMore. She also fancies herself a bit of a rock star in her town and spends too much time reading comic books. If she's not typing away at her keyboard, you can probably find her at Disneyland or watching Star Wars (or both).
Is there one that repels children?

The best kind of backpack is the one your best friend carries all day.
Get the best of iMore in in your inbox, every day!
Thank you for signing up to iMore. You will receive a verification email shortly.
There was a problem. Please refresh the page and try again.