Bigger iPhones, women, and skinny jeans: Will your new iPhone fit in your pocket?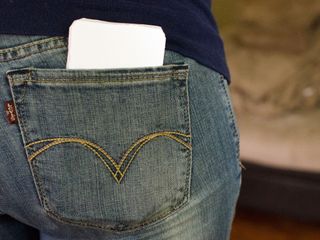 One of the largest concerns many folks have when it comes to buying larger smartphones, is whether or not it'll fit in their pocket. The iPhone 6 and iPhone 6 Plus are larger than any iPhone to date, coming in at 4.7" and 5.5" respectively. That being said, many people are already asking about how pocket friendly the new iPhones will be. While I may not have an iPhone 6 or iPhone 6 Plus yet, I do have templates, glue, some poster board, and a few ninja skills!
An interesting conversation was started on Twitter earlier this evening by one of our readers in response to my colleague Peter's editorial on not wanting a bigger iPhone. Essentially, he was asked to get a female's perspective on the larger iPhones and whether or not the larger iPhone 6 Plus would actually appeal to women considering how tight jeans can be, and how dresses in many cases don't have pockets — which shows how much boys know since a lot of dresses nowadays actually do have pockets.
As a woman who wears both tighter jeans and dresses, the answer is no. I'll buy the iPhone that best suits my needs, size be damned. But it's a decision that I think may vary from person to person, not gender to gender. The iPhone 6 and iPhone 6 Plus will still appeal to women, but it may just depend on their lifestyle and what kind of wardrobe they own. Setting the fact that most women carry a purse aside, I then began wondering how big of a deciding factor it really could be for some buyers — gender and jean type aside.
Thanks to AppleInsider reader Jeremy, I was able to print out a to-scale replica of both the iPhone 6 and iPhone 6 Plus. I then went out and purchased a piece of poster board that was slightly thinner than my current iPhone 5s. It may not be completely accurate, but it's close enough to judge. I then wrangled a very good friend of mine into finding her tightest pair of skinny jeans and helping me out — thanks Amanda!
Just for fun, I've thrown the HTC One M8 and the Samsung Galaxy S5 into some of the photos below. Because, why not? And in case you're interested, the M8 has a 5" display while the Galaxy S5 sports a 5.1" display.
While not scientific, these photos should give you a decent idea of exactly how you can expect the iPhone 6 and 6 Plus to compare not only each other, but two of the most popular Android smartphones on the market. Obviously some aspects of use can't be considered right now, such as how each device feels in your hand, or weight. That we'll have to wait for. But if you're buying on launch day, perhaps some of the below photos will help you decide between the iPhone 6 and iPhone 6 Plus.
As a side note, my brother owned a Galaxy Note 3 for a good period of time and despite the screen being a whopping 5.7", it still fit into my pocket just fine. Did it protrude over the top? Sure. But I still would have felt comfortable putting it there if I didn't have my purse with me.
Image 1 of 17
Note: View this article in mobile Safari or on a desktop browser to view the entire gallery.
And one more side note — I didn't snap a shot, but the Galaxy S5 and HTC One M8 do both fit sideways in most front jean pockets, tight or not. Unless of course the front pockets are too shallow.
Will pocketability affect your iPhone buying decision?
If you're planning to pick up either an iPhone 6 or iPhone 6 Plus, does the ability to put it in your pocket affect your decision? And for all the women out there, have you considered staying away from the larger iPhone 6 Plus simply due to clothing constraints? Let me know your thoughts, and what you're planning on buying, in the comments!
Get more iMore in your inbox!
Our news, reviews, opinions, and easy to follow guides can turn any iPhone owner into an Apple aficionado
iMore senior editor from 2011 to 2015.