Bioshock Infinite: Burial at Sea - Episode 1 now available for download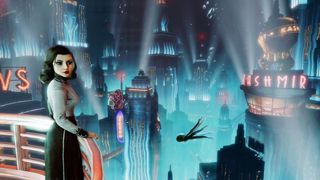 Aspyr Media has announced the release of new downloadable content for their Mac conversion of BioShock Infinite. Burial at Sea Episode 1 is now available from Steam, the Mac App Store and GameAgent.com. (The Mac App Store version is available as downloadable content available through the app itself).
BioShock Infinite is the third installment of the popular first person action game; this one took a very different approach, returning you in time to the early 20th century in an alternate Steampunk Earth where a giant floating city called Columbia holds a secret that you, a Pinkerton detective, must unravel. But all that's behind you now - Burial at Sea moves you forward in time and revisits the scene of the first two games.
This new DLC brings Booker and Elizabeth, the two main characters from Infinite, to the underwater city of Rapture. Rapture has been rebuilt using the BioShock Infinite engine, and the game includes a new weapon, new Plasmid, new Gear and Tears. What's more, this is Rapture at the height of its glory, before the city falls to ruin. What are Booker and Elizabeth doing in Rapture? Find out by playing this new installment!
Are you a fan of BioShock games? Have you been looking forward to new DLC for BioShock Infinite? Let me know in the comments.
Get the best of iMore in in your inbox, every day!
I have not played any of the BioShock games but I have heard a lot about Infinite and have been thinking about checking it out. Sent from the iMore App

Bioshock 1 is my favourite game. And many friends agree after they too got hooked.

I haven't played Bioshock yet either but I've heard very high reviews. I'm looking forward to trying it. Sent from the iMore App
Thank you for signing up to iMore. You will receive a verification email shortly.
There was a problem. Please refresh the page and try again.