Brothers in Arms 2: Global Front now in App Store!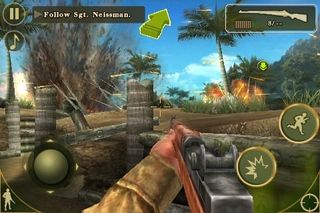 Brothers in Arms 2: Global Front has is now available in the App store [$7.99 - iTunes link (opens in new tab)]. This is the sequel to 2008's Brothers in Arms: Hour of Heroes, one of the first 3D shooters on the iPhone. The above screen shot was taken in-game and it looks amazing. There is a smooth framerate and uses Gameloft's successful control schemes for FPSs. This is a big improvement over the first game in the series and has been well worth the wait. Some highlights include:
Battle across 5 locations: Pacific, Normandy, North Africa, Germany, Sicily.
Challenge up to 5 friends on five multiplayer maps online
Pilot 3 vehicles including the tank, off-road vehicle or glider, or gun down enemies from the vehicle or tank turret
A wide range of realistic weapons: machine guns, bazookas, sniper rifles, flamethrowers and more.
Compelling cinematic moments with more interaction between you and your squad members
Stunning graphics and authentic settings inspired by real life battlefields from WWII.
I have been waiting for this game for some time, now march out there and defeat the enemy solider!
Get the best of iMore in in your inbox, every day!
Software trainer, blogger and mobile technology enthusiast living in the suburban Midwest.
Darn, thought it might be the follow-up to the original Dire Straits album from '85. ;-)

I didn't write that comment in the afternoon I wrote it in the UK at about 8:30pm please sort the times out

Comments are marked in EST (GMT-5hrs)

story is decent, online gaming is just like NOVA, gets old fast for me.

Looks interesting.... wait and see a few reviews first...
http://www.diverse-group.com/menu/blog.html

This is a very fascinating post, I was looking for this information. Just so you know I found your weblog when I was checking for blogs like mine, so please check out my site sometime and leave me a comment to let me know what you think.
Thank you for signing up to iMore. You will receive a verification email shortly.
There was a problem. Please refresh the page and try again.