Burger King's new app will let you buy a Whopper with PayPal, not Apple Pay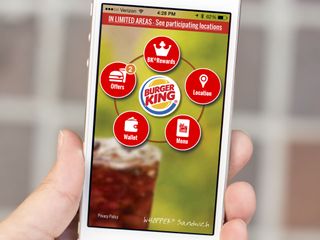 Burger King shoppers might want to pay for their next Whopper with Apple Pay on their iPhones, but The King has different plans for them: their own app. Burger King and PayPal today unveiled a partnership that will see the Burger King iOS app updated to support making in-store payments via PayPal instead instead of using Apple's credit card-reliant system. Burger King hasn't made any official moves with their current Apple Pay-compatible NFC payment installations, but given the reaction towards MCX and CurrentC retailers shutting down Apple Pay, we hope they'd be hesitant about doing so.
In a blog post, PayPal stated:
Burger King announced plans earlier this year to offer customers a way to pay for their meals via their iPhone app. McDonald's, the nation's biggest fast food restaurant, has already sided with Apple's mobile payment system, Apple Pay. So far there's no word if Burger King will add Apple Pay support as well.
Source: PayPal
Get the best of iMore in your inbox, every day!
I have been writing professionally about technology and gaming news for 14 years.
Who uses an app to order from Burger King? Also, by using PayPal and not Apple Pay you have created a ripple and are expecting negative publicity.

the same people that use the popular new app to order from Taco Bell. http://www.youtube.com/watch?v=RU5StW3sUFY
http://money.cnn.com/2014/10/28/news/companies/taco-bell-app/

Shocker! Next thing you know Dollar General won't take Apple Pay either.

Just FYI - Apple Pay was a no-go at Jack in the Box. It would launch Apple Pay, but would not complete transaction. I've used Apple Pay successfully before at other places, so not sure why it didn't work there.

Just because they accept NFC does not mean they accept Apple Pay. A few systems are specifically prohibiting Apple Pay, such as the Coke vending machines on my campus. They only accept Isis NFC payments. Sent from the iMore App

I think you are correct. It's just confusing because most of the things I have read says that if terminals accept NFC, Apple Pay will work. I guess that isn't entirely accurate.

I read that too. I was thinking the same thing. I've always assumed it worked anywhere nfc worked. Granted i haven't even attempted to use it since honestly, i haven't been anywhere that accepts it in the last month.

You gotta go to McD's and Walgreens more often. LOL

You need to get a better argument. Sent from the iMore App

Well Subway accepts it too. That's marginally better than McDs. Sent from the iMore App

What about Krusty Burger?

I think options are good, as long as I also have the option to use NFC.

I don't see what the big deal is. There are plenty of card readers in stores that don't accept all credit cards - that's how I see it. Shop somewhere else or use a different form of currency.

So, you're saying Apple Pay is the Discover or Amex of mobile payment systems?

The Burger King app doesn't work anyway. It still crashes when it opens so I will not worry about it until they fix it. Sent from the iMore App

PayPal and Burger King? Good grief. Two things that will literally make one sick to their stomach.

PayPal is the last card i choose in my wallet. I want nothing tied to my checking account. Also Apple Pay is a single step process. Put your phone next to the terminal and up pops the credit card, put your thumb on button and your done. There are no other apps to open up.

Mapco gas stations in the southeast use a similar system. It works but it is not convenient. You have to open the app, open Mobile Pay, then select a station number and pump number (unless the GPS preloads it, which it doesn't about half the time), set a prepay cap with paypal, and then wait for it to turn the pump on which is usually pretty quick. All in all, it takes a lot more time to go through all of this than pull a credit card out and pay at the pump.