Calendars 5 for iOS review: Combine your calendars and tasks into one beautiful, easy to use app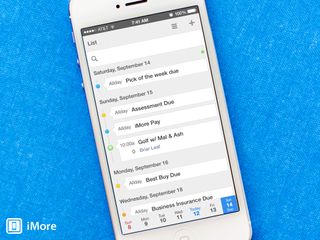 Calendars 5 has just become available for both iPhone and iPad and is a complete redesign of Readdle's popular Calendars+ app. With a great new design, support for natural language input, a built-in task manager, and more, Calendars 5 makes for a compelling option when it comes to alternative calendar apps.
Many people looking for an alternative calendar app nowadays want to be able to add things to their calendars as quickly as possible and with little effort. Sadly the native Calendar app still does not support natural language input. Luckily, Calendars 5 is one of the few that does. Instead of having to type in annoying details on an event, you can simply just say "Coffee with Mom at Starbucks tomorrow at noon." Calendars 5 will take care of the rest.
Calendars 5 also does a great job of combining tasks and calendars into one app. The tasks section, which can be accessed from the main menu, functions in the same way many popular todo apps do. You've got an inbox that you can use to create tasks quickly. Go back later and sort them into different lists. By default, you are given sections for today, upcoming, completed, and all. These sections will go off whatever due dates you assign. You can also add custom lists to sort better. Adding tasks can also be done with natural language input.
When it comes to the actual calendar portion, you have several views to choose from including list, day, week, and month. The week view is always something I'm rather picky about and Readdle's managed to nail it. I don't like having to scroll through tons of things and then not know where I'm scrolling to. Week views have always been confusing in many apps and that isn't the case with Calendars 5 at all. You can see an entire week at a quick glance. If there are more events on one page than what Calendars 5 can fit, you see an arrow that indicates you can scroll sideways. Flicking to the left will move forward a week while flicking to the right will move back a back.
The good
Online and offline support, syncing will pick up when you're online again
Great calendar views
Look and feel is ready for iOS 7
Syncs with your existing iOS calendars means virtually no set up
Support for Google Calendar
Push notifications for both tasks and calendar events that are fully customizable
Integration with the default iOS Reminders app
The bad
Natural language input doesn't let you specify a calendar, as far as I can tell anyways
The bottom line
Calendars 5 is a vast improvement on what was an already great app by Readdle. There are tons of alternative calendar apps out there but when it comes to combining both task lists and calendar events into one, Calendars 5 currently does it best.
Get the best of iMore in your inbox, every day!
iMore senior editor from 2011 to 2015.
This upgrade is paid for users who as already using previous versions?

Its not an upgrade- its a completely new app. So either way you have to pay. It looks nice- I think I am going to wait to upgrade to ios 7 first and see if the calendar is improved at all. I already use fantastical and pocket informant go which both uses natural language input.

iOS 7 Calendar is really nice, a vast improvement. However, I am a big fan of Fantastical, which Apple Calendar app is now (7) close to, but Fantastical still has a better grasp of managing calendars. Fantastical shows a list of upcoming events, scrollable - not a GANTT chart of days. This is eminently more useful. In Apple Calendar, I REALLY like you can zoom out to the year, and see a year's calendar at a glance. I am intrigued by the ToDo - does it use Reminders to do this, or its own To Do's?

Calendars 5 does have a list view as well! It's also a universal app and support iPad.

I love calendar apps in general so I may pull the trigger- I am just going to wait till next week

yes for ios 7- im curious about the new calendar apple rolling out- i have calendars + and like it a lot but at the time didnt have the natural language input so I bought fantastical- then informant came out with the language input so I bought that too since I liked the week view layout. Now this comes out...

My biggest issue with alternate apps to built-in ones on the iPhone, is that Apple does not provide a systemic way for third-party apps to take over functions like the desktop OS does. You want a new default browser? Calendar? Mail? No problem on a desktop. And, it frankly has not been a security issue there. So why would it be a security issue in iOS? And if it is, then do something similar to what they do with hardware access - they let you turn on/off app access to contacts, microphone, camera, photo library, etc. The desktop allows you to change the default handler app for these services. That is the one area where I am surprised Apple has not opened up a bit more.

I use Fantastical. I don't go all out with the natural language stuff but I love it's display options. Calendar 5 actually seems like I'd really enjoy it too, but at $5 it won't be worth the try unless Fantastical doesn't update to match the design of iOS 7. Even at that point Cal by Any.Do is free and works quite well.

Well, our Calendars 5 has Tasks support - that is a game changer if you use tasks :)

I don't, at least not integrated with my calendar. But thanks for being responsive about your product :). I saw you doing the same thing over on The Verge's post.

I seem to be limited to 2 shared Google calendars? Surely this can't be the restriction. It's advertised for power users who must have way more. Helppppp.