Call of Duty: Modern Warfare 2 and 3 finally shooting things up on Mac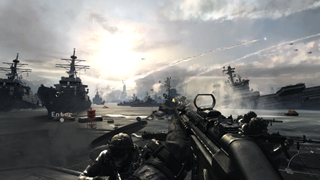 Neither is exactly the latest and greatest, but classic first-person shooters Call of Duty: Modern Warfare 2 and 3 are now finally available for Mac. Both titles have been available on consoles and Windows for some years now, so it's definitely a case of better late than never. But both titles plus all downloadable content are available via Steam and other online game stores. No Mac App Store this time out.
Modern Warfare 2 picks up after the end of the original Modern Warfare title, with the story rounded out in the third game. The fate of the world is in your hands in the story mode, while the online multiplayer aspects were definitely a hit first time around. It's a shame it took so long for these to reach the Mac, but if you've never played them, now's your chance.
Head on over to the Steam links below to pick up a copy of both for yourselves. What other big name titles are you still waiting, hoping will come to Mac?
Source: Aspyr
Get the best of iMore in your inbox, every day!
cool, maybe Mac can get tetris soon too?!

I was interested until I saw the pricetags. They are older games, and should be priced as such, despite the hard work done to revive them for OSX. High pricetags is only going to result in fewer people on the servers, driving people away. Though I'm a bit sentimental about these two, I'm not dropping $20-$40 on these games again.

+1 iMore App via Nexus 5.

If you are interested, they are 50% off on GameAgent.com, if you are a member (basically make a free account). If you aren't a member, they are still 25% off. And that gets you a Steam key, so you are good to go.

thanks for the pointer! just noticed this 5 year old game won't run on my 2 year old maxed-out MacBook Air though (Intel HD 4000 is not supported). Total bull.

Please can we have FIFA 14? :(

wow 5 year old game that needs 2014 specs.

seems strange these come out now two or three COD versions behind. It seems very dated.