Calling all iPhoneographers: Camera+ 9 has a brand new update!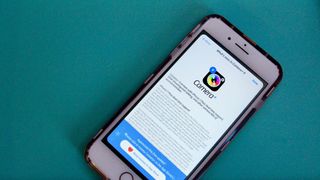 When the iPhone 7 and iPhone 7 Plus were released in September, there were plenty of features that left people drooling over the cameras: specifically, the secondary telephoto option on the iPhone 7 Plus. Couple that with iOS 10's ability to shoot and save RAW images in third-party apps, and it's not hard to see why the iPhone continues to be one of the most widely-used cameras in the market.
Several third-party apps have added support for the dual-lens system and RAW, and now the inimitable Camera+ (opens in new tab) has done the same: The Version 9 update brings iPhone 7 Plus dual lens support, RAW shooting and editing, and haptics majicks – pretty awesome, huh?
Dual lens support
RAW shooting
If you want a bit more control over the post-production look of your images when shooting with your iPhone 6s, iPhone 6s Plus, iPhone SE, iPhone 7, or iPhone 7 Plus, you can now enable RAW support in the Camera+ app. While RAW images may take up a bit more room on your phone than a standard JPEG or TIFF, shooting RAW makes editing a lot more precise and controlled. Speaking of editing...
RAW editing
After you snap your RAW photos, you can easily edit them in the Camera+ app. This means altering contrast, saturation, color, cropping, brilliance… you name it!
Haptics Majicks
What do you think?
Are you excited to use Camera+ with all of its exciting new features? Or will you stick to the standard camera app that came with your iPhone? Let us know what you think in the comments below.
Get the best of iMore in your inbox, every day!
Cella writes for iMore on social and photography. She's a true crime enthusiast, bestselling horror author, lipstick collector, buzzkill, and Sicilian. Follow her on Twitter and Instagram: @hellorousseau
I don't have this update in the app store : / never mind, it updated yesterday lol

Nice to see this update for my go-to camera app for iOS!