Which Sonos speakers can you mount?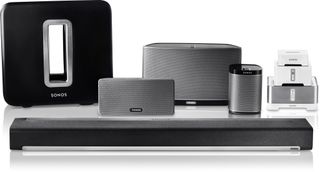 You've got yourself a beautiful, big-screen TV. You've purchased the slick Sonos Playbar or Sonos Play:1 speakers. You're going to have the coolest-looking home theater setup on your block, but once you've got it all setup, you see a major problem: there's cables EVERYWHERE!
Don't let the the power or optical cables from your new Sonos devices distract from the beauty of your new home theater system! Get yourself the right mounts, and you're back to having a modern tech haven Tony Stark would admire!
Which Sonos speakers can I mount?
The Sonos Play:1 and the Sonos Play:3 are designed to be easily mountable should you decide to do that.
Both of these models feature 1/4 inch threaded sockets to easily attach mounting screws to; however, Sonos doesn't offer their own mounting kit for these speakers. When looking at third-party options, consider whether or not you will want to be able to swivel, pivot, or reposition the speakers after you've mounted them.
The Sonos Playbar is the only device in the Sonos family that currently has a Sonos-designed mounting kit to easily install the Playbar above or below your TV. You could just keep the Playbar on a cabinet above or below your TV, but in order for it to receive audio, you need to have it plugged into your TV's optical audio jack, which means you'll have a visible cable trailing between your TV and speaker bar.
The Sonos Play:5 was not designed to be wall mounted. You can, however, can find a swivelling mount for the Sonos Play:5 from third party manufacturers. Keep in mind this speaker weighs nearly 15 pounds, so you'll want to make sure you know exactly what your're anchoring it to, and choose the appropriate screws, bolts, or lugs to handle the load. The last thing you want is to come home one day and see your precious Play:5 on the ground and a hole in the drywall where you thought it was securely mounted.
The Sonos Sub is also not designed by the manufacturer to be wall-mounted. While you can find third-party mounts for the Sonos Sub, subwoofers are generally designed to work best when they're in direct contact with the ground.
How should I mount my Sonos speakers?
Depending on the look and style you're going for, you have a few different options for mounting your speakers, and a few things to consider about their placement.
Sonos Play:1 and Sonos Play:3
Mount these speakers near a power source as they will need to be plugged in to operate. The cord that comes with these speakers is about six feet long, so keep that in mind when looking for mount placement in relation to an outlet.
Choose a mount that leaves at least one inch of clearance between the back of the speaker and the wall for optimum sound quality. By selecting a swivel mount for the Sonos Play One you give yourself a little extra flexibility for controlling the sound direction. The Sonos Play:3 is a little heavier than the Play:1 (10 pounds compared to eight), so you should make sure to find one rated for the weight of your speaker when you're shopping for your Play:3 mount.
You can choose to mount the speaker vertically or horizontally and the device's built-in equalization will balance the sound accordingly.
The Sonos Play 1 and Play 3 will wirelessly connect with a Sonos Playbar plugged into your TV, allowing you to build custom surround sound based on your mounting locations.
Mount the Playbar above or below your TV using the Sonos Playbar Mounting Kit. Keep in mind you will need to run a power cable and an optical cable between your Playbar and your TV, so you'll want them close enough together that the cables can easily be hidden from view. Follow the mounting instructions that come with the kit, and you'll know exactly how to position the mount, what types of screws to use, and how to affix the bar to the mount.
For an even sleeker look, try a mount that connects directly to your TV, to minimize the gap between your Playbar and screen. There are inexpensive options or you can look at pricier mounts to hang your Playbar right under your TV.
Either way, when mounting a Sonos Playbar (or even if you just sit it on a cabinet under the TV for that matter) make sure there is nothing within one foot on either side of the Playbar, otherwise it will negatively affect the quality of your audio (so put it on top of a cabinet, not inside of one).
To mount, or not to mount?
A few factors will influence whether or not you decide to mount your speakers. You need to make sure you have convenient access to electrical outlets and figure out a good path for a cable to go. Figure out if you're able to install a mount directly to a stud, if you're going to be using drywall plugs to hang it, or if you have metal studs in the wall you're attaching it to.
Also, depending on what style of mount and speaker you have, there will be varying costs involved. If you're happy with the look and sound of your Sonos devices as-is no need to dig into the deep world of mount styles and techniques. But if you yearn for clean walls and cable-free clutter, mounting your Sonos speakers could make all the difference!
Master your iPhone in minutes
iMore offers spot-on advice and guidance from our team of experts, with decades of Apple device experience to lean on. Learn more with iMore!
"Siri, write a really funny bio for me to use for Mobile Nations" "Okay, Drew, here's your really funny bio: How-to writer, fiddle player, retro gamer."