Can I use the Logitech Circle 2 as a baby monitor?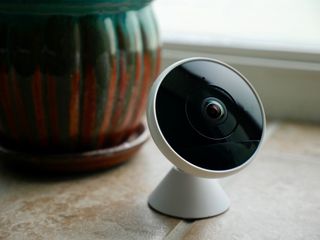 Can I use the Logitech Circle 2 as a baby monitor?
Best answer: The Logitech Circle 2 (opens in new tab) would make a great baby monitor because it's one of the best security cameras you can get that is compatible with both Amazon Alexa and iOS devices. With the ability to talk and listen, you can easily have this camera double as a baby monitor. If you use this camera in combination with an iPad Pro and an iPad stand, you'll have the best setup when it comes to keeping an eye on your baby.Amazon: Logitech Circle 2 (opens in new tab) ($150)Apple: iPad Pro (2018) (opens in new tab) ($799+)Amazon: iPad Stand (opens in new tab) ($40)
Why else you would want a Logitech Circle 2?
The Logitech Circle 2 (opens in new tab) is about the size of a tennis ball and has one of the easiest setups when it comes to security cameras. The controls are easy to manage and incredibly straightforward. This is the perfect device for tech experts and newcomers alike.
It does require internet to use, but these days most baby monitors do anyway. This camera also has a Night Vision ability that is perfect for overnight recording. One of the few downsides is how you have to switch between cameras, if you're using multiple, to get a live view. The app does not support watching multiple screens at once.
Setting up the Circle 2 as a baby monitor
If you want to use the Logitech Circle 2 as a baby monitor there is one important thing you need to know. The mobile app for this security camera will not allow you to hear your baby while your device is locked. That means you will need to turn off the auto-lock option on your device to keep streaming the room. Since the device needs to be active all night it's not recommended to use your phone with this camera. You should designate a tablet to getting the job done instead.
The perfect set up will include an iPad Pro, an iPad stand (opens in new tab), and your Circle 2. Here's how to get it all working.
First, set up your iPad stand on your nightstand and have it facing the direction of your bed.
Go into the settings of your iPad.
Select Display & Brightness.
Select Auto Lock.
Select Never.
Place your iPad in the stand and plug it in.
Launch your Circle 2 app.
Once you're all set up, you can decide your preferred brightness and sleep soundly knowing that your baby is safe. The best part about using the Circle 2 as a baby monitor is that it's still worth having around after you don't need a monitor anymore. Instead of having to sell an old monitor, like you normally would, you can just install the camera somewhere else in your home and use it for security purposes.
Our pick
(opens in new tab)
Two-for-one

The Circle 2 has a two-way-microphone and 1080p recording and streaming. This way you can hear when your baby is crying, talk back to them through the monitor, and get a great visual of how they're doing.
What else you'll want
(opens in new tab)
iOS for the win

An Apple iPad Pro is a great addition to your baby monitor set up that also doubles as an amazing tablet for the house. The high resolution will make sure you have a clear image of your baby and you can get models with up to 128GB of storage, which will come in handy for screenshots of your little one sleeping.
Complete the set up
(opens in new tab)
Reliable safety

Finish your perfect set up with this Viozon iPad Pro Stand. This stand is durable, sturdy, and hold iPads between the sizes of 7.9 and 12.9 inches. The rotational parts will allow you to fully customize how your iPad rests!
Get the best of iMore in in your inbox, every day!
Essa Kidwell is an expert in all things VR and mobile devices who can always be found with an Oculus Go, a Pixel 2, and an iPhone 7+. They've been taking things apart just to put them back together for quite some time. If you've got a troubleshooting issue with any of your tech, they're the one you want to go to! Find them on Twitter @OriginalSluggo or Instagram @CosmeticChronus.
Thank you for signing up to iMore. You will receive a verification email shortly.
There was a problem. Please refresh the page and try again.