Candy Crush Soda Saga: How to beat levels 40, 52, 60, 70, and 72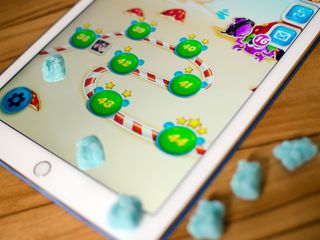 If you're playing your way through Candy Crush Soda Saga and our basic tips, hints, and cheats just don't seem to be enough for you to get past some of the harder levels, we're here to help!
In this guide we are taking a look at some of the hardest levels to beat out of the first 100 levels. So if you've exhausted all your other options and just can't seem to pass them, follow along for the best tips, hints, and cheats we have to help you pass them!
Level 40
Level 40 requires you to find 6 bears that are hidden underneath an array of different confections you'll need to break through. In order to uncover them, you'll want to focus on certain kinds of special pieces more than others. Concentrate on forming these candies more than anything else:
Fish
Vertical stripes
Donut holes
Packaged candies
Since you start off at the top of the level, vertical striped candies are ideal for stripping a layer off an entire row. These are much more important at the beginning of the level than they are once you get lower into the grid. If you have a chance to make a horizontal striped candy, still take the move, but just wait to use it until it drops into the grid and can clear an entire layer horizontally. Detonating them at the top won't do you any favors.
You'll also want to start collecting fish early on, but try not to use them right away. Fish have a tendency to clear a piece that the game thinks is important — at least that's the case most of the time. Save these for towards the end. If you're left with only a piece or two of ice to crack, the odds are pretty good you can get to it with a fish.
Packaged candies are important in this level since they clear a ton of the board in one swoop. They're especially useful when combined with a fish or a donut hole. Anytime you can wait to get these to combine, it's worth it.
The only thing that makes level 40 hard is the small amount of moves you're given to complete it. As long as you take your time and give priority to using the four combo pieces laid out above, you should be able to clear it fairly quickly.
Level 52
In level 52 you need to pop 8 soda bottles. As you pop them, another one will re-appear in its place. The easiest and best way to clear this level is to focus on creating and using fish. I'd tell you to try and get fish next to a striped candy but in my experience, doing this always results in a vertical stripe, which is the opposite of what you really need.
Instead, use fish as you acquire them unless you see a useful combo coming your way, like swiping two fish together. At the very beginning of the level you also want to make sure that you're swiping towards the bottom but not below the soda line, as this won't allow more pieces to fall that could help you.
Level 60
In order to beat level 60, you'll need to get all 5 bears above the candy necklace string in 35 moves or less. With lots of pastries standing in your way, you'll have to be strategic about how you do this. When you start level 60, pick a side to start clearing and stick with it. Doing this lets you drill away at cupcakes and other pastries faster. Toggling between sides when you don't have to means you're wasting moves.
There are two kinds of candies you should focus on making in this level:
Coloring candies
Packaged candies
If you're lucky enough that you can manage to get a coloring candy next to a packaged candy for a combo, game over. You will have beat the level. However, since we already know how difficult coloring candies are to make to begin with, if you just can't manage to get one, focus on floating packaged candies between large groupings of pastries and detonating them. The more board you can clear in a single move, the more flexibility you'll have at the end of the level when it comes time to navigating your bears to the top.
Level 70
Level 70 is a find the bears level, 20 to be exact. The hardest part about level 70 is making enough room at the beginning of the level in order to start making special candies. The easiest way to do this is to make getting rid of the cupcake wrappers highlights in the above image your first priority. Once these are gone, you'll have more room to focus on special candies. The two that you should focus on making the most of are:
Packaged candies
Striped candies (horizontal or vertical)
After you've cleared most of the cupcake wrappers we talked about above, start making special candies but always focus on making them as low as you can on the board. The reason you want to make moves lower to the bottom is because the more new candies that appear on the board, the better the chance you have of creating a cascade effect. This way most of the cupcakes towards the top start clearing themselves with little effort on your part, and while using fewer moves.
Above I mentioned that packaged candies and striped candies are your most valuable in this level. That's because if you can get them next to each other you can clear lots of cupcakes in a single move. You obviously don't want to depend on this strategy the entire time but always be on the lookout for the opportunity to achieve that particular combo. Almost every time I've passed level 70, it was the result of a few lucky packaged and stripe candy combos.
Level 72
Level 72 requires you to get the bear above the string. It's divided into 5 different sections that you'll need to navigate your bear through. In each section, you'll want to take a slightly different approach.
Section 1:
Easy enough. Match a licorice cage to release a fish as fast as possible. Once it's free match it and it will swim right to the next licorice cage. That fish will swim directly for the striped candy. Your bear will then move to the second area.
Section 2:
Go ahead and detonate the first donut hole by swapping it with the purple candy. This will bring your bear into view. You'll notice that there are blue candies in the bottom blocking your way that are nowhere to be found in the accessible part of the game board. Don't make this harder for yourself than it needs to be. Instead of making tons of vertical striped candies, focus on releasing the donut hole at the top of the board and matching it with a red candy. If you can do this, the blue candies will match themselves and you're on your way to the next portion of the level.
Section 3:
Focus your energy on the middle of the board and attempt to make a combo out of a fish candy and a striped candy. This will clear the soda bottles fastest and raise the soda level. Then all you've got left to worry about is matching candies and floating your bear to the top.
As a side note, if you have a striped lollipop hammer at your disposal, this will make quick work of floating your bear towards the top. This works in section 4 as well.
Section 4:
Start by clearing all the cupcakes in the middle of the board. Once that's done and the soda level is at the top, create a fish and striped candy combo to float your bear all the way to the top. Just be sure that you don't have any cupcakes or bottles left or the fish will make that its target instead of bringing your bear to the top.
Section 5:
Section 5 is the last one and is pretty straight forward. You just need to get your bear above the string on the left. If you used our tips above, you should have plenty of moves left to accomplish this. The easiest way is to try and match as many soda bottles as you can without the help of fish. Then use the fish to pop any candies that are standing in the way of reaching the candy necklace. And if you can get a striped fish over there, even better!
More Candy Crush help
If you're still struggling to beat certain levels in Candy Crush or Candy Crush Soda Saga, be sure to tell us what ones are giving you problems in the comments below! And be sure to check out our other tips and guides by visiting the following links:
Everything you need to know about Candy Crush
Master your iPhone in minutes
iMore offers spot-on advice and guidance from our team of experts, with decades of Apple device experience to lean on. Learn more with iMore!
iMore senior editor from 2011 to 2015.