Here are the cars that currently support Apple CarPlay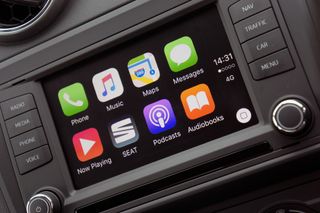 In the market for a new car — one with CarPlay? Apple has posted a list of compatible vehicles on its site — and new ones are showing up every month. With more than 100 models already supporting the hands-free feature — and others announcing support for future models — it can be confusing trying to figure out if your future vehicle has CarPlay enabled.
Never fear: iMore is here. Here's a current list of the cars that Apple says support CarPlay (opens in new tab), and we'll keep the list updated as more announcements are made. Keep in mind, CarPlay is often packaged as an option for these vehicles, so you may need to jump to a higher price point in order to take advantage of it.
April 29, 2019: CarPlay to be available to 2018 Toyota Camry and Sienna through retrofit
As noted by Car and Driver, Toyota will be offering an update for its 2018 Camry and Sienna models that adds support for CarPlay and Amazon's Alexa assistant. The update will need to be performed at a Toyota dealership.
May 25, 2018: Subaru announces 2019 WRX with CarPlay
Subaru has announced that its 2019 WRX will come with CarPlay support built in. This announcement comes after Apple has confirmed that over 400 vehicles now support the infotainment software system.
January 15, 2018: CarPlay coming to Toyota
According to Toyota, the 2018 Avalon and it's Entune 3.0 system will support CarPlay on all grades.
July 24, 2017: 2018 Honda Ridgeline will have CarPlay as an option
2018 Honda Ridgeline buyers who elect to get the 8-inch Display Audio touchscreen will be able to use CarPlay in their vehicles.
Which cars currently support Apple's CarPlay?
2017 Abrath 595
2017 Abrath 695
2017 NSX
2018 MDX
2018 TLX
2019 ILX
2019 RDX
2017 Vanquish
2017 V8 Vantage
2017 V12 Vantage
2017 Rapide
2017 DB9
2017 A3
2017 A4
2017 A5
2017 A6
2017 A7
2017 Q2
2017 Q7
2017 TT
2017 R8
2018 S5
2018 Q5
2018 e-tron
2019 Q8
2017 Bentayga
2019 Continental
2017 2 Series
2017 3 Series
2017 4 Series
2017 5 Series
2017 6 Series
2017 7 Series
2017 X3
2017 X4
2017 X5
2017 X6
2018 X1
2018 X2
2018 i3
2019 i8
2019 Z4
2017 BX3
2017 BX4
2017 BX5
2017 BX6
2016 Excelle
2016 LaCrosse
2016 Regal
2017 Encore
2017 Envision
2018 Excelle GT
2018 Excelle GT-MPV
2018 GL6
2016 ELR
2016 ATS
2016 ATS Coupe
2016 ATS-V
2016 CT6
2016 CTS
2016 CTS-V
2016 ELR
2016 Escalade
2016 Escalade ESV
2016 XTS
2017 XT5
2019 XT4
2020 XT6
2017 Tiggo 3
2017 Tiggo 3X
2017 Tiggo 3X
2017 Tiggo 5X
2017 Tiggo 7
2018 Tiggo 2
2016 Camaro
2016 Camaro Convertible
2016 Colorado
2016 Corvette
2016 Corvette Convertible
2016 Cruze
2016 Impala
2016 Malibu
2016 Silverado
2016 Silverado HD
2016 Spark
2016 Suburban
2016 Tahoe
2016 Volt
2017 Bolt
2017 Sonic
2017 Prisma
2017 S10
2017 Sonic
2017 Trax
2018 Equinox
2018 Traverse
2019 Blazer
2016 Aircross
2016 Berlingo Multispace
2016 C3
2016 C4
2016 C4 Picasso
2016 C5
2016 C5 Break
2016 C6
2016 Jumper
2016 Jumpy
2016 Spacetourer
2017 C3-AirCross
2017 C3-XR
2017 C4 Cactus
2017 C4-L
2017 C4-Lounge
2017 C4 Spacetourer
2017 C-Elysée
2017 C-Quatre
2018 Berlingo
2018 C5 Aircross
2017 Challenger
2017 Charger
2018 Durango
2016 DS 3
2016 DS 3 Cabrio
2016 DS 4
2016 DS 5
2017 DS 4S
2017 DS 5LS
2017 DS 6
2018 DS 7 Crossback
2016 488 GTB
2016 488 Spider
2016 California T
2016 F12 Berlinetta
2016 F12 tdf
2016 FF
2017 GTC4Lusso
2018 812 Superfast
2018 Portofino
2019 Monza SP1
2019 Monza SP2
2020 F8 Tributo
2017 500
2017 500L
2017 Tipo
2018 500X
2018 Argo
2017 C-MAX
2017 Edge
2017 Escape
2017 Expedition
2017 Explorer
2017 F-150
2017 Fiesta
2017 Flex
2017 Focus
2017 Fusion
2017 Taurus
2017 Transit
2017 Transit Connect
2017 Mustang
2017 Super Duty
2018 EcoSport
2018 G80 3.3T Sport
2019 G70
2019 G90
2016 Canyon
2016 Sierra
2016 Yukon
2016 Yukon XL
2017 Acadia
2018 Terrain Denali
2017 F7
2017 S5
2017 S5 young
2017 S7
2018 F5
2017 H1 Blue-Brand
2017 H2 Blue-Brand
2017 H2 Red-Brand
2017 H6 Blue-Brand
2017H6 Red-Brand
2016 Captiva
2016 Insignia
2016 Spark
2016 Colorado
2017Astra
2017 Barina
2017 Trailblazer
2018 Equinox
2018 Trax
2019 Acadia
2016 Accord
2016 Civic
2017 Ridgeline
2017 CR-V
2017 Civic Si (Coupe and Sedan)
2018 Odyssey
2018 Ridgeline
2018 Fit
2019 Insight
2019 Passport
2016 Sonata
2017 Elantra
2016 Eltantra GT
2016 Tucson
2016 Veloster
2017 Elntra
2017 IONIQ
2017 Kona
2017 Santa Fe
2017 Santa Fe Sport
2019 Accent
2019 Santa Fe XL
2020 Palisade
2019 E-Pace
2019 F-Pace
2019 I-Pace
2019 F-Type
2019 XE
2019 XF
2019 XJ
2017 Compass
2018 Grand Cherokee Trackhawk
2018 Renegade
2018 Wrangler
2020 Gladiator
2016 Optima
2017 Cadenza
2017 Forte
2017 Forte5
2015 / 2016 Optima
2015 / 2016 Sedona
2015 / 2016 Soul
2016 Sorento
2017 Soul Exclaim
2017 Sportage
2017 Optima Plug-in Hybrid
2018 Stinger
2019 K900
2020 Telluride
2019 Range Rover
2019 Range Rover Discovery
2019 Range Rover Discovery Sport
2019 Range Rover Evoque
2019 Range Rover Sport
2019 Range Rover Velar
2019 ES
2019 LC
2019 LS
2019 NX
2019 RC
2019 RC F
2019 UX
2017 MKC
2017 MKS
2017 MKT
2017 MKX
2017 MKZ
2017 Navigator
2017 Continental
2019 Aviator
2019 Nautilus
2017 Ghibli
2017 Levante
2018 GranCabrio
2018 GranTurismo
2018 Mazda6
2019 CX-5
2019 CX-8
2019 CX-9
2019 Mazda3
2020 CX30
2016 A-Class
2016 B-Class
2016 CLA-Class
2016 CLS-Class
2016 E-Class Cabriolet
2016 E-Class Coupe
2016 GLA-Class
2016 GLE-Class
2017 E-Class
2017 GLS-Class
2017 SL-Class
2018 GLC-Class
2018 S-Class
2019 C-Class
2016 GT
2016 MG 5
2017 RX5
2017 GS
2017 ZS
2017 XS
2018 Clubman
2018 Countryman
2019 Hardtop 2 Door
2019 Hardtop 4 Door
2016 Pajero
2016 Pajero Sport
2017 Mirage
2017 Mirage G4
2017 Outlander
2017 Outlander PHEV
2017 ASX
2017 Triton
2017 Delica D:2
2017 Delica D:2 Custom
2018 Eclipse Cross
2017 Maxima
2017 Micra
2017.5 - 2018 Murano
2018 GT-R
2018 Kicks
2018 Leaf
2018 Rogue
2019 Altima
2019 Qashqai
2019 Terrano
2019 Titan
2016 Adam
2016 Astra
2016 Corsa
2016 Insignia
2016 KARL
2016 - 2018 KARL
2017 Ampera-e
2017 Crossland X
2017 Mokka
2017 Zafira
2018 Combo Life
2018 Grandland
2016 208
2016 2008
2016 308S
2016 3008
2016 4008
2016 408
2017 301
2017 308
2017 308 SW
2017 508
2017 5008
2016 Expert
2016 Partner Tepee
2016 Traveller
2018 Rifter
2017 718
2017 911
2017 Panamera
2017 Macan
2017 Cayenne
2018 Ram 1500
2018 Ram 2500
2018 Ram 3500
2018 Ram 4500
2017 Espace
2017 Kadjar
2017 Mégane
2017 Mégane Estate
2017 Scénic
2017 Grand Scénic
2017 Talisman
2017 Talisman Estate
2018 Koleos
2018 Fluence
2019 Twingo
2016 RX5
2017 eRX5
2017 RX3
2017 i6
2016 Alhambra
2016 Ibiza
2016 Leon
2016 Toledo
2017 Ateca
2016 Fabia
2016 Octavia
2016 Rapid
2016 Superb
2016 Yeti
2017 Impreza
2018 Legacy
2018 Crosstrek
2019 Ascent
2019 Forester
2019 WRX
2019 WRX STI
2016 Baleno
2016 Ciaz
2016 Hustler
2016 Ignis
2016 Lapin
2016 Solio
2016 Solio Bandit
2016 Spacia
2016 Spacia Custom
2016 SX4 S-CROSS
2016 Vitara
2018 Jimny
2019 Avalon
2019 Corolla Hatchback
2019 Camry
2019 C-HR
2019 RAV4
2019 Sienna
2020 4Runner
2020 Sequoia
2020 Supra
2020 Tacoma
2020 Tundra
2020 Yaris
2016 ADAM
2016 Astra
2016 Corsa
2016 Insignia
2016 Viva
2017 Ampera-e
2017 Crossland-x
2017 Mokka
2017 Zafira
2016 Spacefox
2016 Amarok
2016 Beetle
2016 Beetle Cabriolet
2016 Caddy
2016 California
2016 Caravelle
2016 CC
2016 e-Golf
2016 Fox
2016 Golf
2016 Golf Cabriolet
2016 Golf SportsVan
2016 Golf Variant
2016 Golf R
2016 Golf SportWagen
2016 GTI
2016 Jetta
2016 Lamando
2016 Multivan
2016 Passat
2016 Passat Variant
2016 Polo
2016 Scirocco
2016 Sharan
2016 Tiguan
2016 Touran
2016 Transporter
2017 Atlas
2017 Crafter
2017 CrossFox
2017 Gol
2017 Saveiro
2017 Voyage
2018 Arteon
2018 Bora
2018 Magotan
2018 Sagitar
2018 T-Roc
2016 XC90
2017 S90
2017 V90
2018 XC60
2019 V60
2019 XC40
Any CarPlay questions?
Do you have CarPlay installed in your vehicle? How are you liking it? Let us know!
Get the best of iMore in in your inbox, every day!
Jared started off writing about mobile phones back when BlackBerry ruled the market, and Windows Mobile was kinda cool. Now, with a family, mortgage and other responsibilities he has no choice but to look for the best deals, and he's here to share them with you.
2015 Sonata has it, it's installed on mine.

This list is entirely out of date!!! Seriously iMore? This is poor form!!!

Also the Nissan Maxima 2017... Sent from the iMore App

This list is very incomplete. The link you included in your article is up to date, so if you are going to copy/paste, you should do so from the current link. By the way, I have a 2016 Tucson and it has Carplay (and is listed in the link, but not your incomplete article). Put some effort into it!

It's the new iMore... Posted via the iMore app for Android

It's an impressive list - moreso if incomplete (from Apples point of view) Might want to also add the aftermarket devices you can get, we had one from pioneer (DA120) which was excellent before we got a new Polo with CarPlay already fitted. And it would also be interesting to know which manufacturers are offering combined Apple/Android support or if there are any that are exclusively CarPlay? Most I have come across support both. And which manufacturers have better integration into the cars native systems (heating etc) - though then you are into the realms of reviews I guess. Finally Any word if Tesla would ever support it? That would be awesome (though I guess increasingly unlikely) The dashboard is the new battleground for the future of cars - it will grow in importance as cars become more about software than the mechanics... interesting times...

Just got a 2017 Mercedes E300. Has Apple CarPlay. Not to thrilled with it. Waze is not supported and the phone functionality is limited while connected. I ask Siri to google a phone number and Siri says she can't do it while connected.

I have CarPlay in my Honda Accord. I don't use it for one main reason - the voice quality in phone calls is terrible. The sound is very compressed and very poor compared to the Bluetooth connection. So I just use Bluetooth instead. I'm hoping iOS 10 fixes this.

Why is BMW missing from the list? Sent from the iMore App

I have a MY 17 BMW 440i Gran Coupe on order right now & I waited until after Aug. 16. to have Car Play as an option. They started adding Apple Car play as an option as of Aug 16 builds. It just went into production today! I can't wait!

2015 Sonata and 2015 genesis both have it. CarPlay is installed on both. Sent from the iMore App

Auto makers need to step it up with adding more 2015 models. Sent from the iMore App

I have this in my Impala. Phone call are so crips and clear. I highly recommend it on the next car purchase. Note only apps that have been built with carplay. Its not every app. Anybody else notice there phone gets hot?

Yay! The Skoda Yeti! Forget the Subaru Forester, not supported. :-P

Bad journalism---BMW supports Carplay on most models as of August 2016. Why bother writing articles that are factually wrong.

How many of those car manufacturers have updated their initial CarPlay release to support iOS 10? I have a Volvo XC90 2016 and there has been no update, so I do not have for example the GPS showing in my instrument cluster as demonstrated in the keynote way back when. Only the built-in GPS has that feature.

Chevy dealer said late January or late February for an update. Its really buggy on my Impala. In order for me to use it I have to restore radio to factory settings 3-4 times a month. I just use bluetooth as its much less of a pain. If I make a long road trip I will use it but in city its not worth it. When it doesn't work it either gets stuck in a connecting disconnecting loop with CarPlay or it the car is not seeing the phone. Then its restore the radio or reboot the phone or both. Just a pain I'm not willing to deal right now. I love it when it works but majority of the time on my 2016 car it doesn't work especially after 10.2 If anybody is contemplating buying an after market system to give them carplay I would say don't. In my experience its not there yet. Better off buying a nice unit and some upgraded speakers for your car. Everybody might now have the same experience so result may vary. I have tried new cables different ports just doesn't work that great IMO.

Auto makers aren't really big on updating anything. Whatever you get when you drive away from the dealer is usually it.

My 2017 Civic Hatchback is supported. But don't try it with the iOS beta! Does not work! No more beta. Works great.

2017 Audi s3 has car play support also. Sent from the iMore App

I have it in my 16' Tahoe. The good-it reads your text for you. Everything else stinks, you gotta reach for the map which takes your eyes off the road, well you gotta reach for everything. When i can just bring the phone to me and keep scanning the road while looking at my phone directly in front of me. It doesn't even give me an alert tone for other apps outside of carplays 8 apps. I mean at least let me know i got something going on. Im still getting use to it but not a huge fan, rather have an ipad mounted in the dash or something. Hopefully in the update it will truly mirror your iphone, kinda like apple tv. For those who don't have it, you're not missing much. The in car bluetooth is cool though, sometimes, its delayed when i try to dictate text, it has to turn the music off, listen to you, transcribe, turn music back on, then you look down and see it screwed up your transcribe, so it too can be annoying with texting. Phone calls and music it works best... #firstworldproblems Sent from the iMore App

I have a 2017 Chevy Cruze LT. the Apple CarPlay is fantastic! I use it everyday Sent from the iMore App

No Chrysler vehicles except the new Jeep Compass? Whats up Fiat?

2017 Chrysler 300 has it, as well as 2017 Dodge Charger and Challener according to Apple's site... Leave it to Jared & Joseph to collaborate on this incomplete article and reblog it over and over as "updated". Sent from the iMore App

Since the Legacy and Outback are essentially the same vehicle, the Outback should be on your list as well.

I wish Toyota would support CarPlay

It's not an extra $ package on the BASE MODEL Subaru Impreza...just sayin'...

Loving carplay still with my iPhone 7 right now.

There should be some type of way to add car play to any car 2008 on up ! Sent from the iMore App

There is a way but it's a 3rd party deck from pioneer. If you have Bluetooth just stick with that for now and on your next car purchase get it. IMO i recommend just waiting until you get it factory also maybe you can get wireless CarPlay.

My 2017 Hyundai Santa Fe has it Sent from the iMore App

https://www.imore.com/e?link=https2F2Fc2F4... This is from Apple...the list in this article is not updated

2016 Civic got it. I use it mainly for long travels. Otherwise I use BT instead, which more useful when you're in and out of your car often, like when shopping.

Without google maps or other mobile gps, carplay is useless.
I have carplay in insignia wit updated software. Sent from the iMore App

You need to add the 2017 Nissan Maxima to the list. That being said, so far Car Play is pretty meh. More apps need to be added. They also need a button that will allow you to go back to the car's own sound system console so you can change channels on SiriusXM and do some other things (check weather, etc). The amount of apps are just way too limited to entice me to use Car Play more often. Maybe iOS 11 will change that.

The 2017 Chevy Colorado needs to be added to this list (Standard). Just got one and i love it. I like the truck too. If anyone has any information on how to disable auto play in the MyChevyLink or CarPlay, please let me know.. That is the only thing that drive me nuts at this point.

They need to add the 2017 Dodge Charger and 2017 Dodge Challenger to the list.

2016 Ford Edge can now be undated to use Carplay. Requires software update AND a physical change over to new usb port, easily done as a pop out and pop in new one operation. Update is free, new port ranges from $53 to $63. most dealers didn't have port but found it on Ebay through an Ohio, Fairway Ford. Then were not only best price but also shipped it 2 day no charge. Though I like having the option to use Carplay I am not as enthusiastic as I thought I would be, being an Apple environment kind of guy. With Fords Sync 3 technology I could already do most of the things Carplay allows me to do through the phone. The one major plus for me is being able to use Apple maps through the cars touch screen. Advantage being far larger Points Of Interest base, realtime traffic, an ease of voice command, " find nearest Mobil station, find nearest Italian restaurant. " On car system multiple questions must be answered like where you want to search city or ...name city .. search POI by name or categorey... etc, etc. For that reason alone worth having Carplay available in my car. I do not use music stations like Pandora or whatever. I download my music and podcasts so no upside for me there. I can also do texts etc on sync through phone already. Ford allows for pushing wheel button once car system voice command, hold down sirs command. If Carplay active you only have siri commands available. With it activated I also lose getting nav instructions on one of the two instrument screens, where would advise of impending turn etc now says see touch screen. I will note that Carplay nav also sends the command and tappit plus audible to my Applewatch while driving. Makes it hard to miss a turn when your watch is tapping you. But getting back to car radio must hit Ford Sync icon then radio, or use manual buttons. So glad I installed and like having option, but for most part in my case Carplay will be a an add on and regular car system will be default use. One last thing although Apple maps has come a far way from what it was, the option to use google maps or Waze would be nice feature. George in NY

Mazda has been promising it for two years. I won't buy another without CarPlay.
Thank you for signing up to iMore. You will receive a verification email shortly.
There was a problem. Please refresh the page and try again.