The case for the 4K 21-inch iMac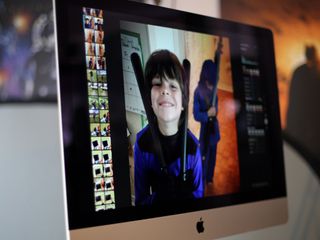 While the MacBook Air and MacBook Pro might outsell the venerable iMac, it occupies a special place in Apple history. It was Apple's first big success after years of selling poorly-differentiated, badly-made beige boxes, and it set the momentum for all of Apple's success through the late 90s and early 00s. In October 2014, Apple introduced the 27-inch iMac with 5K Retina display. Since then they've created a second, lower-priced 27-inch 5K iMac model. Now it seems that before too long, a 21-inch iMac with Retina display will join the party.
What I can say without question is that there is definitely a market for a 21-inch iMac with a Retina display.
We sell the full line of Mac laptops and desktops at the Apple reseller I work at on the weekends. My customers that shop for new desktop computers love the 27-inch iMac. The 27-inch model's screen real estate, even on the non-Retina displays, is enormous. It's an ideal machine for creative content, and it's also a spectacular home computer.
The 27-inch iMac sports gobs of power and elegant design, but it's simply too much screen for a lot of our customers, especially those shopping for a new home computer. It's as big as some televisions, and that's simply more space than many folks are willing to give up in their home, for a computer.
They turn to the 21-inch model. The 21-inch system's specs pass the initial sniff test. One of the first questions is, "Does this have the Retina display too?" They always look crestfallen when I tell them no. At 1920 x 1080 pixels, the 21-inch iMac certainly offers plenty of desktop space, but it's still a bit of a disappointment to many potential buyers that the same option isn't available. I'm sure this is a product gap that Apple is well aware of and would like to fill.
One way or the other, Apple seems poised to refresh the iMac later this year. If current rumors are anything to go on, that shouldn't be before too long. KGI Securities analyst Ming-Chi Kuo said this week that Apple plans to release new iMacs by the end of September.
Kuo said that Apple will introduce better-quality displays in the next round of iMacs, but he didn't specify a 4K or 5K resolution for the 21-inch model. He didn't mention what sort of processor is likely to be inside the new iMacs. It appears to be a tossup between Intel's Broadwell and Skylake microprocessors.
Broadwell processors are now in full production. Intel releases its new sixth-generation Skylake processors en masse this month. They are already making their way out into the world, according to reports.
What's more, recent beta versions of OS X 10.11 El Capitan indicate support for new graphics modes on iMacs, including what appears to be a 21-inch iMac with 4K resolution. So the pieces are falling into place for a refreshed 21-inch iMac with a much better screen than before.
Having said that, I don't think we're in any danger of seeing the 21-inch iMac go Retina-only. I suspect this would appear as a premium-priced model. Apple continues to offer a 27-inch iMac model without the 5K display, for example.
The smaller iMac is available in configurations starting at $1,099. Stock configurations top out at $1,499: That nets you a faster system equipped with a discrete graphics processor — something that you'd want with a higher-resolution display. With the 27-inch iMac starting at $1,799, it's not out of the question to imagine a higher-tier 21-inch model with a bit more oomph and a 4K display to boot.
Would you be interested in a 21-inch iMac with Retina display, or do you think the 27-inch 5K iMac is a better value? Or are your days of desktop computing behind you all together? Sound off in the comments, let me know what you think.
Master your iPhone in minutes
iMore offers spot-on advice and guidance from our team of experts, with decades of Apple device experience to lean on. Learn more with iMore!