These Celebs Have Caught A Case Of Emoji Keyboard Fever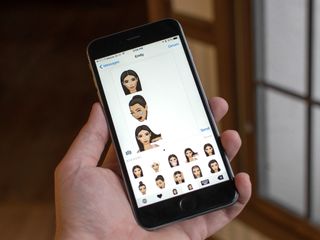 On Wednesday June 1, Justin Bieber posted a cartoon version of himself to his 70 million Instagram followers with the caption "Friday". While this could mean a billion things, a lot of people have been speculating that he is the latest celebrity coming out with their own Emoji keyboard.
It's not news that people are obsessed with Emoji. According to research from eMarketer, there are 2 billion smartphone users worldwide, and on those devices, around 6 billion Emoji are sent Every. Single. Day. That's almost the entire population of Earth sent in Emoji form on a day to day basis!
But for celebrities like Charlie Sheen and Rick Ross, Emoji are much more than silly little faces or tiny cartoon tigers and pears – they're a business. In an interview with USA, Moji Inc. founder Oliver Camilo, who has worked on designing Emoji-specific keyboards with Fetty Wap and Amber Rose, says celebrities can make a ton of money from releasing their own 'moji keyboards.
Since Kim Kardashian (aka the queen of the internet aka the person you love to hate) pioneered the way for celebrities to weave their way into Emoji culture, celebrities of all sorts (rappers, internet celebs, singers, and more) have started to design and put together their own Emoji packs for their fans. While some can be downloaded independently, the majority of them are actually part of Moji Keyboard (opens in new tab), an app that's home to a number of celebrities with their own Emoji designs. The app is free to download, but some celebrity Emoji packs may cost you.
We compiled a few celebs who have their own Emoji keyboards for you to check out down below, but is there a celebrity that you'd kill to have develop their own Emoji? Or do you think big stars coming out with Emoji is just plain stupid?
Get the best of iMore in in your inbox, every day!
Cella writes for iMore on social and photography. She's a true crime enthusiast, bestselling horror author, lipstick collector, buzzkill, and Sicilian. Follow her on Twitter and Instagram: @hellorousseau
... Jesus! To be fair, where's the Shatner one? I want to be able to hypocritically berate my friends for using "celeb" emojis with a rude celebrity emoji. I'd settle for Jack Nicholson.

Yes this!! Sent from the iMore App
Thank you for signing up to iMore. You will receive a verification email shortly.
There was a problem. Please refresh the page and try again.