CES 2020: OneLife PureOne Air Purifier has a filter that can be thrown in the dishwasher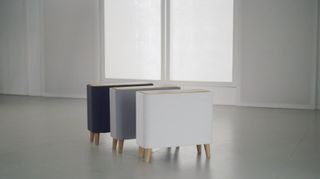 (Image credit: OneLife)
What you need to know
PureOne Air Purifier claims to be world's best and most sustainable.
Filter can be rinsed off or thrown into a dishwasher when needed.
Pricing and availability have not been announced.
OneLife GmbH is awfully proud of its PureOne Air Purifier, using an appearance at CES 2020 to tout that it has developed the "world's best" and "most sustainable" purifier around. The company's bold claim is based on a combination of plasma technology and a reusable air filter within the purifier, although these have been seen in competing products for quite a while.
OneLife states the purifier can remove smaller particles, including PM 1.0 particulates, and fine dust "more efficiently" than other offerings using a plasma filter with a low ventilator speed. The filter is designed to be reused, with OneLife mentioning that it can be rinsed and even thrown into a dishwasher for cleaning.
Other features include the ability to operate without producing harmful emissions, such as Ozone, a sleep mode that keeps it quiet at night, and an automatic setting allowing it to ramp up and down according to measurements from within a room. The PureOne also was designed to blend in with most decor, with a clean, modern design that ditches the traditional look of most air purifiers.
Unfortunately, like most CES announcements, it may be a while before the PureOne starts appearing in homes, as the company did not disclose pricing or availability. When the purifier arrives though, it will be compatible with Amazon's Alexa, Google Assistant, and Siri suggesting that it will support Apple's HomeKit platform for hands free voice control.
Christopher spends most of his time writing and dreaming about all things HomeKit. If you wish to join him on his quest to automate everything, you can follow him on Twitter at @itschrisclose.
I'm interested to know how they use "plasma" technology without producing ozone. I'm not an engineer, but my understanding is that those are mutual. I'll have to do some research of my own, but if anyone can provide further information on this subject, it will be appreciated.
Also, how effective can the filter be if it is washable? I imagine those tv infomercials for "air purifiers" with static cling metal plates you had to wipe off, which were infamous for creating ozone. I have a Sharp filter with 2-filters and a fine-mesh screen cover, which performs fairly well, but certainly not washable. This too has a "plasma" setting (I don't use) which as I understand is still the same ionization process which creates ozone... as far as I know.
Get the best of iMore in in your inbox, every day!
Thank you for signing up to iMore. You will receive a verification email shortly.
There was a problem. Please refresh the page and try again.