Chris Breen leaves Macworld (and the tech community) for Apple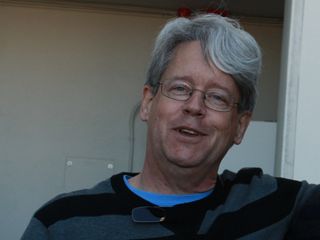 My friend, former colleague, and Mac guru extraordinaire Chris Breen is leaving Macworld after several decades to go work for Apple. It's a huge loss for IDG, and an even bigger loss for the tech community at large — Chris appeared on podcasts and Lynda videos across the Web, and it's a sad day indeed to think that we won't hear his voice on any tech-related casts from here on out.
Chris, on the transition:
Funny story: Chris is at partially responsible for my tenacious entry into the Mac community. When I first got offered a freelance contract with Macworld back in late 2009, my father frantically emailed Chris asking for his advice: "Do you think the life of a freelance writer is the right career for my daughter to be jumping into?"
Chris told him, very kindly, that the life of a freelance writer was a hard one, and only the best of the best rose up — and he probably wouldn't advise his own daughter to jump into such a life without a full-time job as backup.
I, of course, blatantly ignored this warning and worked my tail off for seven months before I got a full-time job with IDG and Macworld. When I finally met Chris in person at Macworld Expo in 2011, I told him this story — and he burst out laughing. "Well, if I'd known your dad was talking about you..."
Chris and I went on to work on a lot of things together during my time at Macworld, including the Macworld Podcast, and he was an incredible mentor and influence over those four years. I'm sure he will similarly touch the lives of many an Apple employee in whatever capacity his new job entails.
So from me and the rest of us at iMore, Chris, best wishes, and we're excited to see what you do next — even if the tech-related work stays under lock and key in Cupertino.
Serenity was formerly the Managing Editor at iMore, and now works for Apple. She's been talking, writing about, and tinkering with Apple products since she was old enough to double-click. In her spare time, she sketches, sings, and in her secret superhero life, plays roller derby. Follow her on Twitter @settern.
Now if the Macalope were to jump ship for the serene shores of iMore I could delete that bookmark forever. I guess we'll all just have to wait until molting season. You should see the Macalope when he molts. Hideous.

Agreed. Chris's articles were the best. When MacWorld went thru another consolidation last year the writing was on the wall. Jason Snell left at that point. Now Breen is gone. MacWorld is now just an empty shell. My bookmarks are set to iMore, Apple Insider, 9to5 Mac, and Mac Rumors (with the occasional tech tip search at OS Daily). RIP MacWorld. Thanx for all the great info over the years! Sent from the iMore App

Dont forget his hair coming along for the ride.

Couldn't happen to a nicer man. Congrats Chris...
I do feel sorry for Suzie Ochs...I'm not sure she can carry the whole podcast by herself.

Something fishy, Apple poaches a DeeJay from the UK, this guy gets hired and Rene Ritchie goes on "vacation" to Cupertino.

I know this can only mean one thing right!? Apple Car!!

I'm going to miss reading Chris on a regular basis. He, like Jason, Jim, Peter, and many of the other Macworld luminaries have been huge inspirations for me. I had the profound pleasure of working with Chris last year, albeit briefly, on the Macworld Expo podcast stage, and he was even more impressive in person. Good luck in your future endeavors, Chris! And thanks for everything you've given all of us!

The Macalope is the ONLY thing keeping me from dumping Macworld altogether.

The 'lope is the best. I like their 'You Should Play' section too.

Always enjoyed Chris's contributions to technology and Macworld. While he is a loss to the community it is well deserved.
Our loss is Apple's gain.

Meh.... Breen knows a lot about Macs and Apple, but he's gotten quite snotty in the last year or so. The Macworld podcast (which was co-hosted by Serenity for a while) started to go way off into non-tech topics like Apple's finance, political, and legal matters. Breen sounded like a typical Bay area fool and expressed an intolerance for people who don't think like he does. I think it's a good thing he's off the air.

@tgara I think you have it backwards because it seems that you have the intolerance about Breen's opinions. He listened to his podcasts and while he offers his opinions it never seemed dismissive of different opinions. Maybe it is more the fact that you have a problem with someone have quiet liberal opinions on several subjects?

No, I've got it right. He's gotten snotty in his old age.

Too be bad he will be dearly missed
Thank you for signing up to iMore. You will receive a verification email shortly.
There was a problem. Please refresh the page and try again.