Classic Mac adventure game A Mess O' Trouble returns to the Mac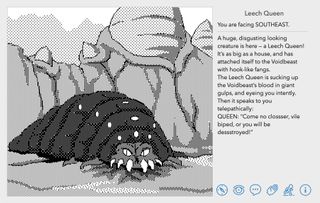 Old school Mac gamers may remember the name Ray Dunakin. The developer made Mac games back in the early 1990s, released as shareware. Now one of his hits is available for download from the Mac App Store.
Dunakin developed classic graphical adventure games, in which you overcome obstacles, avoid perils and collect treasure. Dunakin's first game was Ray's Maze, released in 1990. He also released Another Fine Mess and Twisted, an homage to the Wizard of Oz (it takes place in the land of Ooz).
Dunakin's re-released the third "Ray's Maze" game, A Mess of Trouble, on the Mac App Store. This is the third and final game in the Ray's Maze series, the biggest. The new game features updated core technology and a slight interface tweak to make it accessible on modern Macs, but the classic bitmapped graphics and core game logic remain in place.
Dunakin custom-developed his games using a creation tool called World Builder, developed originally by Bill Appleton. You can get more details about the games (and even download the original versions, if you have an old Mac or an emulator lying around) at Ray's web site.
In A Mess o' Trouble, you explore a ghost town looking for hidden gold and you must escape from a tropical island, break the curse of the Faerie Queen and save the world from utter obliteration at the hands of ancient technology.
Get the best of iMore in in your inbox, every day!
Thank you for signing up to iMore. You will receive a verification email shortly.
There was a problem. Please refresh the page and try again.