Comic: It's Mac-to-School Time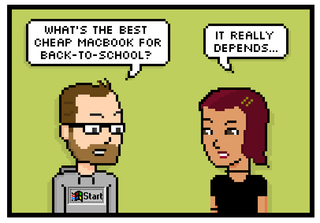 Read more comics from The Pixel Project.
Get the best of iMore in your inbox, every day!
Pixel lover and cartoonist. Still have my original Apple IIgs. See more at clango.org or follow him on Twitter @rstevens.
Lol, I went MacBook Air! It's not perfect, but the price sure was and you'd/Apple'd have never got me to switch at $999+ Now that i have one, i could see myself plopping down some serious dough later, but for a first Mac, it's got to be cheap. I got mine from Bestbuy on a student sale for $650 Now that i have one i can see myself investing a really awesome iMac in the future, but the Air had everything i needed including support for all the accessories i purchased for other Windows machines over the years. I didn't need to also upgrade all of that too.