Comic: Too Much Good Stuff at WWDC!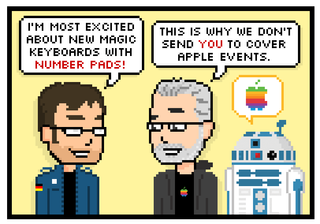 Read more comics from The Pixel Project.
Get the best of iMore in your inbox, every day!
Pixel lover and cartoonist. Still have my original Apple IIgs. See more at clango.org or follow him on Twitter @rstevens.
I was honestly super excited about those magic keyboards. I bought a solar logitech one because I didn't want to lose my number pad. It's very useful for entering in hex values in graphic programs.

"Honost-to-Steve Pro Apple Desktops" that can't be user repaired? Did he approve the Trashcan Pros? I know he liked the cheese graters, and those were actually user serviceable. This thing costs over $2k, but if it breaks you can't fix it yourself, you have to pray you can afford Apple's repair pricing and down time. Would be better to bring back the cheese grater, and allow us to fix what breaks. Also, Magic Mouse 3 that charges from the top would be great, so I could just use it wired like I want without having to get a different brand mouse for my parents. Easier to leave it plugged in for them than deal with "oh, the mouse doesn't work" calls.

If I could draw, I'd make a comic about how bad the new notification center is.