How to download macOS High Sierra 10.13.6 public beta 2 to your Mac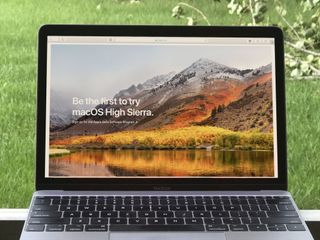 (Image credit: iMore)
Apple has been offering public betas for macOS for a couple of years now as a way for those interested in testing out the upcoming software on their Macs, and providing feedback. If that's you, you'll need to sign up, enroll your Mac, download macOS High Sierra, and install it. It's not an overly complicated process, but we're here to walk you through it and, if you need it, a place to get extra help.
Apple occasionally offers updates to iOS, iPadOS, watchOS, tvOS, and macOS as closed developer previews or public betas (opens in new tab). While the betas contain new features, they also contain pre-release bugs that can prevent the normal use of your iPhone, iPad, Apple Watch, Apple TV, or Mac, and are not intended for everyday use on a primary device. That's why we strongly recommend staying away from developer previews unless you need them for software development, and using the public betas with caution. If you depend on your devices, wait for the final release.
Note: This guide is being updated in real time. If you are seeing old content, refresh the page or come back later.
How to make a back up of your Mac
Before joining the public beta, you need to make a backup of your Mac. That way, if something goes wrong, of if you're simply not happy and want to revert to macOS Sierra, you can go right back to where you started.
Even if you back up every night, you'll want to make double, triple sure you're covered. So make a manual backup now. Here's how to do it with Time Machine. Even if you use something different or additional, like SuperDuper!, make sure you manually start a backup now.
Click on the Time Machine icon in your Mac Menubar.
Click on Backup now.



Let the backup finish before proceeding.
Note: If you're not adverse to the Terminal, you can also make a bootable Sierra installer as way to jumpstart reversion, if needed.
How to register your account for the macOS High Sierra public beta
If you've already joined a public beta for macOS in the past, you don't need to register again for macOS High Sierra. Simply sign in with the same Apple ID. If you've never joined a public beta before, you'll need to start by signing up with your Apple ID.
Go to beta.apple.com

(opens in new tab)

in Safari on your Mac.
Click on Sign up to get started. (If you've already signed up for a previous public beta, Click on Sign in and skip to "How to enroll your Mac", below.)
Enter you Apple ID email address and password.
Click Sign in.



Once you're signed up and signed in, it's time to start downloading.
How to enroll your Mac in the macOS High Sierra public beta
Downloading the macOS High Sierra public beta is done through the Mac App Store but requires a special code (like a promo or gift code). The code is provided for you on the website, but is also automatically entered for you when you click to begin the process.
Go to beta.apple.com

(opens in new tab)

, if you're not there already.
Click on the macOS tab, if it's not highlighted already.
Click the Download macOS High Sierra public beta access utility button.
Open the file from your Downloads window.
Double-click the package to run the installer.
When the installer is finished downloading, the Mac App Store will automatically open to the Updates section. Click Update to download and install the public beta software. After the software has been downloaded, your Mac will automatically restart.
If the latest public beta does not appear on the Updates list, restart your Mac. Then, open the Mac App Store and click the Updates tab.
The public beta update can take a long time to finish downloading, depending on the size. You can check the status in the Updates tab of the Mac App Store.
How to install the macOS High Sierra public beta
The macOS High Sierra installer will automatically open when it's downloaded. If it doesn't, or if you prefer to do it later, you open Install macOS High Sierra Public Beta at any time via Spotlight or Launchpad, or from the Application folder in the Finder.
Launch Install macOS High Sierra Public Beta app, if it's not launched already.
Click Continue at the bottom.


If prompted to make a backup, and you didn't before, click Continue in the dropdown. If you just made a backup, click Cancel.
Click Continue at the bottom once your backup completes, or if you skipped it.
Click Agree to accept the licensing terms.
Click Agree again to confirm.


Click on the drive you want to install onto (if you have multiple options; most people won't.)
Click Install.
Enter you administrator password and click OK.
Click Restart (if your Mac doesn't restart automatically, or you don't want to wait).



Once your Mac reboots, it'll be running macOS High Sierra. There's a brief bit of setup you'll need to go through, however, as the system will have changed enough that it'll need your login to complete the update.
Once that's done, you'll be ready to rock macOS High Sierra.
What's new, and what if you don't like it?
To help ease your way into everything, make sure you check out our macOS High Sierra preview and our comprehensive macOS FAQ for all the details!
And, if you ultimately decide macOS High Sierra 10.13.6 isn't for you, you can still revert back to macOS 10.13.5.
Update June 12, 2018: Apple has released macOS Sierra 10.13.6 public beta 2 for members of the Beta Software Program. If you already have the macOS High Sierra public beta installed, head to Mac App Store > Updates and download away. If you've been waiting for beta 1 to get started with macOS 10.13.6 testing, now's the time to grab it!
○ FAQ: Apple's beta software
○ Should you run beta software?
○ iOS 14 public beta: The ultimate guide
○ iPadOS 14 public beta: The ultimate guide
○ macOS Big Sur public beta: The ultimate guide
○ iOS 14: Everything you need to know
○ iPadOS 14: Everything you need to know
○ macOS Big Sur: Everything you need to know
○ watchOS 7: Everything you need to know
○ tvOS 14: Everything you need to know

Get the best of iMore in your inbox, every day!
Joseph Keller is the former Editor in Chief of iMore. An Apple user for almost 20 years, he spends his time learning the ins and outs of iOS and macOS, always finding ways of getting the most out of his iPhone, iPad, Apple Watch, and Mac.
Never got the option to install APFS
Spinning disk with file vault enabled

All I know is APFS is designed mainly for solid-state drives, it's quite possible that it doesn't support the old spinning hard drives. I've got a Mac with an SSD and I got the option, APFS is working very smoothly up to now

iTunes movies/TV shows are playing but picture is scrambled, so I would recommend to sit this update out. Unless it is because for some reason I received an update of the developer beta version (from version 3 to 4), which I shouldn't have since I am not a developer.

If you're on the public beta you should've got the public beta release, though I think it can sometimes accidentally be labelled as the developer beta when they're both based off the same build

I confirmed it with Apple Support - its the latest developer beta that I got, not the public beta. I am just about to go back to Sierra. What really bugs me is that nobody is even admitting that they made a mistake and apologises. Instead its pretty much like "be happy that you got the developer beta and if you don't like it, than just revert back to Sierra. In the meantime please report the bug" approach. I am not happy (to put it mildly, but I have other things in my life to do than perform a clean install because Apple screwed up).

You screwed up not understanding that installing betas is risky. Apple has zero guilt here.

Indeed, betas are called betas for a reason. Surprisingly, the only issues I've had with public betas have been very minor, same with my iPhone as well. I would've said iTunes videos being scrambled isn't a serious issue, as I imagine that's for entertainment purposes. Plus usually something like that would get fixed fairly quickly, as in either the next public beta update or the one after

To DannyJJK: The issue is most likely FileVault.

They've issued the 10.13.6 Beta? Where is 10.13.5?

They don't always release before the next beta, sometimes the version testing overlaps. 10.13.5 beta moved onto 10.13.6 beta, although 10.13.5 hasn't been released to the public yet

I understand that. I use to develop an OS myself back in the day (Not MacOS) it was more of a sarcastic remark.

Sorry, but there is something messy going on with macOS developer betas. As of 2018-06-11 macOS 10.14b1 and 10.13.6b1 are out. I am unable to install 10.13.6b1. Have the developer beta channel enabled on my 10.13.5 machine but MAS does not show any updates. I go to download section of the Apple developers website and click the download button for 10.13.6 beta. Run the little installer and once it finishes I end up with MAS offering me 10.14b1. Sure they want to push 10.14 betas to developers to get good feedback. But in my case I need to check out 10.13.6 betas. So now what?