HEVC and HEIF in macOS High Sierra: Everything you need to know!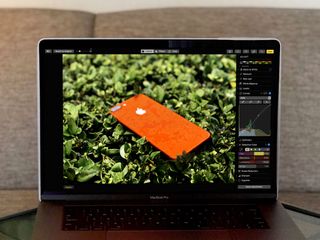 Our Macs are getting slimmer all the time, but the photo and video files we pack them with aren't on the same diet. Well, until iOS 11 and macOS High Sierra debut, that is. Both new operating systems will support two codecs designed to double the amount of compression that can be applied without losing quality.
Here's what you need to know about HEVC and HEIF and how they work in High Sierra.
What are HEIF and HEVC?
HEVC stands for High Efficiency Video Codec, and HEIF is High Efficiency Image Format. HEIF works as a still image container for the HEVC codec, which is the successor to H.264. In fact, HEVC's other name is H.265, but Apple is going with HEVC.
What does HEVC do better than H.264?
HEVC is designed to save space and bandwidth, which will be more and more important as more 4K and HDR video becomes available to stream. Apple says the standard can compress 4K video files to 40% of the size without losing quality, which will let iOS 11 and High Sierra users store more of their own videos before running out of drive space. Alternatively, you can keep an HEVC video file about the same size while doubling the amount of data, which will decrease the bandwidth needed to move 4K and HDR video around.
What about HEIF? What's its benefit?
HEIF has an added benefit too: It can store groups of images as a single file. This is especially handy for things like burst photos or keeping an edited image and the original in the same file. It's also a natural fit for Live Photos (including the new Live Photo options debuting in iOS 11), which act as one photo in your library, even though they contain multitudes.
Remember, Apple's computational photography approach in iOS means the camera is capturing multiple frames every time you press the shutter, then combining those for a better-looking result. Tricks like long exposure effect in iOS 11's Live Photos and the iPhone 7 Plus' Portrait Mode work the same way. HEIF containers can keep all that data wrapped up, fully intact, to send back to your Mac running High Sierra for more editing.
Are these replacing H.264 and JPEG?
No, not yet. They're the next generation of those standards, but when you export a video to post to YouTube, it's going to be H.264. If you email a friend a photo, it's going to be a JPEG. Right now these are under-the-hood improvements that shouldn't break compatibility or cause formatting headaches for end users. You'll use your devices and apps in the same way you always have.
Will HEVC video look better?
If you compare an HEVC and a H.264 video side by side, yes it should. AppleInsider recently transcoded a movie trailer with H.264 and H.265 encoders in HandBrake and found the HEVC (or H.265) video had fewer compression artifacts and smoother movement. HEVC compensates better for faster motion, for example, which should be especially welcome news to fans of action films and sports, once more content starts streaming in that format.
Will every device with iOS 11 capture photos and videos in this format? And that's how they're stored on the Mac?
Not all the devices. To capture HEIF and HEVC files, you'll need an iOS 11 device with an A10 Fusion chip or better: iPhone 7, iPhone 7 Plus, 10.5-inch iPad Pro, or 12.9-inch iPad Pro from 2017. All Macs running High Sierra can encode and decode those files, so when you transfer them to your Mac, they'll stay in the same format until you decide to export them as something else.
Redmond Pie has a full rundown of the hardware requirements for HEVC and HEIF support in iOS 11 and High Sierra. It's definitely worth a look if you have older hardware. But at the end of the day, these are under-the-hood format changes that shouldn't directly impact your workflow.
I heard newer Macs have an advantage with HEVC?
You heard right. Newer Macs, including the late 2015 27-inch 5K iMac, the 2017 21-inch iMac, and MacBooks and MacBook Pros from 2016 and 2017, will support hardware acceleration for coding and decoding HEVC video. The Kaby Lake chips in the 2017 laptops also support HEVC decoding. Hardware acceleration means faster encoding times in pro apps like Final Cut and Motion, and longer battery life when you're playing back HEVC video.
Older Macs running High Sierra will still be able to play back HEVC video, but the process is a little hardware intensive,
Could HEVC help 4K video come to the iTunes Store and Apple TV?
That's very likely the roadmap. Right now, the iTunes Store and the Apple TV max out at 1080p content, but when Apple does make the jump to 4K, HEVC will reduce the bandwidth needed to move those files around.
Apple isn't super late to this party just yet. Right now, Netflix and Amazon have some 4K and HDR content available to stream, but you're usually stuck using the built-in Netflix app on a 4K smart TV. Amazon's Fire TV set-top box supports 4K videos over Amazon Prime Video, if it's connected to a 4K TV.
Tim Cook did hint at more Apple TV news coming later this year, so maybe a new Apple TV box is in the works. Now that Apple's dabbling in its own TV shows, that would be a natural place to start. After all, Netflix and Amazon's original series make up the bulk of their own 4K offerings.
Will third-party image and video editors support HEVC and HEIF?
It's not an open-source standard, so software makers woud have to license the patents to use the codec. H.264 worked the same way, but right now HEVC is more expensive. Of course, Apple tends to drive adoption, as it did with H.264.
Settling on a 4K codec isn't so easy. Google currently uses V9 for 4K video on YouTube, but Apple's Safari browser doesn't support V9. The Alliance for Open Media is working on a codec called AV1 which should be out by the end of this year, but Apple hasn't yet committed to natively supporting that either.
More questions?
The High Sierra betas don't fully support HEVC and HEIF just yet, so the picture is still coming together. If you have more questions, let us know in the comments.
Get the best of iMore in in your inbox, every day!
Susie is a tech-obsessed writer and mom, and former Executive Editor of Macworld and Mac|Life. Follow her on Twitter @sfsooz.
When exporting photos that are compressed in HEIF iOS 11 will convert the files before sending however when uploading to google drive they do not convert. This is a problem when sharing folders with those who do not have iOS 11. They cannot open the files. Hopefully this will be addressed.

The concept is to save the images in the highest quality format. If you want to share photos, just like with anything else, you will need to convert them to other formats, whichever one you want. I wouldn't want my saved photos in iCloud Drive, or to Google Drive to automatically be converted to the lower quality jpegs.

This is good stuff. Hope Adobe doesn't take forever to support these standards in the Creative Suite. (Mostly Photoshop for me.) I think a big holdover for 4K conversion is people don't want to trash their TVs yet. In my "man cave" I have one of the last of the Panasonic Plasma displays. At the time it was the standard for what many editors in Hollywood were using for reference. (So my friend who freelances up there tells me.) It's a gorgeous TV and I don't want to give it up just to get 4K. But HDR is arriving at the same time, and that makes a difference too. So, two Plasmas in the house and one LED TV in the bedroom. Where do I put a fourth TV, when only two people are living here now? Truly a first world problem. Sigh.

"Of course, Apple tends to drive adoption, as it did with H.264. Settling on a 4K codec isn't so easy. Google currently uses V9 for 4K video on YouTube, but Apple's Safari browser doesn't support V9. The Alliance for Open Media is working on a codec called AV1 which should be out by the end of this year, but Apple hasn't yet committed to natively supporting that either." Not sure if this is driving adoption? The problem so often with anything "Apple" is that the organisation seems to suffer from "Not Invented Here" syndrome. VP9 (not "V9") has been supported by Intel since Skylake. Google's, with its VP codecs, was "aiming for better compression efficiency than the MPEG High Efficiency Video Coding (HEVC) standard". But far be it for a company as small as Apple to support a better open standard like this?! Thankfully, Google seems to be putting everything into AO V1, which by design is actually mainly the successor to VP9 and is using technologies that would have been in the now defunct "VP10" release. I can't see how Apple won't be able to support this, even if only through third party kernel extensions to macOS.
Thank you for signing up to iMore. You will receive a verification email shortly.
There was a problem. Please refresh the page and try again.