Compared: Under Armor Band vs Fitbit Charge HR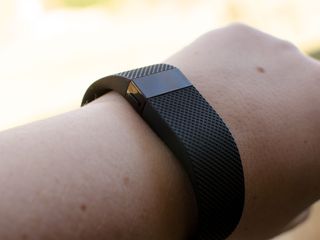 Under Armour is soon releasing their Health Box, which contains the UA Band, Under Armour's wearable fitness tracker. Given that this is Under Armour's first foray into the connected fitness arena, we can safely call this Under Armour's flagship device.
The Charge HR is Fitbit's flagship and it stacks up against the best of 'em. It's Fitbit's mid-range model and brings the best features of Fitbit's entry level models, along with the heart rate monitor that top-tier Fitbits have.
Let's compare the two and see which one's right for you!
UA Band
The UA Band is $180, which means it's $10 less than the Charge HR, but it's missing the on-board heart rate monitor. For that, you'll need the UA Heart Rate, which is a heart rate-monitoring band that you wear strapped round your chest.
There's the first major (and perhaps a bit cumbersome) difference between the UA Band and Fitbit Charge HR. You don't have the convenience of wrist-based heart rate monitoring. You do, however, have the accuracy of a chest-based heart rate monitor.
The only real issue is that you can't get the UA Heart Rate on its own; you have to buy the whole Health Box. So $180 becomes $400, for a band you wanted, a heart rate monitored you figured it would be nice to have, and a scale that you really didn't need.
That being said, with the Health Box, you get a truly unified fitness experience that has your whole body covered. The Band also has some features that the Charge HR doesn't, like music control and move alerts to let you know when you've been sedentary for too long.
If fitness is one of your top priorities, then the UA Band and the Under Armour Health Box are your bag, baby.
If you like having a full connected fitness experience and consider the fitness aspects of everything you do, then the UA Band and Health box are also for you. However, if you're not into intricately detailing your fitness regime and just want something to count steps and measure your heart rate, you may want to pass on this one.
Fitbit Charge HR
The Fitbit Charge HR retails for $199.95 and has a built-in heart rate monitor, which makes it a little more valuable than the UA Band, since you don't have to shell out $220 extra for an extra piece (or two) of equipment.
The Charge HR doesn't have music controls or move alerts, which have been severely lacking from mid-range Fitbit models.
There is a distinct fashion difference between the Charge HR and Band. The UA Band only comes in black and red, while the Charge HR comes in five different colors to suit you.
The Charge HR is totally for you if you're looking for a fitness tracker with an on-board heart rate monitor that can also act as a watch and caller ID.
It's self-contained and doesn't require something you have to strap to your chest; you can put it on your wrist and basically forget it. Then, when you want to see you stats, fire up the ol' Fitbit app and away you go. There's no worry of multiple devices not syncing.
[custom:fitbit
Get more iMore in your inbox!
Our news, reviews, opinions, and easy to follow guides can turn any iPhone owner into an Apple aficionado
Mick is a staff writer who's as frugal as they come, so he always does extensive research (much to the exhaustion of his wife) before making a purchase. If it's not worth the price, Mick ain't buying.