Comparing iPhone calendar apps at a glance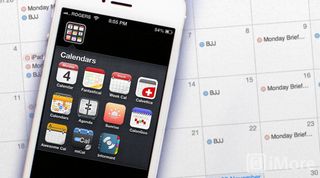 I've compared the main screens of iPhone Twitter apps, weather apps, and podcast apps, and next on the agenda is calendar apps. While iOS contains a default calendar app, and many people find it affable enough, it never seemed to get as much high level Apple attention as some of the other core apps. Maybe that's why a plethora of canny developers and designers have managed to reverse-Sherlock) (Moriarty?) Apple and put out good look, great working calendar apps that go above and beyond the default. For this piece, I'm taking a quick look at the standard view of 11 of them, including the built-in iOS Calendars app, for a total of 12.
Calendar apps, like other categories, tend to fall into two main categories: minimalist, which surfaces glance-able information and lets you dig more deeply when and as needed, and crammed, where all much data is shown on the screen at one time as is digitally possible. Some fall very much into the iPhone's design aesthetic, while others look almost purpose-built to make former Windows Mobile users feel at home, and yet other are almost Windows Phone Metro chic.
Here they are, in order:
Of course, the default view is just that -- the default view. Almost all calendar apps let you switch between some combination of year, month, day, and list view, and many have special features beyond the views as well. For a more in-depth look, check out our full reviews.
However, since pictures, or in this case, screenshots, can be worth a thousand words, check out the designs above and let me know what you think. Which calendar apps do you use, and are they the same ones that appeal to you most in the comparison above? Any of the calendar screens attractive enough they encourage you check out an alternative app?
Rene Ritchie is one of the most respected Apple analysts in the business, reaching a combined audience of over 40 million readers a month. His YouTube channel, Vector, has over 90 thousand subscribers and 14 million views and his podcasts, including Debug, have been downloaded over 20 million times. He also regularly co-hosts MacBreak Weekly for the TWiT network and co-hosted CES Live! and Talk Mobile. Based in Montreal, Rene is a former director of product marketing, web developer, and graphic designer. He's authored several books and appeared on numerous television and radio segments to discuss Apple and the technology industry. When not working, he likes to cook, grapple, and spend time with his friends and family.
I have been using iPlanner for my work schedule.

i use fantastical on my iPhone and Macs.

My biggest problem with any Calendar app I've yet looked at is the inability to search back more than a year. I've had to buy an extra app that allows me to search both my contacts and calendars, (with sorted results), case sensitive and with variable range

Week Calendar is the best ! The only one that allows searches for events at unlimited years in the past! You can search even 100 years in the past or more!

Thanks. I'll bear it in mind, (but first wait to see what iOS8 brings).

How about Extreme Agenda which will look significantly different with the upcoming 4.0 version: http://www.birdsoft.biz/images/extremeagenda33_default1.png and 'The Grid' calendar which actually will go free later on tonight( March 5) and is more minimalist and bold than the apps shown(especially if you switch colors) and has the features to back it up: http://www.birdsoft.biz/images/thegrid_default1.png Thanks

You mixed up Awesome Calendar & MiCal.

Personally, I love Calvetica. Its sleek design, unprecedented user-friendliness and ulta-fast event creation (about 50% faster than any other calendar app) makes the competition look old and grumpy.

I find Calvetica's multi-screen/tab event creation very inefficient. You have to go to several screens just to set alarms, calendars, end dates, etc. A shame really since the rest of the app is very efficient.

I've used Fantastical, Week Calendar, Agenda, and the default iOS calendar. My favorite and preferred calendar is Week Calendar.

Same, its the best! I've tred most of them as we'll. the only thing I want from week calendar is an ipad version

I don't like the aesthetics of Week Calendar - prefer Readdle's Calendars for viewing, but entry and quick view I like Fantastical. I keep Week Calendar around just in case :-)

Hi Rene, Nice overview of screens, thanks for including Week Calendar. @emeroid you can search Week Calendar to search back for >1 yr. You do need to adjust your ios sync settings to be able to sync your calendars > 1 year.

I have been using Week Calendar for several years now and love it, the only downside and reason I would not rate them a 5 out of 5 if asked to rate it is that they do not have a iPad version and or a Universal app. This is the biggest letdown as for over 6 months they have replied to me that the app is submitted and awaiting apple approval, I believe they just do not have it yet. However I am not ready to jump to another program as this one is the best for me.

I agree, and I had the same response as well.... Waiting waiting...

As it happens, the iPad version was (re-)released today. I haven't downloaded yet, but it looks promising. I hope templates and such sync with the iPhone version, but I don't see any mention of that in the description.

Thanks a ton, in fact the second I saw your message I went and downloaded its... And its been worth the wait, truly fantastic ...synced well with iCloud and runs soooo much better than the iPhone blown up ... Highly rate that this is the best calendar apps for both iPhone and iPad!

I've used most of these apps. I really like Week Calendar and Fantastical. Sunrise has me intrigued and I find myself using it more than the others but its limited for my overall needs. I prefer to use Google for my calendar but my wife uses IOS.

And nothing on Pocket Informant? For shame.

It was the last one listed.

Snapshot glances are good for starters, but unfortunately, inadequate to make informed choices. Would appreciate, if somebody did a detailed comparison OR pointed us to a link that hosted a detailed & comparative review. I'm considering Fantastical or MiCal but need help.

The reviews are linked in the article. Not sure all are covered but many are.

Didn't get a review for MiCal, but shortlisted Agenda as it has a clean UI.

Week calendar is the calendar app, I use the most. I tried Agendus, not the Palm app of old. It seems like some developers threw out a program to get on the iOS platform, but never improved the app.

I keep switching between Readdle Calendar and Fantastical. I prefer the week view layout and app badge showing if I have appointments that Readdle has, but I use Fantastical as a quick view calendar on my Mac and like the continuity of also having it on my phone. Plus I love the UI. That said, I think asking people to choose their favourite calendar based on the "default view", whatever that is for each app, misses the point since (presumably?) users can choose their preferred default. Functionality aside, most people who choose a 3rd party calendar over the built in one do this because of the limited view options, especially business users who have lots of appointments to juggle. It would have been much more useful to show the apps' various views (day, week, agenda, month, list etc) next to each other.

Looking through the top 100 productivity lists I see quite a few more you missed besides Extreme Agenda and 'The Grid'. CalenMob, Horizon, iCalendar, Event Book..... with some unique takes on the default view in there. And pretty excited today, 'The Grid' calendar app linked above went FREE today and just passed a couple of the calendars listed here in the top charts on its way up.... Check it out, definitely a bold minimalist look but with more features than a lot of these apps. http://grid.birdsoft.biz Thanks Rene

I use Month Calendar, which has a month overview as the primary view, which can be scrolled fast over the next/previous months. For me this is much easier when planning new appointments and finding a day. Also instead of just indicating that events are there by a dot (and then you have to select the day to see your actual events) it shows as much as it can of the actual events.
It makes use of color and decorations to create even better overview. Day views and event detail views are available as well. It is an universal app, so both iPad and iPhone for the same price.
In the interest of full disclosure I am one of the two developers of the app as well.
Give it a look, and any feedback is much appreciated as well.
https://itunes.apple.com/us/app/month-calendar/id389957954?mt=8&uo=4&at=...

I like Fantastical and Agenda and use them both. Looking at these screen shots I have definitely chosen the best of the bunch and would not change under any circumstance.

I am sticking with iOS6 Calendar app. So far, I didn't feel the need of something more/different.

I've been using Easy Calendar for years. I wonder why it didn't make the cut? You can enter appointments in 3 taps. You can contact me at www.abente.com

I use the stock IOS calendar and it does well for me. I am retired so I don't have as many events to schedule as when I worked but still have 6 calendars set up for use in the stock IOS calendar. The one feature I would like is when I have an appointment the face of the app would change colors from say the standard white to yellow or blue or some different color. That way when I glance at the calendar when I first get up in the morning and check my phone I know if something is scheduled for the day and open the app.

I was using Agenda, but switched to Fantastical which I think I like better. I hope they come out with an iPad version soon.

I am using Calvetica and I like very much the UI and the way it shows things.
The only big negative is that the icon shows only the date and not the number of tasks.
Am I doing something wrong? Is there any other calendar that shows this information in a badge? Thanks

Hi Rene - it might be a good idea to update the screenshots and product links. For example you are linking to the Pocket Informant for iPhone - and not Pro which was Universal. The iPhone only release is no longer available - its just Universal (iPad/iPhone).
Also - there is Pocket Informant Go! that everybody seems to forget. Its a lot cheaper than PI Pro with just the calendar and simple tasks at about $4 and you can upgrade to Pro from within the app. Also the user interface has changed greatly with Weather, Rich Text notes, Evernote sync. I think we updated PI Pro on the App Store not long after you wrote the article.

Week Calendar is the best ! The only one that allows searches for events at unlimited years in the past!
Ligia Kogos
Get the best of iMore in in your inbox, every day!
Thank you for signing up to iMore. You will receive a verification email shortly.
There was a problem. Please refresh the page and try again.