Creative Cloud crossroads: Will Adobe users flee in droves?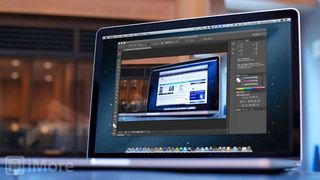 On Monday Adobe kicked off its MAX conference in Los Angeles with news that it it had ceased active development of its Creative Suite 6 products in favor of Creative Cloud instead. Moving forward, if you want the latest innovations to key Adobe apps like Photoshop, InDesign and After Effects, you're going to have to pay a monthly fee instead of buying a license to use a copy of the software in perpetuity.
This move isn't sitting well with many vocal Adobe customers on the Internet. Gathering places for creatives who use Adobe software lit up yesterday afternoon and evening with complaints and concerns about the move. Some customers don't want to be tied to Adobe's DRM technology, which enforces a monthly connection to make sure you're keeping your account current. Others rankle at the idea of paying any sort of subscription fee to use software. Adobe's decision to deprecate Fireworks is pissing off people too.
That's not to say that Adobe's decision has been universally panned. In the year since Adobe introduced Creative Cloud, more than half a million customers have jumped on board with the $50 a month service, and even more have kicked Creative Cloud's tires with a free trial - about 2 million, according to Adobe's estimates. Many people see the value of it (disclaimer: I'm a subscriber), and I'm sure Adobe appreciates the continuous and fairly predictable revenue stream of more than $25 million every month, and growing.
But 500,000 customers represents only a portion of Adobe's overall installed user base. Adobe has its work cut out for it, to convince everyone that they need to make the switch to Creative Cloud.
What's at stake for Adobe
Creative Cloud solves some very real and persistent problems for Adobe. Zee Kane, CEO of The Next Web, hit one nail on the head last year when he said, "Adobe's main competitor in this space isn't competing products interestingly enough; it's Bit Torrent."
Piracy is a huge issue for software developers, and piracy of high-priced software like Photoshop and other Creative Suite products has been a huge, perennial loss for Adobe. Creative Cloud is an attempt to staunch that flow by turning Adobe's portfolio into Software As A Service (SAAS) instead.
Switching to Creative Cloud development also offers Adobe and its users an advantage when it comes to the development cycle of products: No longer are we trapped in a cycle of monolithic updates, waiting years for to get new features. With Creative Cloud, Adobe can add features to existing apps, or roll out entirely new apps all together whenever they're ready. We've seen the company do this a number of times already, and Adobe says that's the direction it'll continue to head in in the future.
What's more, Adobe's trying to sweeten the pot to get more people on board. If you only use Photoshop, for example, you can subscribe only to Photoshop, at a lower price than the full Creative Cloud package. Creative Suite 3 - 5 users can get a break on their first year of Creative Cloud membership, and CS6 owners get an even bigger break. Students and teachers can also get a reduced rate. And Adobe will allow you to install your Creative Cloud apps on two machines you use simultaneously, effectively doubling the license for no cost. Have a computer at work and another one at home you want to work from? No need for separate licenses.
Users also get the added benefit of 20GB of online storage, connectivity to Behance, a popular and rapidly expanding portfolio-sharing site for creative professionals, and the promise of increased productivity through technology like cloud-based settings files, so when you move to a new machine with a fresh installation of software, all of your tools, palettes and settings will be configured the way you want them to be.
And if you stalwartly refuse to buy into Creative Cloud, Adobe will continue to sell you CS6. They even promise it'll work with the next major operating system updates from Apple and Microsoft. Just don't count on it to work indefinitely in the future. And don't expect any more features than what you have today.
Those who don't learn from history
During his preamble on stage at the MAX keynote Monday, Adobe CEO Shantanu Narayen recalled the introduction of Adobe's page layout software, InDesign, at the now-defunct Seybold trade show in Boston in 1999. Narayen was then a new VP at Adobe, and InDesign was the first product he oversaw the launch of. Narayen said that InDesign was touted as a "Quark-killer," referring to the then-dominant page layout software of the era, QuarkXPress.
I was at that show too. My career up to that point was as an IT manager for creative departments - graphic designers, page layout artists and photographers who depended on Macs as the basis for their digital workflow. I remember things a bit differently. Because what I remember the most was how much we hated Quark, not how much we loved InDesign.
Adobe's K2 project - the code-name for InDesign - was no secret in the publishing business. We knew it was coming and wanted to see what Adobe had up its sleeve. Adobe and Quark had a contentious relationship from the mid 1990s on, after Adobe acquired Aldus, developer of PageMaker, one of the very first desktop publishing programs for the Mac. In fact, Quark - the then-800 pound gorilla of the desktop publishing market - actually threatened to acquire Adobe and divest it of PageMaker in order to kill the competition.
Quark had developed a very well-deserved reputation as a bully that disrespected its rivals, disrespected its customers and generally was unpleasant to work with. It threw its weight around because there really was no alternative; Adobe had done very little with PageMaker. Quark had a lock on the publishing industry, and it could do what it wanted. All of us held our noses and used (or in my case, supported users of) QuarkXPress, but the software had very few champions who really loved it.
There was certainly a lot of interest in InDesign, but very few people jumped on it right away. Especially in corporate settings, companies had made a huge investment in heavily customized QuarkXPress-based workflows, and were far from throwing all that effort and money away on an unproven product. That first release caught the eye of many creative professionals, but consensus at the time was that it was a work in progress - fine for some things, but not quite ready for what I need it to do.
That changed. Quark's attitude didn't really change, and eventually the market would shift to InDesign. But it would take time. On day one, InDesign was no Quark killer.
Almost a decade and a half later, Adobe runs a risk of alienating the same customers that flocked to it when InDesign matured enough - and Adobe worked hard enough - to win away QuarkXPress customers. Where Adobe has to tread particularly carefully is near the corporate IT and creative management staff – Adobe can't afford to allow Creative Cloud to become an unwieldy licensing, compliance and update management hairball.
Where would they go?
While there are some alternatives to Adobe software, and some very reasonably-priced options, there isn't an "Adobe-killer" waiting in the wings. There are plenty of independent software developers out there who offer bits and pieces that could nicely replace individual Adobe apps, but nothing with the giant marketing and development budget that Adobe has.
Still, I've seen a lot of comments from users who are certain that indie apps can fill their needs. Acorn and Pixelmator get mentioned a lot as Photoshop replacements, for example, and Skala has just been teased for interface design. So Adobe's decision to focus on Creative Cloud may certainly benefit smaller independent software developers, and leaves the door open for competition.
Adobe is likely to lose some low end customers - freelancers and others who only occasionally need or want to use Adobe software, but don't have an overwhelming need to use Adobe products all day, every day, to get their work done. Those customers may have even made a significant investment in Adobe products in the past and use the products because that's what they know, but they either can't or won't justify a $50 per month fee to use Adobe products.
Ultimately Adobe sees its future in building an ecosystem around creatives and companies that see the value of paying a monthly fee in return for an entire spectrum of creative tools and services. With its announcements yesterday, Adobe has made it pretty clear that if you're not on board with Creative Cloud, you're going to be left behind.
Are you a Creative Cloud user? Are you giving up on Adobe all together? Let us know in the comments.
Master your iPhone in minutes
iMore offers spot-on advice and guidance from our team of experts, with decades of Apple device experience to lean on. Learn more with iMore!