Cycloramic app automatically spins iPhone 6 to capture 360-degree panoramas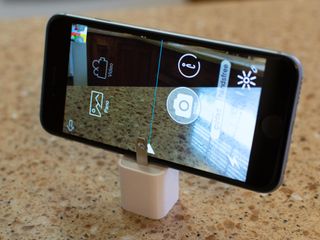 Cycloramic is a new app for capturing panoramic shots with your iPhone 6. And rather than have you move your iPhone around to capture wide scenes, the best part about Cycloramic is that it will rotate the phone for you without any requiring assistance, giving gorgeous 360-degree videos and photos. As featured on the show Sharktank, Cycloramic's creators say that the app leverages the iPhone 6's internal vibration motor to help rotate the phone slowly to capture those panoramas. It's like setting your iPhone 6 on a turntable.
All you have to do to leverage this automatic rotation feature is prop your phone up between the prongs of your iPhone's charger, which is supplied by Apple when you bought your iPhone 6.
Through the vibration mechanism, you can get a 360-degree shot in about 12 seconds.
Full HD: Generates full HD panoramic videos or photos, in landscape mode.
Fast: it will rotate 360 degrees as fast as 12 seconds
Reliable: Now works on uneven and not level surfaces, and at a better angle
And if you have an older iPhone model, you can always follow the guided system to stitch together your captures.
Here are some of the features:
The easiest panorama guidance system.
The fastest panorama capture (less than 3 sec for 180 degree panorama with the iPhone 6)
up to 360-degree panoramas.
Award winning photo editing and enhancement tools from Aviary: filters, frames, stickers, adjustments (crop, rotate, contrast, brightness, etc.) and more. The photo suite can also be used on your regular photos taken outside of Cycloramic.
Immersive viewer.
Video Conversion: Convert any photo into a video (240p, 360p, 480p, 720p or 1080p resolutions).
Panorama Photo to INSTAGRAM Video converter.
Share to Facebook, Twitter, INSTAGRAM (photo and video), email, sms and camera roll.
... And for the iPhone 5/5S, the revolutionary Handsfree Mode.
What do you think of not having to rotate your iPhone 6 yourself to capture panoramas? Is Cycloramic an app you think you'll use a lot?
Get the best of iMore in your inbox, every day!
I think I'd pay the $2 just to watch it take a picture! Sent from the iMore App

You shitting me?! This is awesome and hilarious all at once. Please tell me a Shark made a deal on this and who it was! Sent from the iMore App

I did just that! Works pretty well, and is a riot playing with it at work today (I work in a bar, and I'm the only sober person here lol). Sent from the iMore App

Something sketchy going on with this developer. They're making existing owners of the app purchase the new "iPhone 6" version AND they changed the original iPhone 5 app somehow (changed the name?) such that I can't even re-download it (without getting charged again) nor can I leave a review.

I agree. I had this app previously (not sure if I had to purchase it). Now, to download the original it's $1.99. Sent from the iMore App

I just downloaded it back from when it was originally released... didn't have to pay anything. iTunes > Updates > Purchased This isn't a new app. Might be a re-release??

I just redownloaded it from my purchased. The first version (for my 5s ) is called "cycloramic Classic". Seems like they removed it from the App Store to make people buy the new app. Sent from the iMore App

I was able to download it fine from my purchased apps not on this phone and it's updated fine since.

On the 5S it rotates on its own without the charger. Sent from the iMore App

That's due to the iPhone 6's rounded edges.

yeah i saw that shark tank episode and now i'm betting when he saw the iphone six's rounded edges he was like "ah crap."

I agree with everyone else, though I just re-purchased it again. But I know for sure that I purchased it before. Anywho, since it instructs you to remove any case you may have your phone in, I wonder if the vibration might cause the prong(s) that's resting up against the back of the phone will scratch the back?

Does it work with a case?

It's only with the iphone 6, not with the 6+, right?

One of the Sharks invested on them and right away I bought their so-called PRO version which included all IAP for their other paid versions. A few months later, noticed it doesn't even exist on iTunes, hence, no more updates for iOS 8, I guess! DELETED!

This app Is older. I've had it on my iPhone 5 for over a year. Neat app! Sent from the iMore App

well jumped the gun and bought it for the 6 plus... no movement at all haha, I think its too heavy, but at least it still works fine for "guided panoramas"

When will the iPhone fly.

Considered buying it for my 5, but passed when it was 99¢. I wouldn't buy it for the 6. Why would you add a timer in the Camera app to a phone that can't even stand on its side anyway?! Sent from the iMore App

Didn't work with case on, even though the case is very thin. So far very disappointing. (IP6)

This app came out a while ago, it has 24 reviews and most, if not all, are poor. Maybe review an app that actually works and try not to waste peoples money.