Das Keyboard 4 brings a full-featured mechanical typing experience to the Mac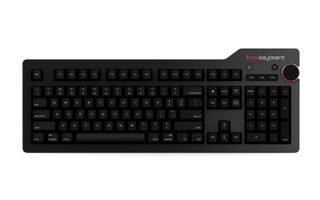 The Das Keyboard 4 Professional is a mechanical keyboard that comes with a lot of the features you'd expect out of a modern keyboard. First up are the dedicated media keys, along with an oversized volume knob for quick and easy access to your media functions. Alongside the media keys, the keyboard also features dedicated function keys to access Mission Control, Launchpad, and display settings.
As for the mechanical parts of the keyboard, it features gold-plated switches, which the company says will provide more tactile feedback than standard keyboards. Finally, the keyboard also features two USB 3.0 ports for fast file transfers, as well as a 6.5-foot long cable to allow some distance between the keyboard and connected Mac.
As for price and availability, you can pick up the Das Keyboard 4 for Mac for $175 in either English or German layouts with your choice of blue (clicky) or brown (soft) switches from the Das Keyboard website (opens in new tab).
Press Release:
Introducing the New Das Keyboard 4 Professional for Mac
Metadot, maker of award-winning mechanical keyboards, today announced the new Das Keyboard 4 Professional for Mac, its most significant keyboard update for Mac users since the Model S.
Beginning today, Mac OS power-users, designers, editors, coders, gamers, musicians and enthusiasts alike can experience the best-in-class typing experience available on the market for ultimate speed, performance, style and durability. Das Keyboard 4 Professional for Mac is meticulously engineered with a refined vibration-less enclosure, hex screws, cutting-edge look and oversized HiFi-inspired volume knob to enhance the desktop experience and help unleash personal computing potential like never before.
No detail too small, Das Keyboard 4 Professional for Mac is expertly crafted and fully equipped with an array of premium features including:
Unmatched Mechanical Precision: Gold-plated mechanical switches provide more accurate tactile and audible feedback than standard keyboards and create a distinct, satisfying click with each and every keystroke.
Exceptional Durability: A new anodized aluminum top panel improves durability and displays a professional, contemporary look and feel on any surface.
Quick Media Controls: Over-sized volume knob with dedicated media and function controls enable fast and easy audio adjustments and access to Mission Control, Launchpad and display settings "V without the added hassle of navigating tedious keyboard shortcuts
High-Speed File Transfer: SuperSpeed USB 3.0 hub delivers the industry"¦s first two-port 5Gb/s hub for faster high-resolution picture and video file transfers between USB devices.
Increased Speed: N-key rollover (NKRO) over USB allows for better, faster gaming, eliminating the need for a PS2 adapter, often required of older keyboards.
Energy Savings: Instant sleep button puts the connected Mac into sleep mode to help conserve power during even the shortest computing breaks or gaming intermissions.
Extended Range: Extra-long 6.5-foot long cable increases the potential distance between the keyboard and connected Mac device for more space and setup flexibility.
"Das Keyboard 4 for Mac represents our most advanced and significantly updated offering for Mac OS users yet," said Daniel Guermeur, creator of the Das Keyboard and CEO of Metadot. "The keyboard is and will continue to be the most important tool in many people's everyday lives, and Das Keyboard 4 for Mac delivers a superior product that is as highly satisfying and enjoyable to use as it is innovative and efficient, providing the best possible typing experience for Mac power-users and enthusiasts alike. It"¦s a difference so extraordinary you really have to feel to believe."Ø
Pricing and Availability
The new Das Keyboard 4 for Mac starts at $175 (US) and £į179 (Europe) and is available for order in the US beginning today at www.daskeyboard.com. It is offered in US English and German layouts with either blue switches for a clicky tangible feel, or brown switches for a softer, more tactile experience. UK and Nordic layouts will also be available in the coming months.
About Das Keyboard
Das Keyboard, a brand of Metadot, makes high-quality mechanical keyboards, along with RFID blocking gear that protects user privacy. Das Keyboard is a privately held technology company headquartered in Austin, Texas dedicated to delivering innovative technology products to increase productivity and lower costs. Developed in 2005, Das Keyboard has been praised by major media outlets, techie magazines, geeks and regular people who use and rely on keyboards to be productive throughout the workday. For more information, please visit www.daskeyboard.com.
Get the best of iMore in in your inbox, every day!
It always surprises me when folks involved in technology, get hung up on the PAST of all things.

hmmm, you really ARE a f34king idiot!

Mechanical keyboard feel very nice, and take less force and time to complete a keypress. Just because it's old doesn't mean it no longer works. "I'm da Blur boys!" - Me with 1200 ping. Fiber in Nashville? Save me based Google.

Have you ever actually used one before making that comment? And, just FYI, I have. I own the previous version of this keyboard, and it was worth every penny. Sent from the iMore App

It isn't about the past so much as the keyboard is so much better for fast typists. One can easily type 120 WPM on the Das Keyboard because of its tactile feedback. And the keyboard will outlast the plastic keys of modern keyboards by years.

The one thing that I do not like about the Das Keyboard is THE NOISE. I type in front of clients as I enter data that they verbally give me on my Mac. And loud keyboards get seriously in the way of conversation. These mechanical keyboards are simply too noisy. They are best for typist who work in isolation, not talking to others - like programmers working in their own cubicle.
Thank you for signing up to iMore. You will receive a verification email shortly.
There was a problem. Please refresh the page and try again.