Deutsche Bank "no going back to BlackBerry" after iPhone, iPad trial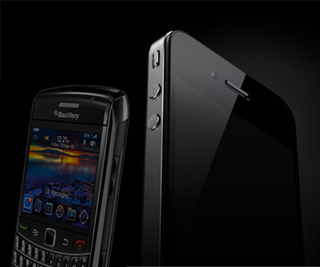 Following a pilot of iPhone and iPad, Deutsche Bank's Chris Whitmore says there is no going back to BlackBerry:
They're using Good for messaging so users complain about the lack of background email receipt, and they do miss the BlackBerry notification light but the positives "far outweigh these issues".
Apple reported over 80% of Fortune 100 were piloting or deploying iPad, an unheard of adoption rate for new technology.
For any of you in enterprise, is iOS an option yet?
Get the best of iMore in your inbox, every day!
Rene Ritchie is one of the most respected Apple analysts in the business, reaching a combined audience of over 40 million readers a month. His YouTube channel, Vector, has over 90 thousand subscribers and 14 million views and his podcasts, including Debug, have been downloaded over 20 million times. He also regularly co-hosts MacBreak Weekly for the TWiT network and co-hosted CES Live! and Talk Mobile. Based in Montreal, Rene is a former director of product marketing, web developer, and graphic designer. He's authored several books and appeared on numerous television and radio segments to discuss Apple and the technology industry. When not working, he likes to cook, grapple, and spend time with his friends and family.
We are testing Good and iPhones currently and the results are mixed.. User are not yet 100% comfortable on leaving their Blackberries yet.

I work for a law firm and it looks like we will be testing Good soon as it really is the best and most secure option for these devices. We have been BES only for some time and I welcome the change. I've been working on opening up our system to new devices for a year now.

This sound more like a criticism of "Good for Enterprise" than the iPhone. The iPhone supports Exchange, but they have chose to use Good instead.

I forget to point out that Good runs on Android also!

Rene, did you consider how iPhone adoption in the corporate environment demonstrates the nexus of one's personal life and work life? It's interesting to me how the article cites the ease of use in terms of accessing one's personal and work email from a single device. To my mind, this highlights how people are generally transitioning to the "always on, always working" mode.
Oh a more practical note, I can't believe that Apple hasn't deployed a corporate sync client. To have to install iTunes in an enterprise environment solely to deploy iPhones and iPads is pretty ridiculous.

Re: "It's interesting to me how the article cites the ease of use in terms of accessing one's personal and work email from a single device."
It was interesting to me, too, but for a different reason.
Accessing both types of email from a single device has been possible for a very long time - on Blackberries and other manufacture's devices.
Maybe I just need to follow the link (which I assume exists and leads) to the original article, but I don't see what exactly made iPhones stand out. The touch interface comment left me more baffled. If anything, I could see the tablet form factor being compelling in a business setting, among others, but there are many phone options...and have been for some time.

Why would the touch interface comment be baffling? If you've ever viewed email and attachments on both blackberry and iPhone it's very apparent that the experience is superior on the iPhone due to the touch interface. You can scroll faster, zoom in and out and the email renders better on the iPhone screen. For the comment of installing iTunes being ridiculous, you have to install bes with blackberry so I don't see the problem.

As I understand it, most employees are discouraged from accessing personal email from corporate devices for two reasons: 1) doing so on Windows, at least, can lead to system-crippling vulnerabilities (downloading viruses by mistake, etc), and 2) when you're using a company device you're supposed to be doing company work. The way this article speaks of the duality of the iPhone as a home-work device, it seems to suggest that the traditional spheres - as I understand them - are being actively blurred by the enterprise sector.

I agree. In any regulated industry in the US, it is strictly forbidden, as it should be. Not just for the possible vulnerabilities to the devices, but due to the possibility of access to corporate and customer data.
Regarding installing BES vs iTunes...BES is a server side installation. If I am not mistaken iTunes would have to be on each user's PC. I could be wrong though...has Apple come out with an Enterprise ready configuration utility?

I'm not surprised, the Blackberry data service is absolute garbage, it's slower than dial-up.

I guess the only surprise is why it has taken this long :)

Hey, that post leaves me feeling foiolsh. Kudos to you!

would be interested to hear from any IT folks as to why Good was chosen over native Exchange support. is it more secure? is it easier to manage/deploy from an IT perspective? is it cheaper? conversely, would be interested to hear from any IT folks from companies that have tried the iPhone with Exchange. were people satisfied? more so than with their blackberry devices?

S'kinda what I was wondering, after having read the post.

I actually read the answer from someone over on AndoridCentral. They said that they like to use Good because it let them "sandbox" their corporate data so that they can control and if they need to wipe the "sandbox" while the user can personalize the rest of the device.

We haven't used Good in a while but much like BES gives you greater control over the device, Good allows you to set a greater number of security policies than EAS alone. There aren't as many security options as there are with BES but more than EAS alone. It's definitely not less expensive as you not only have the cost of the Good management server itself but each user, at least when we were using it, had to add a Good data option to their cell phone account, again much like you pay extra for BES access on Blackberries.

@RENE RENE RENE RENE Breaking news!! iDOS PULLED FROM APP STORE. WRITE ABOUT IT RENE RITCHIE!!!!!!!!!!

Thanks for sharing. What a plesruae to read!

Good looks bad to me. Way to ruin the iOS experience by siloing everything inside their clunky app--an IT control freak's dream come true. @Jon has the right idea, regarding the blurring of lines, and IT needs to start thinking a little differently about how they support users. BYOC? The days of a homogeneous Microsoft-only environment are ending soon. Once upon a time, we had very mixed environments, but IT has gotten lazy from drinking the Microsoft Kool-Aid.

Deutsche didn't get the memo? Once you go Black(berry) you never go back.

Yes! Can't wait for one of these people to lose an iphone and cost their company millions of dollars. IOS has been proven to be hackable. I am so glad I do not use this bank!

@ B Oliver- what phone is not hackable?

BlackBerry. You put a password on that thing and I would like to meet the person that can get into it. Not the same for Android or IOS. I love the phone, but for business you can't beat a BlackBerry.

Yeah I'm sure 80% of the fortune 100 have no idea what they are doing. If only you were there advising them instead of writing on this blog they could have saved their company millions.

My last company had a very successful trial of IOS. I was one of the pilot users and loved it. Soon many others came on board. Unfortunately it ended when a new CIO joined and decided to switch our provider to Verizon, but hey at least he was good enough to appease all of the IOS users by giving us Blackberry Storms as replacements (yes you can assume sarcasm for that last part).

You can stick RIM with a fork because they're done. They never recovered from the original Storm fiasco which was supposed to have been the iPhone killer. I guess it's kill or be killed.

RIM is far from done. Their devices are geared towards those who want a strong communication device.
Never recovered from the Storm fiasco? Are we talking reputation or profits? If it's the later, RIM's profits continue to grow. As for reputation, I would agree that the Storm does not have a good one, but the reputation of the rest of their devices is intact.

Just received my work iPhone4 (aww, so cute next my personal iPhone4). We (one of the largest software companies in the world) started allowing iPhones for everyone in the Fall after a trial period that started with the 3GS. We use EAS provisioning instead of Good and the experience is the first work phone I don't have huge issues with. If I have to carry two devices, it may as well be two iPhones :)

My company, one of the national insurers, in the past few months has adopted iOS, Android, Windows Mobile and Palm OS. All of this is supported through Good Mobile Messaging. While Good may not push emails as quickly as BlackBerry, it is more than sufficient for me. I like how the email client looks just like the native iPhone email app.
My company lets me connect both my iPhone 3GS and my iPad. I do have an iPhone 4, but I keep that purely for personal purposes. They are also going to deploy the ability to support Instant Messaging through Microsoft Office Communicator, which is something I have been missing since I left the BlackBerry about 2 years ago.
We are also looking to deploy iPads to our sales workforce so that they can use them during presentations with customers to showcase our products and capabilities. This is something that our sales force is excited about. Since getting iOS as an approved mobile device, the experience has been fantastic.

We will not be using or recommending ios for any enterprise. Lack of customization and apples control methods are not a good fit.

We have been using BES for about 3 years. However once we started offering Good support almost all of the users allowed to use it have moved from BB to IPhone or Android. The reason we stopped allowing native Exchange support via IPhone was due to issues with IOS upgrades as a couple of the releases had bugs that could bring an Exchange server to its knees and Apple was very slow in coming out with a fix. They had a work around but try supporting that with over 70 offices. Good Email on the IPhone isn't the best a you get notification but have to open the application to get your emails. Hopefully Apple will fix multi-tasking down the road to allow better support for this type of application.

I use mine with Exchange.. and Honestly I love it.. My organization as a whole doesnt but.. just a few of us.. and its pretty neat.. also being able to access citrix apps and remote into my PC from offsite locations is just awesome.

More posts of this quitaly. Not the usual c***, please

Generally I do not learn article on blogs, however I wish to say that this write-up very pressured me to check out and do it! Your writing taste has been amazed me. Thank you, quite great article.