Advantages of Apple Business for retail customers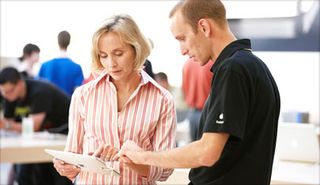 On Monday morning I picked up several shiny new iPhone 4S handsets that my Apple Business rep had set aside for me earlier in the week. I knew I would be traveling over the launch weekend and I needed quite a few phones, and my Apple Business rep couldn't have been more helpful in arranging everything.
one of the best things I ever did for NickelFish was to register as a small business client with our local Apple Store. The experience and service the Business Team provides is absolutely incredible. Knowing that you have a reliable resource at your disposal that can help you with almost any issue you run into is very comforting. As part of an initiative started [last summer, Apple has been reaching out more to local companies, and it's been a great move.
The funny thing is, I only registered as an afterthought. I was there one day about a year ago buying a laptop for one of our staff members, and the person I was working with saw my business credit card and offered to help me join. I honestly didn't think about it prior to this, and I figured it wouldn't hurt. I met the manager of the Business Team (who has since become a friend) and he said he would add us to the Apple local directory for vendors, and would let interested parties know about our capabilities if anyone inquired. Again, I figured, can't hurt.
Over the course of the past year, I have been able to email or call at any point and ask tons of questions, reserve equipment for purchase, set up service appointments and just generally feel that we're completely cared for in our hardware and software needs. As a business customer, you're sometimes also eligible for discounts, depending on what you're buying. In addition to this, we've had leads sent our way for web and mobile development projects through our association with Apple.
But the most important part of the entire experience for me is that every time I speak to someone at the store or stop by for a visit, every single team member I interact with is exceptionally professional and makes me feel like a VIP. It seems silly, but there aren't all that many places in which you can get this level of service without paying a crazy premium. The Apple Business Team places a high level of emphasis on making business customers comfortable and providing a completely frictionless experience. They truly are a partner to your company, and if you're running a small business and using Macs, I highly recommend investigating with your local Apple Store and reps.
Seth fights for the users. The CIO of Nickelfish, he helps build apps like Stringer by day and co-hosts the Iterate podcast by night. He's also a lover of classic video games, surfer for life.
Great commercial for Apple. I know this is an ieverything site but do they pay you to post this sort of stuff?

Are you mentally challenged?

I think I just barfed in my mouth a little bit....

I'm guessing Seth hasn't been in business long. Yes, you do receive a different level of service. No, this isn't exactly a great example. Sounds like you're visiting the store frequently. In my business, they come to us.

I think I just barfed in my mouth, I went to walmart today, could have added some more pics to "The People of walmart" website.

This sounds like a winner to me. I was talking to the store manager of my local Apple store about their business team on iPhone 4S launch day. When I'm ready to build my studio, I'm going to have to think about that because I will be using Mac hardware.
The experience of shopping at the Apple Store is an awesome experience.

I think I just barfed in my mouth little bit as I recall my customer service experiences at WalMart. The only thing they have going for them is price. That's it.

How do i set up a business account
Get the best of iMore in in your inbox, every day!
Thank you for signing up to iMore. You will receive a verification email shortly.
There was a problem. Please refresh the page and try again.