Developer Spotlight: Marc Bolh of DataVault Password Manager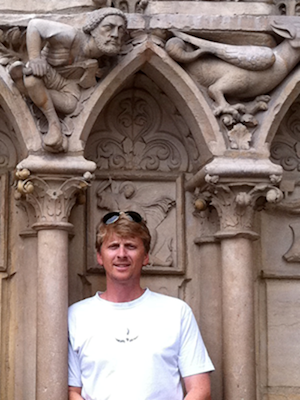 iMore's developer spotlights are like DVD/iTunes Extras for the App Store -- a weekly look behind the scenes at the programers and designers that bring you the iPhone, iPod touch, and iPad apps and games you love. This week, Leanna talks with Marc from DataVault Password Manager.
What's your name? Marc Bolh. That's me in the photo. Be one of the first 3 to guess the city it's taken in and we'll give you a promo code for one of our iOS apps. Guess the monument I'm standing in front of and you'll be christened the control-click Champion J
What's your company's name? Ascendo. People often ask how we got the name. I started with a list of Latin words, looking for attributes of the company I wanted to create. Then made a short list of tweaked forms and sent it to friends for comments. Three people said one of my favorites sounded like a female hygienic product. Go figure. I knew then that user feedback was going to be important.
Where are you located? The company was incorporated in San Diego, California, it's spiritual home. I have since moved live in Burlington, Vermont, a great place but fewer palm trees. On the bright side, there are less distractions from making great software. Oleg and Yurii, who develop DataVault and Ascendo Money, live in Kharkov, Ukraine, another great place to develop software. Andrey, who develops our multilingual dictionaries lives in Novosibirsk, Russia (head for Mongolia then hook a left). Alli, who manages customer success is from Mobile, Alabama.
What's your website address? http://ascendo-inc.com
If you can convince the guy who owns ascendo.com to sell it to us for a reasonable price you'll have our eternal gratitude!
What's your Twitter name? @Ascendo. Sorry, not a big Tweeter on a personal level. I prefer to hunt for information than to drown in it.
At Ascendo, we use Twitter mostly for alerts on new releases alerts, we always appreciate feedback by email.
What apps do you make? DataVault Password Manager (iOS, Mac, Windows, Android, BlackBerry). A great place to keep your Android Forums login!
Ascendo Multilingual Dictionaries - English to Spanish, French, Italian & German (iOS, Android, Mac, BlackBerry). Jersey Shore favorite, see our Facebook page.
Ascendo Money Personal Finance Manager (BlackBerry). For everyone from people who work on Wall Street to those who occupy it.
What apps, other than your own, are currently among your favorites? Dropbox, Track and Share, Pandora, TuneIn Radio, CalenGoo
How long have you been a developer? I started Ascendo in 2002 but the road to apps was a winding one. We started focusing 100% on apps in 2007.
I do everything but program at Ascendo, most of my time is spent in design and testing.
Oleg, Yurii and Andrey are the coding geniuses who make the magic.
How long have you been an iOS developer?
I got a degree in computer science and worked as a developer for a few years. Then I worked in sales for Oracle, Microsoft and Openwave before starting Ascendo in 2002.
Oleg, Andrey and Yurii are the coding geniuses who develop our apps. Alli is the hero who makes sure our customers are successful. My job is to make sure they have what they need to deliver great software and support.
Do you develop for any other platform in addition to iOS? If so, which one(s)? Android, BlackBerry, Mac, Windows
What primary computer setup do you use for your iOS development? MacBook Pro, 27-inch display, solid-state drive, all the fixins.
What iOS device(s) do you personally use most often? My iPhone of course, iPad when I can get it away from the kids.
What mobile devices, other than iOS, do you currently use? I like zoning out in the car and letting my Tom Tom do the work. My GTI Fahrenheit with Ascendo plates, highly mobile device. I've got a Samsung 2S and Sony Ericsson Arc on loan, very nice screens.
What's your favorite thing about developing for iOS? The crisp retina screen and smooth screen transitions make the device a pleasure to develop for. The passionate user are a great source of motivation. The fact that we can focus on the app and not portability is a big plus.
What's your least favorite thing about developing for iOS? Provisioning profiles and security certificates. About as much fun as figuring out your taxes.
What feature would you most like Apple to add to the iOS 5 SDK? Better API for mobile Safari so we could auto-fill forms without multitasking or developing a separate browser.
What feature would you most like Apple to add to the App Store? Paid Updates! This is critical to developers, users and the App Store itself. Everybody likes free stuff but developers need the means to invest in new features and support, much of which is caused by OS upgrades and other factors out of their control. Without paid updates, developers are faced with moving to new products or getting overwhelmed by their own user base, that's not good for anybody.
Like many developers we are frustrated that Apple and Google have moved slowly on this. The first one to offer paid updates will benefit from a huge shift in the allocation of development resources.
If we were to eavesdrop on you while you were coding, what curse word would we hear you use the most? Putain de merde! Ok, I lived in France for 12 years.
What do you do when you're not coding iOS apps?
Play guitar, try to close down nuclear plants, and occasional attempts at stand-up comedy.
What should we look for from you next? (Tease away!) iCloud Sync for DataVault. Ascendo offers more sync options than any other password manager and we working to get iCloud sync out the door as soon as possible. Cloud sync is a great enabler for security products. It allows users to access their data on multiple devices without having to store their private information on a single, hosted server, aka hacker-magnet.
On the dictionary side, we'll be building out enhancements to allow users create content like phrases and usage examples and share them with others.
Thanks Marc!
Master your iPhone in minutes
iMore offers spot-on advice and guidance from our team of experts, with decades of Apple device experience to lean on. Learn more with iMore!
Former app and photography editor at iMore, Leanna has since moved on to other endeavors. Mother, wife, mathamagician, even though she no longer writes for iMore you can still follow her on Twitter @llofte.