EasyBiz for iPhone review: One of the quickest ways to track your gas mileage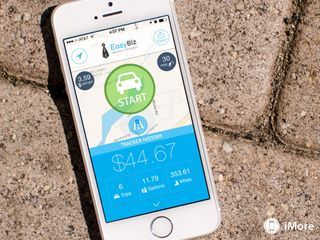 EasyBiz is a new app for tracking gas mileage while on the go. Just launch EasyBiz, enter the fuel cost and miles per gallon, and go. You can also enter trips manually if you need to.
There are lots of mileage tracking apps available in the App Store but very few of them are simple enough to use that they completely replace paper logs. EasyBiz changes that by making tracking mileage pretty much a one tap affair. Just launch the app, verify the information, and tap start. Entering trips manually is easy too and only takes a few seconds.
As for syncing your data, you can export your mileage expenses via email as you need to or sync them automatically with Google Drive so they're at your disposal whenever you need them. EasyBiz allows you to view breakdowns of costs, how many miles you've driven, and how much gas you've used too. As you accrue more data, you'll see comparisons of how much you're traveling month over month.
The part I have never liked about gas mileage trackers is that I have to enter so much information that it becomes more bothersome than just scratching down an odometer reading or note in a mileage log. EasyBiz is a nice compromise between too much information and too little.
The good
Great interface that allows for one tap tracking
Easy to read breakdowns by month of how much mileage you're accruing
One tap to change MPG or fuel cost
Auto-sync your data with Google Drive so you never lose it
The bad
No place to add extra expenses
The bottom line
EasyBiz is a great compromise between functionality and ease of use. If you don't want to spend a ridiculous amount of time tracking mileage and don't need anything over the top, I'd definitely recommend checking out EasyBiz.
You can try EasyBiz for free but after 5 routes, to continue using it you'll have to make a one time in-app purchase for $1.99. If you happen to try it out, let us know what you think compared to other mileage tracker apps.
Get the best of iMore in in your inbox, every day!
iMore senior editor from 2011 to 2015.
I don't have a need for an app like this, but if I did, this is certainly a nice app! Thanks Allyson.

I tried a mileage keeping app a few years ago but gave up on it. Sometimes I would forget to make an entry and that really threw the app off. I hope this app makes missing an entry easy. Sent from the iMore App

The road icon just below the "Start" button should allow you to add in any missed expense data/ manually enter data, set dates, change gas prices etc. if you forget any trips. We are also in the process of adding in a update by the end of January to have analytic data for specific labeled trips/vehicles to make exporting, data, and tracking more detailed. Thanks for the suggestions however we just launched so feel free to make suggestions. We are very eager, as this was designed from a Denver small business who used these type of apps, to make a user friendly application. We have a tutorial on youtube if you search EasyBiz Miles logger.

Casey,
I couldn't tell from the description is the app is also metric or not.
Also the website in iTunes links to a youtube video that doesn't exist.
Wayne

Hi Wayne,
We just released the update for a US/Metric System compatibility, multiple world currencies, labeling options, expense filters and A-Z organized export. This should fill in any grey area previously missing from the first version. It is now in review with the AppStore and should be available within the next two weeks (Android is already out under EasyBiz Pro). Now, with this new version the price is $4.99. However, if you have already downloaded the app with IOS you will not be charged any additional fees. All the features will upgrade with the app you already own. I am in the process of editing a new video tutorial once the new version is listed and will update the link as well.

I just started using this app but have to agree it is great for those looking for a simpler means of tracking their expenses. I literally set my gas price and mileage and from then on out just tap start to track my mileage expenses... Really enjoy it so far
Thank you for signing up to iMore. You will receive a verification email shortly.
There was a problem. Please refresh the page and try again.