Ecobee4 Smart Thermostat: Everything you need to know!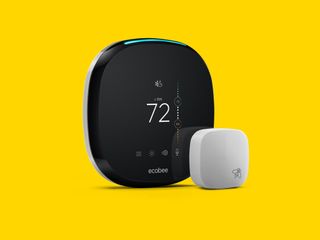 Updated May 2017: Added Amazon's listing for the ecobee4 smart thermostat.
Ecobee4 is now available for purchase
The cat's out of the bag, folks, and the Alexa-enabled ecobee4 smart thermostat is very real and very awesome!
The ecobee4 comes with embedded microphones that feature far-field voice recognition (the same technology that makes the Amazon Echo hear you from across the room) and a speaker that makes Alexa sound loud and clear, despite coming from a thermostat fastened to your wall.
That means, on top of having all the same great features as the ecobee3 (HomeKit-enabled, satellite room sensors, energy-saving benefits), you can use the ecobee4 in the same way you'd use an Echo, Echo Dot, or Tap. Ask Alexa to set a timer, adjust the lighting, give you the steps to a recipe, play some jazz — you can do it all right from your smart thermostat.
Ecobee4 is available for purchase; the Alexa-enabled smart thermostat will run you $249.
See at Amazon (opens in new tab)
Ecobee sends out teaser for a "big reveal" on Facebook
I just got an email this morning from Ecobee that's hinting at something big coming from the company on May 3. Here's an excerpt from the email along with an animated GIF that reveals something awfully familiar:
Ecobee says it'll be making an announcement on its Facebook page via Facebook Live. You can keep an eye on Ecobee's Facebook page by Liking it. I'll update this post on May 3 with any details the company shares!
Alleged Ecobee 4 marketing materials leak
The Verge has just made my morning. The site shared a glorious discovery from Dave Zatz of Zatz Not Funny that suggests Ecobee's next smart thermostat is about to get a whole lot smarter. According to product marketing materials discovered by Zatz, the ecobee4 smart thermostat will feature Amazon's Alexa smart assistant.
Let me be clear: We're not talking Amazon Alexa support — the ecobee3 already features Alexa support — we're talking full-on, built-in Alexa. Zatz Not Funny recently shared FCC documents that show a speaker on the back of the device. The new marketing materials show an LED light strip across the top of the device that's reminiscent of other Alexa-Enabled devices. And lest ye think it'll just be a fancy way to adjust the temperature in your home, the marketing materials seem to suggest otherwise. From Zatz Not Funny:
I may or may not have cursed excitedly when I came across this leak (I definitely did). My love for the ecobee3 Smart Thermostat is well-documented: It's a superior thermostat to the popular Nest Learning Thermostat, it's a HomeKit-enabled device, it features remote room sensors (that are also HomeKit-enabled), and it integrates with almost every smart home platform. That Ecobee might build Alexa into the device makes my love grow 10 sizes. I'm going to enjoy having Alexa in yet another place in my home, but I think there's something more important here: Folks who have yet to add an always-on smart assistant to their smart home setup can kill two smart birds with one smart stone. Thermostats are typically installed in centralized locations within the home; adding smart thermostat functionality and a voice-controlled assistant in a central location, all in one purchase is a fan-friggin'-tastic deal.
While we're on the subject of leaks and rumors, our friends at Thrifter have unearthed a nearly $60 discount on the ecobee3 smart thermostat. Could these ongoing discounts from ecobee be a sign that it's trying to clear out stock of the ecobee3 before launching ecobee4? 🤷‍♀️ I'm not sayin' … I'm just sayin'.
Snag the excellent Ecobee3 smart thermostat at one of the best prices we've seen
I don't know about you, but my fingers are crossed for an Alexa-Enabled Ecobee Smart Thermostat. The future is just so doggone exciting, folks.
Get the best of iMore in in your inbox, every day!
Mikah Sargent is Senior Editor at Mobile Nations. When he's not bothering his chihuahuas, Mikah spends entirely too much time and money on HomeKit products. You can follow him on Twitter at @mikahsargent if you're so inclined.
Needs to be better looking

I already have 4 Alexa devices so expanding the family sounds like a good idea to me. I love my Echo's. I have also been thinking of moving my older Nest upstairs and getting an Ecobee for downstairs. This will push me to go ahead and do it. Well, if this is true. If not I will still eventually get an Ecobee.

As long as Alexa can be disabled.

If I had the "common" wire that powers these fun things, I'd ... probably already have a Nest and be drooling over these. :)

Just get a C-Wire Kit. They're cheap,and are relatively easy to install. It's basically an interface that "splits" the "Y" wire into 2 hot wires. That frees up the "G" wire to be used as the "C" common wire. White Rodgers has a cheap on that's no more then 15-20 bucks.

Thanks! I will definitely check that out. I have two zones, and would therefore need two of these, but that's much cheaper than bringing in an electrician to run two wires!! (Assuming the electronics box that split my single system into two zones supports it... I'll check!)

Any guess on when a release would be? The announcement is May 3rd, does Ecobee typically release within a month or are they the type to wait 6 months from an announcement?

Canadian company. Only available in US. Thanks.
Thank you for signing up to iMore. You will receive a verification email shortly.
There was a problem. Please refresh the page and try again.