Ecobee3 update makes remote sensors HomeKit enabled.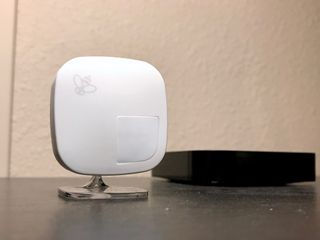 Ecobee is rolling out an update for its ecobee3 smart Wi-Fi thermostat (opens in new tab) that enables HomeKit compatibility for its motion and temperature sensors. Now you can use the individual sensors as HomeKit-enabled accessories of their own, increasing your home automation possibilities!
When it comes to smart thermostats, I'll say this time and time again: Ecobee's ecobee3 Smart Wi-Fi Thermostat is the best money can buy. Not only is it HomeKit-enabled (a must for me), but it also features a handy trick that many other thermostats don't: remote room sensors that keep track of temperature and motion in different locations within your home. Why is this important? Because not all rooms are heated (or cooled) equally — the sensor helps your thermostat understand the actual temperature throughout your home, not just the area around your thermostat.
One thing that disappointed me about the ecobee3, though, was that the temperature and motion sensing capabilities were walled off from HomeKit and the iOS Home app. Ecobee must've heard me crying myself to sleep at night over it, 'cause they've updated their firmware to give users access to the motion and temperature sensors!
If you have an ecobee3, keep your eyes peeled for firmware update 3.7.0.969 (it's rolling out). In the meantime, you can plan some nifty new tricks for your smart home by checking out my piece on adding Automations with the iOS Home app. Think of the possibilities!
Have you upgraded your thermostat?
And if you're still on the fence about which smart thermostat makes the most sense for your home, take it from me: You honestly cannot go wrong with the ecobee3.
Between the HomeKit compatibility and the remote sensors, it slides right on past the competition. It was incredibly easy to set up, too, which can be a bit of an issue for other smart thermostats out there.
If you're running iOS and you're looking to go smart with your HVAC, it's a no-brainer.
See at Amazon (opens in new tab)
Mikah Sargent is Senior Editor at Mobile Nations. When he's not bothering his chihuahuas, Mikah spends entirely too much time and money on HomeKit products. You can follow him on Twitter at @mikahsargent if you're so inclined.
Yes! So glad that they're adding support beyond the rudimentary HomeKit motion sensor support they had before. Sent from the iMore App

Wow, that is a great feature addition to existing hardware! I don't think anyone bought the ecobee sensor expecting to be able to use them for anything other than controlling their ecobee. While other companies can't follow through on their promise of adding HomeKit support in the future (i.e. Chamberlain garage doors), ecobee is adding it out of nowhere.

Well, this is great. I've been a happy ecobee3 user for some time now. Have used the stand alone app on my iPhone, but integration into HomeKit is more than awesome. Can't wait to get the update!

My Ecobee3 constantly gets disconnected from Homekit. Opening the Home app displays 'No Response' for the Ecobee3. The only solution that I've found is to delete the accessory in the Home app and then re-pair it. It then works for a week or two and then get disconnected again. I've also tried logging out and then in to my iCloud account on my Apple TV. Any suggestions? Thanks

Just saw your response... same thing with me. Sent from the iMore App

I can't keep my working. I have 2 and they work fine through the ecobee app but HomeKit always says they are not responding. I have to remove them and then add them back and they work for a few days... any ideas? Sent from the iMore App

Mine doesn't work either and I spent a lot of time on customer support and still not working
It worked for about 4 months and now I can't add it because HomeKit sees nothing. I'm pretty bummed
Thank you for signing up to iMore. You will receive a verification email shortly.
There was a problem. Please refresh the page and try again.