EliteProHD theme for iOS 4.1 [Jailbreak]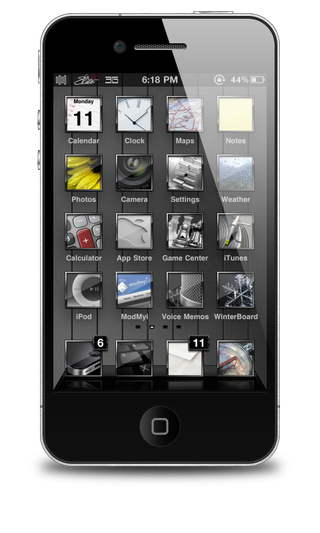 EliteProHD is a fully customized Jailbreak theme that skins almost every aspect of iOS 4.1 from the standard apps to the iPhone keypad. It also come with a ton of skinned icons for Cydia apps and auto skins all appstore apps. What's more, because of how iOS 4.1 works, themes can now use Retina Display versions of the UIImages, which designer BarsOverBeats has quickly implemented in his release of EliteProHD.
Included in the package is a stunning weather widget, an animated lockscreen theme, custom sounds, and numerous colored versions for more further customization. For advanced users, Photoshop templates are even included to make your own icons.
Screenshots after the break!
by Farbod
[gallery link="file" columns="2"]
Get more iMore in your inbox!
Our news, reviews, opinions, and easy to follow guides can turn any iPhone owner into an Apple aficionado
Your source for all things Apple
Is this a commercial theme? Omar isn't very comfortable paying for jailbreak apps.

Ugly. Check out iFlat next time.

ugly.
suave hd, although not an 'official' release, is much, much more pleasing.

You need to see it on a retina display to truly appreciate this theme. Its made for retina from the ground up. Iflat can't compare...

iFlat is lame...XHD is the best theme out there..

Thanks Farbod21! It's definitely something you need to experience.... First full retina UI out :) Back to work tonight, more updates in store :)

Sweet. Another article aimed only at the degenerates that hack their phone.

Way to ruin iOS' beautiful user interface, IMO.

I have had this theme running since it was just an icon set and it has become my all time favorite theme by BarsOverBeats aka Rob Groham check this one and his others out at modmyi.com

Best theme out there ATM, until bars does another one..theres so much more to the theme than whats pictured..http://modmyi.com/forums/iphone-4-new-skins-themes-launches/731198-elite...

YUCK. Who in there right mind would put that on there iPhone? And you need to pay for the privilage of ruining you phone! And before anyone says you need to have it on your phone to "experience" it, i have, the latest 1.6 version although i didnt pay for it, i got it for free, and this RUINS the whole UI of the iphone.
The only themes that should be put on the iphone 4 are suave hd and classica 3 or even better stay with the stock theme.

Anyone interested in getting the theme, hit the email barsoverbeats@yahoo.com it live in Cydia now ;)

@Matt degenerates? Are you kidding me, for one it is legal if you havn't heard and last time I checked when you buy a product, it's yours and yours alone to do what you want with it.

You should try this theme before you talk it down. I used this theme all day yesterday. Putting it through it's passes. Bars set out to make a professional theme that made the ip4 feel like it should of been shipped by apple that way. Beauty is in the eye of the beholder. In my eyes he pulled off one of the cleanest/professional themes you'll be able to find. I would bet you wouldnt even notice some of the skinned images in this theme. They just flat out look like it should of been.
Why would I come here and say this? Well. Because I believe it!
Z

Are you guys serious? RUIN THE IOS UI.... GROW SOME EYEBALLS I've paid for both Classified HD and Elite Pro HD and they are well worth every penny! If it can be themed Bars will theme it... and whatever he doesn't do other people like Wim66, Darkness, or Downloadeous Maximus to name a few will enhance the ART that Bars makes
Why Jailbreak? DUH!

Seeing is believing...check it out before you diss it..

To clarify this is NOT my Elite pro theme that is in featured themes on Cydia, the is on my own private repo, available by donation only. Hit my email if you want the theme. Barsoverbeats@yahoo.com

Lmao.. Some of these comments are absolutely retArded!!! Why would I want to ruin my stock phone? Umm, because it's hideous! EPHD is the real deal, and the way the iPhone should have been! Great work Bars... Don't like it? Don't buy it...keep your dry iPhone stock! Lol

By far the cleanest, sharpest, most detailed theme I have seen yet. This theme looks unreal on my iPhone 4 totally taking advantage of the retina display and all it's capabilities. Go check it out and see the great things being done with the theme before listening to the haters.

Please do not talk about stealing themes or apps. Your comment will be deleted. Thanks.

Jamy...are you related to Stevie Wonder....

Z people talk crap because they hid behind their computer

I've used Bar's themes in all my iPhones because the quality and creativity and more important, completeness of the themes is incredible and without par save for a few, like Zausser. His work is incredibly detailed, high quality and time consuming that it's ridiculous to expect the work for free. For less than the cost of a cup at Starbucks you will have the most amazing and high quality themes you can imagine. No, they are not for the ignoramus. But if you really want your iPhone to be styled, this is the way to go. I waited too excrutiatingly long to have my iP4 4.1 Jb'd just so I could get my theme on.

If you have not put this on your phone, you should. Navec245 put it on his phone and he has not stopped staring at it since. And this was before the resolution improvement of 4.1!
Give it a shot!

@Navec245
eenofonn likes your comment :P

you guys should also try XHD its fricken PIMP!!!

Awesome theme! I guarantee it's worth the price. This pics do it no justice. Also, this is without the slick date/weather the was designed specifically for this theme and a very cool lockscreen.

Elite Pro HD is an awesome theme. the work is immaculate and design is just amazing. Great lockscreen and weather theme.
You need to see it to believe.
It is definitely the best theme currently on Cydia.

I just love this theme, it's beautiful.

I installed it on my iPod Touch 4g and it doesnt seem to be fully compatable. Not all the icons have changed either. Looking at the picture on the iPhone it shows game center even has a new icon but not on my iPod. Any ideas?

@Andrew that cause this theme sucks.

@Geogolds what have you done besides talk crap?...didnt think so

@GeoColdz Im looking for help not for some BS because you hate the theme. We get it, now go away. I like it.

@andrew its easy for him to talk crap when he is hiding behind his computer in his parents basement

This theme looks pretty sweet, but I'm waiting for the 266 collection to go HD. I just love that theme and it will be even better when it is updated for the Iphone4. And for the people who don't like it or don't want to pay for it, just don't. No reason to be aggressive about it....

If anyone believes the stock UI is a masterpece and should be left alone you have no business even commenting here. These are the same clowns that are content to drive a stock Prius and carry their own bags to the grocery. What Bars and Z along with the JB community provide is a Commercial quality release for next to nothing. Hundreds of hours go into creating these works and trust me the $$$ they recoup does not begin to cover the time spent. The platform provides you with the necessary tools to customize most any aspect of this and other themes to truly make it a personalized look. This and maybe one or 2 others by Bars and Z look good enough stock to not even tamper with. Unless you spend hours of your time talking with the developers of these themes and other users of them each day you cannot appreciate the creative outlet they provide.

I ran classica 3 and suave early on but honestly, this theme IMO is truly complete, your able to choose several different color mods/themes, standard iTunes icons auto skin...nothing is untouched by the creator barsoverbeats, this guy has a passion for themeing (sp?) iPhones. You look at your mail...themed! You look at your weather...themed! You look at your phone, contacts, dialer, everything about the phone...themed! ...plus when you open the majority of your stock apps you get a themed loading screen! What?? Y'all dont really know what your missing if you let the reckless comments by some distract you from your own opinion! Plus, yes I said plus! The community of regulars on the elite pro hd thread are so helpful you'll find out things most of you never knew! The only limitation is your imagination...so if you like the stock look and feel so be it, if you do not want to jailbreak your phone so be it...if you want it for free this isn't the theme for you!

@JIMI. BRAVO BRAVO. well said. ITS MY IPHONE AND I WANT IT NOW!! I'm not renting it from Apple.

-Like other said, pictures do not do this theme justice!! You have try it. There are more things themed and tweaked on this than any other theme I have seen. It really does make a iPhone 4 look like it should, like it is a professional instrument...not a stock phone. Best money you can spend and more mods than you can keep up with. the Thread community is very helpful with anything needed

Thanks for this Farbod! Excellent looking theme... I think I just fell in love with my iPhone 4 all over again!

Slightly confused here, is this available in Cydia or not?

@ Jazzman911
No I'm not blind. In my opinion this theme is horrible, nothing against you or the theme maket

It is available on my private repo in Cydia :) email me for details ;)
Thanks for checking it out gang :)

IMHO G.O.C HD is truly a masterpiece of design check it out!

I run BoB's 24k theme on my 3GS. I really like it. Whenever I get around to upgrading my phone, I will look into this theme.

@Barsoverbeats Where can I get his email address? Thanks

@Andrew his email is Barsoverbeats@yahoo.com

Holla at Bars for the Rolls Royce of Themes. Gotta love it. Quit hating people.

Is this called EliteProHD in cydia ? i cant find it someone help me :( lol

All jailbreak themes are ghetto. Every single one ever made. People who make them have no design skills or sense of style.

Andrew reponse coming---
Sooks- it's on my private repository, email me for details barsoverbeats@yahoo.com

I'm trying to download elite pro hd. But it wasnt installing. Now I don't know what I did bc all your theme are block. Please help.

@fastlane
That is the dumbest, most ignorant and uninformative post I've ever read on this website. You should be ashamed for your extreme ignorance for such a "ghetto" response!

Ah, thanks. You're too kind. :)

Hey guys,
I was looking for this them in cydia but for some reason I could only find Elite Pro. Is that is?

No thats not it. If you want it you need to go to http://www.barsoverbeats.com/donate.html and make a donation and probably email barsoverbeats@yahoo.com so he know what you want. He will tell you you need to do. He responds very quickly.

Elite PRO HD as shown is ONLY available by my private repo. The Elite pro that is in the feature theme section of Cydia is for the 3G/3GS. Email me at barsoverbeats@yahoo.com for info on acquiring the HD version. Do not purchase through Cydia :)

@barsoverbeats
Just sent the amount I could. Send me the email to download if you feel like.

Would really love to get this right now!
I have emailed! :O

This is the best theme ever. I just downloaded it and I strongly recommend it

How do we download this?!
I'm impatient because I want it so bad! :(

This is the best theme I have ever used on my Iphone 4. Amazing icon set coupled with awesome wallpapers and SB settings theme. Worth every penny and I am sure no one would regret purchasing this theme. Thanks Rob.
@Ben
Make a paypal payment of minimum 3USD at barsovergreat@yahoo.com and he will send you the instructions.

I am asking for donations, Which I like to keep at a minimum of $3 (I know, I know whats a "donation" with a minimum!) I have well over ~120hrs into this theme alone, not including support time (which is major if you take a look at my native forum modmyi.com) Not an easy task given I have a family (2 youngsters, 4 and 9), a full time and a part time job. blah blah blah I know I didnt mean to bore anyone... But it is available by making a paypal donation to barsoverbeats@yahoo.com The theme is in Cydia on my own repo, that I will send to you upon receipt of the donation. Once you get the repo address, you add it and download on the fly. All updates will show in changes just like anything else :)

Wow. That is an amazing theme! My warranty iP4 is inbound and it arrives I am going to Jailbreak it and grab your theme ASAP. Good job man! \mm/

Each person has a taste and opinion guys, there's no need to try to convince others to adopt our point of view. Who likes to change the UI go ahead and change it, who doesn't, like me, keep it. We're just expressing points of view here!

@Fastlane
You are mostly correct, unfortunately.

Ok I've tried many themes before but this one looked pretty promising so I gave it a shot. It's pretty damn awesome, and everything is covered by this theme. Very complete. I fully recommend it!

That's one thing I miss about my blackberry. Choosing new themes was always fun.

This is such awesome theme about to set it up on my iPod Touch 3G. Barsoverbeats you are the best!

Thanks guys! I appreciate the feedback!

Great job on the new theme. This one is going to stay my main theme for a long time.

Can someone please help me understand how to get the weather to show my city where I'm at? It only shows some city I've never heard of:(

Ben- Come on over to the support thread on modmyi.com if you have any customization Q?'s ;)

In order to get the weather to show your city.
In the theme there should be a Widgets folder. Find the weather config file. Then look here to enter your local zip code. Then respring: Look for this in the file: var locale = "your zip code"

Thanks Navec245 (an idothisdesigns Alpha member) ;) ;)

@Andrew, his email address is Barsoverbeats@yahoo.com

Thank you so much, but unfortunately I see no widgets folder... Is there a certain place it should be?!

Whoops my bad was replying to the wrong page

Ben- are you referring to the coverflow style lockscreen weather, Pyle the springboard weather widget?

Both the lockscreen and the homescreen one... Is there anything like open ssh I should have installe or something? I feel like I'm missing something very obvious:P

Just use ifile, then go into the themes directory /Library/Themes/ and go into each wether theme and edit the config files with your zip code

Sunset Island Music is pleased to announce that it has opened a site called Sunset Island Solar.www.sunsetislandsolar.com
Sunset Island Solar was started to encourage environmental responsibility and believing very strongly that there must be a way to power small, hand held electrical devices in a safe, earth friendly and affordable way that the world could use in a simple form.
We are currently offering a solar phone charger for the IPhone 1-2 3 & 4G that slips onto the phone and is a Solar Charger, A Back Up Battery and a Protective Case all-in-one!
We also are offering a Solar Key Chain charger that fits most cell phones, PDA's and cameras.
Please, THINK GREEN and help save our planet.
After all, it's the only we've go

Is there anyway to change the color of the sms messages?
Incoming are very dark and hard to read.
Thanks

@Barsoverbeats
I went in the themes section, but not working for me :(
i want to EPHD Weather.theme>widgets>Config>weather config
Var local entered my postal code in-between "" but get an Error
Cocoa error 513...any idea what i did wrong guys?
thanks

Gang- any setup questions check over here
http://modmyi.com/forums/iphone-4-new-skins-themes-launches/731198-elite...
;)

Incoming SMS balloons will be updated for next update :) thx Patrick ;) I knew I needed to do this, sometimes it takes A comment :)

Expect an update coming soon gang!

Donation sent, awaiting reply! Looks great

i dont get it where do i download this?

@Pat Did you read this thread? It's all there. Send a donation, you get the the repo details for downloading.

i downloaded theme, very cool, unfortunantely my battery screen as well as phone screen are unchanged, how can i remedy this

So my icons all messed up. Safari is a Compustar, messages is a calculator and more. How do I fix it?

How do I change the lockscreen photo
It says I can change it thur the camera roll but it will not change

Add photo through camera roll then respring.

ey that is lie, nothing happen... And how is that of "add photo in, etc" don´t serve any photo in my actual camera roll, or have to be a new? And how can i put a pic in camera roll and the respring? I have to go to cydia after add a pic in my roll????

Same problem with the lockscreen

I only got 2 icon in my wintherboard
EPHD
EPHD Sounds
Nothing else are on.
What else can i do so i can change my sms screen etc...

Can u make a girl theme like a full one?

Can you make the dock like the loading screen

Could you please update the Elite Pro HD theme for 4.3.3 firmware? Almost everything works but missing some things. Love all your themes thanks!!