Eufy BodySense vs. Fitbit Aria 2: Which Smart Scale is Best for You?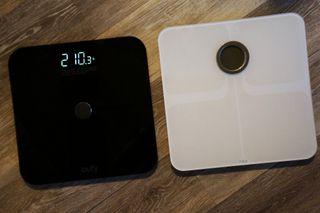 (Image credit: iMore)
(opens in new tab)
Low-cost and accurate

For most people, the Eufy BodySense is the smart scale to beat. At $40, its price belies its quality and its feature set. If you haven't bought into Fitbit's ecosystem and don't plan to, this is the scale for you.
For
Less expensive than even many "budget" options
Very accurate readings
Supports up to 20 users
Syncs with your Fitbit tracker, Apple Health, and Google Fit
Against
You have to have the app open to sync
Can't delete incorrect measurements
Seamless syncing

The Fitbit Aria 2 is an excellent smart scale with great features and very convenient syncing. That being said, it's only this awesome if you're already into the whole Fitbit scene.
For
Syncs seamlessly with your Fitbit account and trackers
Supports up to eight users
You don't need you phone or Fitbit nearby to get your data
Keeps your stats private from other users
Against
Quite pricey
Only great if you're all-in on Fitbit
The breakdown
At the end of the day, a smart scale is a smart scale. It syncs with an app, tells you a little more than the average scale, and helps you keep track of your metrics over time. Likewise, the Fitbit Aria 2 and Eufy BodySense are both concrete examples of great smart scales.
The biggest difference is in price and how you plan on using it. You really don't need a Fitbit tracker to use the Fitbit Aria 2 — you just need the app, but if you're not using a Fitbit, then why shell out $90 more than necessary? Believe it or not, there are a couple reasons, but your main deciding factor should be how you'll use the scale.
Swipe to scroll horizontally
Eufy BodySense
Fitbit Aria 2
Price
$39.99
$129.95
Number of users supported
20
8
Tracks body fat %
Yes
Yes
Tracks BMI
Yes
Yes
Tracks lean mass
Yes
Yes
Tracks bone mass
Yes
No
Tracks muscle mass
Yes
No
Tracks water weight
Yes
No
Tracks BMR
Yes
No
Tracks visceral fat
Yes
No
Pregnancy/pacemaker mode
No
No
Looking at the table above, the Eufy BodySense tracks quite a few more metrics than the Fitbit Aria 2. Whether or not those are all accurate is another thing, since scales can only gather so much data via bioelectrical impedance analysis. That being said, if you're at all interested in those extra metrics, then the BodySense scale is a no-brainer.
Up until now, I've said that unless you're in the Fitbit universe, you may not want the Aria 2, but at the end of the day, you do need an app to use either of these scales. How this may factor into your purchase (if you don't already have a Fitbit tracker) is whether or not you find it inconvenient to have the app open at weigh-in (BodySense), or if you'd rather be able to sync any time, phone or not, via Wi-Fi (Aria 2).
Don't forget: the Eufy BodySense can connect with your Fitbit account via the EufyLife app. So you can still see your weight and body fat in the Fitbit app with all your other metrics from your Fitbit tracker.
Price should also be a motivator here. The Eufy BodySense boasts more features, and it's usually at least $90 cheaper than the Fitbit Aria 2. .
Major bang for your buck
(opens in new tab)
Cheap doesn't mean cheap when it comes to the Eufy BodySense.

For $40, you can measure so many body metrics, and the Eufy BodySense is the most accurate smart scale around. Having to have the app open at weigh-in is a minor inconvenience for such a great scale.
Enter the ecosystem
While it is expensive, the Aria 2 works flawlessly within the Fitbit ecosystem of trackers.

Fitbit's Wi-Fi syncing is incredibly convenient, and when combined with a tracker, it paints a full picture of your overall health. It may lack certain metrics, but if those don't matter to you, then it's negligible.
Get the best of iMore in in your inbox, every day!
Mick is a staff writer who's as frugal as they come, so he always does extensive research (much to the exhaustion of his wife) before making a purchase. If it's not worth the price, Mick ain't buying.
Thank you for signing up to iMore. You will receive a verification email shortly.
There was a problem. Please refresh the page and try again.