Everpurse arrives on Kickstarter, brings wireless iPhone charging to your purse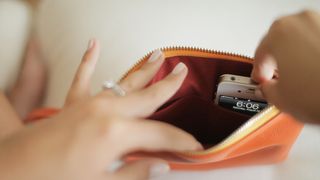 The Everpurse has arrived on Kickstarter and it is a really interesting project that may well have huge potential. The Everpurse is a wirelessly rechargeable purse that can power your iPhone just by slipping it into a pocket inside of the purse. The confusing part is to how it actually charges the iPhone. It appears that it is doing it wirelessly however it is more likely that the pocket inside of the purse has a dock connector at the bottom that the iPhone slots into easily due to the size of the pocket.
The Everpurse is fully rechargeable and comes with a white charging mat that you just drop it on when you get home. It is then fully charged and ready for the next time you leave the house. The Everpurse will be available in three different colors and in fabric or leather varieties. The most interesting part of this project is the fact that no modifications have to be made to the iPhone and it doesn't need to have any special case either. There is no explanation as to how this actually works but it can't be a wireless charging solution without the need for some sort of case; it must have some sort of physical connection within the purse. If it does work in any other way then this could be a very significant development and one that is sure to take off with massive interest. Shame it is only suitable for those that carry a purse on a regular basis but I am sure other solutions could be brought to market that could utilize this technology in other ways too.
If you like the idea of the Everpurse, you can become an early adopter with a pledge of $99 which will secure one fabric purse complete with white charging mat; should they make it into production. The Everpurse currently has 34 pledges amounting to $4282 and still has a long way to go before it reaches it funding goal of $100,000; it still has 33 days to go and I would not bet against it reaching that target either.
What do you think of the Everpurse? Do you think it has great potential?
Source: Kickstarter
Get the best of iMore in in your inbox, every day!
UK editor at iMore, mobile technology lover and air conditioning design engineer.
How do you get inductive charging on an iPhone without a case?

The answer is: You don't. Watch the video, and you can see that when they put the iPhone in the bag, they only put it into a specific spot in the bag, connector-downward, and as they insert it, it's being guided into a locked position. It's just a clever mounting bracket that guides the iPhone into mating with a dock connector (as the article author suggests). The only induction part is for charging the bag itself. Not that it's not useful- but they try to create the impression that this is some kind of wireless solution ("Magically Charges Your iPhone"!). They say, "all you have to do is slip your phone into the Everpurse pocket," which is patently (ha!) false. You have to insert your phone connector-side down (plus it has to face in the right direction, front/back) into the pocket section of the purse, and push it hard enough to dock. And when they say, "slip your phone into the Everpurse pocket," they're exploiting the superficial ambiguity of "Everpurse" vs. "Everpurse pocket" (i.e. a special area within the purse) to convey the impression that your iPhone only has to be placed into the purse overall. Sleazy. This is misleading advertising, bordering on fraud.

I think its more likely that the purse has a dock connector in the pocket, its not wirelessly charging the iPhone.

In that case, this is a dumb idea... Just get a juice pack and call it a day

Since it's Kickstarter, that doubles the dumb.

Very cool idea. Doesn't matter if there is dock connector inside the pouch. It eliminates wires and using a wall charger on the go for the ladies and placing the purse on a power mat at home is great. I hope she makes it.

Hey guys! I'm the engineer behind the Everpurse. Thanks iEd, people seem to be loving it so far. We have several dozen prototypes out in the world and have received nothing short of signs of product addiction when we ask for them back! As for the docking mechanism. You are all correct, its a cleverly built docking mechanism inside one of the pockets. To get it right, we had to create new manufacturing processes to ensure a perfect fit every single time. Thats the more visual aspect of the purse, the other technical aspects are hidden and are all surrounding magnets, polarity, etc.

Congrats on a good idea (which is actually good enough to stand on its own merits) - but too bad about your deceptive claims. If only you'd been honest in your marketing as well as in these blog comments... As it is, your company appears untrustworthy. PS- I notice now that you altered your mktg text at some point today to make it less misleading. Too bad it required shining some light on your claims to get to that point. iMore has edited/improved their description here as well, since my original post this morning. Your Kickstarter page still says, "all you have to do is slip your phone into the special charging pocket," which is still less than straightforward, given its context.

Hey kimhill. We are pretty explicit about it on our kickstarter page, and especially in the FAQ section. However, and to thank you for your feedback and concern, we went ahead and updated the title and switched out 'magical' to 'seamless'. Do not wish to mislead anyone. Thanks! :)

Well, you weren't "explicit" in the beginning, which is why I called this out — and apparently why you've made edits. And the edits were not just in the title, as you're now trying to suggest. I don't have the orig. page, but there's at least one major change in the text I quoted here yesterday (see above): "all you have to do is slip your phone into the Everpurse pocket" — it's now changed to: "all you have to do is slip your phone into the special charging pocket inside the purse." This is a major change in your first Kickstarter paragraph. I'm almost positive that you changed your FAQ, too, although I don't have the original. It's sad that you're *still* spinning — pretending that all you did was "switch out 'magical' to 'seamless'" in the title. Looking at your "News coverage" page today (http://everpurse.com/blog/post/news-coverage-everpurse), I see *four* references to "wireless" iPhone charging, when in fact, your product does not charge the iPhone wirelessly. The irony here is that, as I said, this product looks like a good idea, and it doesn't require your serial obfuscation & dishonesty to promote it.

Hi Kimhill
I always appreciate these Kinds of innovative ideas. Have you heard about IQI mobile charger? The iQi Mobile wireless charging brings seamless wireless power to iPhone 5, 5C & 5S with Any soft case. I think it is also the best option for those who want to get rid of wires.
One can find its detail by checkling http://igg.me/at/iQi/x/4259225 Best,
Warren Paul, The Phonesalesman Team
Thank you for signing up to iMore. You will receive a verification email shortly.
There was a problem. Please refresh the page and try again.