Everything that's new in Shortcuts 2.1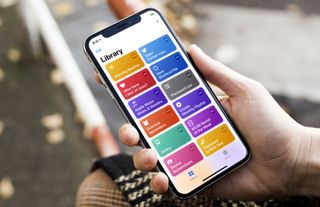 (Image credit: iMore)
Today, Apple launched the first update to the new Shortcuts app, bringing it to version 2.1. Alongside new Weather, Clock, Measure, and Photo Import actions, the updated app enables new Siri functionality on the HomePod, as well as fixes some bugs from the first version.
We're on version 2 already?
One of the oddities of the new Shortcuts update is the version number – Shortcuts is already on 2.1 because it started out at 2.0.
This is occurring because Apple originally acquired the Workflow app to create Shortcuts – it ended at version 1.7.8, so when it was redesigned and released as Shortcuts, the app started at version #2 right away.
Plus, since it was released alongside iOS 12.1, it seems we might be able to expect updates to Shortcuts with each minor point release of iOS – let's hope, at least.
Action Updates
The latest update to Shortcuts brings a total of 7 brand new actions, plus a handful of updates to existing ones.
Listed below, there are 3 new Weather actions, 3 new Clock actions, and one new Photo action (plus an update to Take Video).
Located in the Location category, there are new actions from Get Current Weather, Get Weather Forecast, and Get Details of Weather conditions:
Get Current Weather: Gets the current weather conditions, either at the current location of the device or for a custom location. Weather information is provided by The Weather channel.
Get Weather Forecast: Gets an hourly or daily weather forecast for today and the next 10 days, either at the current location of the device or for a custom location. Weather information is provided by The Weather channel. (Bonus tip: Use Repeat With Each to work with 11 pieces of information in the resulting list, or use Get Item From List to just find one day out of the stack.
Get Details of Weather Conditions: Allows you to extract one specific piece of the weather conditions passed as input, including Date, Location, Temperature, High, Low, the "Feels Like" temperature, Condition, Visibility, Dewpoint, Humidity, Pressure, Precipitation Amount, Precipitation Chance, Wind Speed, Wind Direction, UV Index, Sunrise Time, Sunset Time, Air Quality Index, Air Quality Category, Air Pollutants. Each detail can also be extracted from the magic variable Weather Conditions of the Get Weather Forecast and Get Current Weather actions.
The Weather actions are important because it finally enables the demo that Apple gave during WWDC where Siri can speak out your day – it was missing from Shortcuts 2.0, so now you can build out one of your agenda shortcuts and give it proper weather details too.
Plus, the Weather actions open up some fun opportunities – you can create whole weather reports, formatted just the way you like.
Under the Calendar category, there are new actions that use the features of the Clock app – Create Alarm, Toggle Alarm, and Set Timer.
Create Alarm: Creates an alarm in the Clock app.
Toggle Alarm: Enables or disables an alarm in the Clock app.
Set Timer: Starts a timer in the Clock app for the specified amount of time.
These Clock actions are super useful for shortcuts that you want to use on a daily basis – it's super easy to set a pomodoro timer, you can toggle alarms off right away if you wake up before they go off, and you can set a whole dynamic schedule for working based on when you started, to give a few examples.
Inside the Scripting category under the Math section, you'll find two new actions for measuring – Measurement and Convert Measurement:
Measure: Passes the specified measurement (including number and unit) to the next action. Includes 21 measurement types each with their own unique sets of units: acceleration, angle, area, concentration mass, dispersion, duration, electric charge, electric current, electric potential difference, electric resistance, energy, frequency, fuel efficiency, illuminance, length, mass, power, pressure, speed, temperature, and volume.
Convert Measurement: Converts the measurements passed into the action to the specified unit.
Using the capability of these, you can assign number values with specific types of measurements and units, then convert between them if they're compatible.
With a huge litany of measurement types and units to convert to, this action alone opens Shortcuts to a huge array of professional fields – electricians, mathematicians, city planners, and so much more.
Plus, it's much easier to developer a whole range of utility shortcuts – now it's much quicker to make something like a Convert Temperature shortcut to go back and forth between Fahrenheit, Celsius, and even Kelvin..
Two other Photos actions that were added to Shortcuts enable some new processes as well – Get Last Photo Import and the update to Take Video make production with iOS a little easier:
Get Last Photo Import: Gets the most recent photo import from the Photos app. Includes images or videos imported from external cameras or SD cards.
Take Video (Start Automatically): As an update to the existing Take Video action. Important note: Shortcuts must be full screen to record video.
Get Last Photo Import is particularly useful for photographers or video creators who might be importing their assets from an external SD card (or the camera itself) directly into the Photos app.
Try using something like Photo Import to add those newly-added images into Lightroom, then delete them when you're done.
Once they're added, you could use something like Pick Favorites to choose multiple from the list of options, add a watermark to them, and save to them to Dropbox directly – see if you can build that one yourself.
Plus being able to automatically start video using the Take Video actions means you could set up your iPhone and iPad on a tripod, and then use Siri to start a recording hands-free.
Major Siri capabilities
The other excellent change enabled with Shortcuts 2.1 is more control over HomePod – now any shortcut that you create set up for media playback can be triggered from the HomePod, and your phone will automatically connect via AirPlay hands-free.
This was previously available only with Siri Suggestions added from the Settings app, but now any custom shortcut that you build will start playing on HomePod too.
This is a fantastic addition, and really boosts the HomePod's viability. Now, you can create all types of smart playlist-like shortcuts, pull in RSS information and have Siri read out articles on the HomePod, and, when Spotify finally gets their act together with Siri Shortcuts, you'll be able to start playlists or radio stations right from the HomePod – hopefully soon!
Try my "Play Recent Unlistened" shortcut to start something you've added but haven't played yet – great for discovering what's already in your library using HomePod.
Fixes
If you were experiencing bugs with the first version of Shortcuts, there are some fixes in for you.
The first major change is the fix to Sync Shortcuts Order – in version 2.0, the shortcuts would sync, but on doing so mess up the entire order any other synced devices. This was crazy-making for anyone with hundreds of shortcuts, so restoring proper synchronization in version 2.1 is a welcome fix.
Shortcuts that used the Search iTunes Store and Search App Store actions would also cause errors in version 2.0.
With this now fixed, shortcuts like Save Mac App To Reminders Wish List and Share Music work again, letting you interact with anything music, books, podcasts, movies, TV shows, and apps available in Apple's various stores.
The Append To File action previously used to improperly create duplicates instead for any file types that weren't .txt, so now you should be able to append to files like Markdown documents with Shortcuts – try my Save Weekly Link shortcut to keep track of good links throughout the week.
Other bug fixes include the ability to properly navigate folders in the Dropbox file picker, fixing the Messages app actions so they don't have to show when run, and creating reminders sometimes hanging for while.
Check out Apple's site for a full list of bug fixes.
We didn't have to wait a year!
While you can still only set one Timer, this 2.1 update marks another step towards a fully-integrated Shortcuts app and away from the independent functionality of Workflow.
It seems that Shortcuts will continue to get new features at a regular pace, enabling tons of new possibility with each update – the Measure action has 177 unique combinations, not including mixing in the hundreds of other actions.
As usual, the main question is – what do you do in your own life, and how can you take advantage of it all?
Leave us questions in the comments here or on Twitter, or ask me directly at @mattcassinelli. Plus, be sure to check out my YouTube video below covering the news as well.
Get the 10 shortcuts mentioned in the article:
Get more iMore in your inbox!
Our news, reviews, opinions, and easy to follow guides can turn any iPhone owner into an Apple aficionado
Matthew Cassinelli is a writer, podcaster, video producer, and Shortcuts creator. After working on the Workflow app before it was acquired by Apple and turned into Shortcuts, Matthew now shares about how to use Shortcuts and how to get things done with Apple technology.
On his personal website MatthewCassinelli.com, Matthew has shared hundreds & hundreds of shortcuts that anyone can download, plus runs a membership program for more advanced Shortcuts users. He also publishes a weekly newsletter called "What's New in Shortcuts."