Everything you need to know about the T-Mobile ONE unlimited plan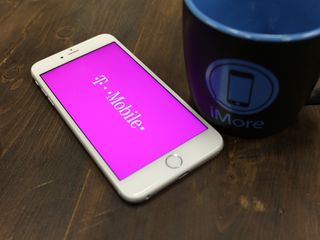 In the United States, there are a lot of companies that can get you and your phone online, but most people use one of the four biggest: AT&T, Sprint, T-Mobile and Verizon. Choosing between them can be difficult. Your first priority should be what service works best in the places you spend your time. It's not worth saving $10 a month if the service is bad. Once you have that sorted, you can look at what each company has to offer and the prices they charge for it.
More: Which unlimited plan should you buy?
Let's take a look at T-Mobile to see what they can give you and what it will cost.
T-Mobile ONE plan details
Unlimited talk, text, and data with 200MB of roaming data
Unlimited talk, text, and data in Canada and Mexico
One hour of free Gogo in-flight Wi-Fi and unlimited texting on enabled flights
Unlimited data and texting in over 140 locations at 2x speed (264kbps) (limited time offer)
10GB 3G-speed mobile hotspot use
T-Mobile's definition of Unlimited Data means that after you use 28 GB in a single month, your service can be slowed down if you're in a congested area. You'll hear the word throttled used here but you need to know that it's only a temporary deprioritization of your data connection when you're in a busy area. It may not happen at all depending on how many other customers are using the same towers.
You can use any phone that's compatible with T-Mobile's network. If you bring your own phone you'll pay a $20 one-time fee for a SIM starter kit. You can also finance a phone through T-Mobile and the monthly cost will vary depending on which phone you choose. T-Mobile ONE plans also include tax and all the other assorted fees in the price. Your monthly bill will be exactly what the plan costs.
Additional lines can be added to a T-Mobile ONE plan. Every line has the same benefits outlined above and the $20 SIM starter kit fee applies to each, though they go on sale regularly and it's not unheard of to get the starter kit fees waived if you talk to a representative. Here is a pricing breakdown.
One line of service on a T-Mobile ONE plan is $70
Two lines of service for $100
Three lines of service for $140
Four lines is $160 and each additional line adds $20 to the total
T-Mobile ONE Plan add-ons
You can add a tablet to your T-Mobile ONE plan for the standard $20 monthly fee. You can add a wearable to your T-Mobile ONE plan for $10 a month. Wearable devices are limited to 512kbps data speeds.
T-Mobile also offers two Plus add-ons for people who want a few extras:
The $5 monthly T-Mobile ONE Plus add-on includes everything from the standard ONE plan plus the following:
Unlimited HD video streaming
10GB high-speed data hotspot
Unlimited in-flight data on all Gogo-enabled flights
T-Mobile Visual Voicemail
T-Mobile Name ID
The $25 T-Mobile ONE Plus International add-on includes everything from the ONE Plus plan and adds the following:
Unlimited international calling to landlines in over 70 countries and mobile numbers in more than 30 countries
Unlimited high-speed mobile hotspot
You do not have to pay for the $5 Plus add-on if you're buying the $25 Plus add-on. These prices are per line.
Secondary perks
T-Mobile also offers other special promotions on top of what you're paying for. These vary from free applications that support their services to free devices (through bill credits) after a certain amount of monthly payments. Some of these perks can change regularly.
T-Mobile also has long-standing extras, including apps for Visual Voicemail, T-Mobile content transfer, T-Mobile's DIGITS, and an excellent account management application. You can find all of T-Mobile's apps in the App Store.
Last but not least is T-Mobile Tuesdays. Each week you can get things like food or movie tickets for free and have a chance to win "top-shelf prizes and epic experiences from the coolest brands around" without buying anything. T-Mobile Tuesdays is a very popular promotion and it is available for any T-Mobile customer.
Updated July 2017 with the latest pricing and plan information from T-Mobile.
Master your iPhone in minutes
iMore offers spot-on advice and guidance from our team of experts, with decades of Apple device experience to lean on. Learn more with iMore!
I'm an RHCE and Electrical Engineer who loves gadgets of all kinds. You'll find my writings across Mobile Nations and you can hit me on Twitter if you want to say hey.